The 2013 Northeast Regional field includes two of the hotter teams in the country and two teams that had to sit out last weekend after losing league quarterfinal series.
Massachusetts-Lowell and Wisconsin face off in the first game, both on the heels of a conference tournament championship.
For the River Hawks, it was the first Lamoriello Trophy in school history; Wisconsin claimed its first Broadmoor Trophy in 15 years.
New Hampshire and Denver, meanwhile, had to wait out the conference championship weekend before getting into the field as at-large selections.
Here's a look at the Northeast Regional at Verizon Wireless Arena in Manchester, N.H.:
Massachusetts-Lowell River Hawks
Coach: Norm Bazin, second season
Record: 26-10-2 (16-9-2 Hockey East, first)
How they got in: Automatic qualifier, Hockey East playoff champions
Regional seed: First
Last tournament appearance: 2012
Best NCAA finish: Regional final in 1994, 1996, 2012
Why they'll get to the Frozen Four: This is one of the most solid top-to-bottom teams in the nation that is playing its best hockey at the right time.
Why they won't get to the Frozen Four: The River Hawks drew the "Bracket of Death" featuring a first-round matchup against a Wisconsin team that is red hot as well as New Hampshire and Denver, against whom Lowell is a combined 0-4 this season.
USCHO columnist Dave Starman may have given the ultimate compliment to Massachusetts-Lowell on Sunday night while hosting the ESPNU selection show. Starman picked Lowell to win this year's NCAA tournament.
While the excitement level in the bar in which Lowell watched the selection show peaked at this point, minutes later it was quickly torn away by co-host Barry Melrose.
Melrose selected Wisconsin, Lowell's first-round opponent, to win the championship, something that paints an accurate picture of just how difficult it will be for the River Hawks to escape the Northeast Regional, despite being the top seed.
"It seems like our whole bracket is chock full of difficult teams," Lowell coach Norm Bazin said. "We feel we've got an extra-difficult bracket. But we feel that Hockey East has been an excellent league this year that has prepared us well."
This is the second straight year that Lowell has reached the NCAA tournament, the first time that has happened in school history. And while the River Hawks beat Miami in the opener last year, a loss to top-seeded Union in Bridgeport a year ago was a sign that Lowell maybe wasn't ready for prime time.
To prepare this year, Bazin added three stronger, bulky defenseman that move the puck well. In addition, young forwards have supplemented the talented scoring that the River Hawks already had in place.
And then there is the backbone of the team, freshman goaltender Connor Hellebuyck. The rookie earned himself a second-team all-Hockey East nod and then validated that with a Hockey East tournament MVP performance last weekend as Lowell captured its first Lamoriello Trophy.
"When you have nine freshmen, you try to give them all opportunities," Bazin said. "They've all found their niche, which has really given us an energy boost.
"You start with goaltending, where Hellebuyck has been a real shot in the arm. He's done a real good job here, particularly in the stretch."
Bazin is hardly a stranger to Mike Eaves-coached Wisconsin teams. An assistant at Colorado College for eight years, Bazin knows that his team will have to penetrate a difficult defense if it is to be successful. That's something, though, that the River Hawks are used to, given teams like Providence and Merrimack that pose an equal threat.
Truly, if there is any secret to Lowell's success, it will be in the mental makeup of the dressing room. This is a team that has taken many steps forward this season, particularly in winning the regular season and postseason titles in Hockey East.
That, though, is all in the past and if Lowell is to reach the school's first Frozen Four, there is an understanding that this team will have to be near flawless in Manchester this weekend.
"Last weekend was a real high for our team and UMass-Lowell in general," Bazin said. "We feel we're a stronger threat than we were last year. But Wisconsin is going to be a great opponent. They're the WCHA champions and they're going to give us all we can handle. We're sure of that."
— Jim Connelly
New Hampshire Wildcats
Coach: Dick Umile, 23rd season
Record: 19-11-7 (13-8-6 Hockey East, tie-third)
How they got in: At-large bid
Regional seed: Second
Last NCAA tournament appearance: 2011
Best NCAA finish: Runner-up in 1999, 2003
Why they'll get to the Frozen Four: If games become a battle of special teams, UNH gains a big advantage.
Why they won't get to the Frozen Four: Playing five-on-five, the Wildcats can struggle to score and their team defense hasn't played at a championship level since December.
Going into the holiday break, New Hampshire looked like a Frozen Four team and maybe then some. The Wildcats sported an 11-2-2 record that included three wins over Massachusetts-Lowell, two over St. Cloud State, and a 2-1 record over just-outside-the-NCAA-bubble Boston University.
The Wildcats stifled teams with exceptional defense, averaging only 1.69 goals against per game. Goaltender Casey DeSmith set a school scoreless record based on three straight shutouts and four in five games.
Then something in their holiday punch turned that team destined for Pittsburgh into one that could manage only an 8-9-5 record the rest of the way, in part because it surrendered an extra goal (2.68) per game.
"The goaltending, when we did make mistakes, made the big saves in the first half," New Hampshire coach Dick Umile said. "I'm not saying Casey didn't make those saves in the second half, but we found ways to give up goals, whether it was a bad defensive play or lost faceoffs.
"Overall, we know what we are capable of doing: that we need to put together 60-minute games and not have lapses. Sometimes it's the way the puck bounces, but I don't think that's taken away from our confidence."
The Wildcats don't feature one mega-stud on offense, spreading the scoring instead across six players who topped 20 points, including two defensemen — Trevor van Riemsdyk and Eric Knodel.
But what they do feature are exceptional special teams. The Wildcats topped Hockey East in net special teams, lapping the field with a plus-17 mark. Their penalty kill (92.3 percent) led the league and their power play (19.5) ranked second only to Boston College.
"They're definitely important in the playoffs, and we have confidence there," Umile said. "We know we can kill on the PK and generate good opportunities on the power play. Sometimes they don't go in, but you have to make sure you get good looks and screen the goaltender.
"We had trouble scoring goals in the second half, but there are a lot of great goaltenders in our league. That being said, you've got to make sure you get the looks and get into that gritty, dirty area out front with a screen and find ways to get pucks by the goaltender. Everybody in the NCAA tournament has great goaltending, so it's going to be even more difficult. But there's confidence there on our specialty teams."
— David H. Hendrickson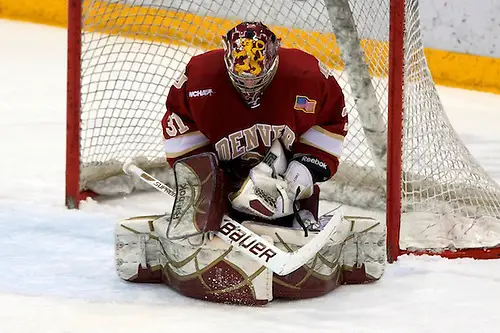 Denver Pioneers
Coach: George Gwozdecky, 27th season, 19th at Denver
Record: 20-13-5 (14-9-5 WCHA, tie-fourth)
How they got in: At-large bid
Regional seed: Third
Last NCAA tournament appearance: 2012
Best NCAA finish: Champions in 1958, 1960, 1961, 1968, 1969, 2004, 2005
Why they'll get to the Frozen Four: Denver has had few problems finding opponents' nets this season, as the Pioneers have Division I's third-best scoring offense, averaging 3.39 goals per game. If that trend continues in Manchester, N.H., the Pioneers will put themselves in a great position to punch their ticket to Pittsburgh.
Why they won't get to the Frozen Four: The other goaltenders in the Northeast Regional could easily get on a major roll like Colorado College's Joe Howe did against Denver in the first round of the WCHA playoffs. Keep in mind all four starting goaltenders in this regional are among the nation's top 20 statistically.
Denver is playing in arguably the toughest regional of this year's NCAA tournament, but the Pioneers do have the luxury of having played all three teams earlier this season.
DU will be looking for revenge Friday, though, when it faces New Hampshire for the second time this season. The Pioneers hosted UNH on Nov. 24 and jumped out to an early 3-0 lead, but the Wildcats fought back and eventually came away winners from a 6-4 goalfest at Magness Arena.
That loss came early into a rough patch of the season for the Pioneers in which they went 0-5-3 between Nov. 23 and Dec. 15.
"We had a few big lapses in that game, and it was right at the beginning of a pretty bad time for us in the season," Denver senior defenseman and captain Paul Phillips said. "We know how they play. We've played them before, and we played them good for a little bit of the game at least.
"They're a really good team, though, and they'll be close to home. We'll be ready to go, and it's going to be a lot of fun."
Denver missed out on its last-ever WCHA Final Five after losing in the league playoffs' first round at home to in-state rival Colorado College in three games, and the Pioneers will be looking for redemption in New Hampshire.
The carrot being held in front of Denver is certainly big enough. The Pioneers went 1-2-1 this season against teams in this year's Northeast Regional — DU manhandled Massachusetts-Lowell 6-1 in the Pioneers' official home opener Oct. 19 — and avenging setbacks from earlier in the season would be made all the sweeter if it also means a trip to the Frozen Four.
Only a fool would think the Pioneers don't have an arsenal strong enough to make that happen. No one Denver skater has mind-blowing offensive numbers, but nine have at least 20 points to their names. Goaltender Juho Olkinuora has been among the WCHA's best this season, posting a .921 save percentage and 2.55 goals against average.
The Pioneers did have to do some scoreboard-watching and hope that chips fell the right way in order for them to make this year's NCAA tournament, but coach George Gwozdecky said that his team is primed to take advantage of the at-large bid it received for this competition.
"I think basically what that says is our schedule was the second-most difficult schedule in the country," Gwozdecky said. "And we won some important games, especially nonconference games, in that schedule, and I think based upon that, it's one of the reasons we were able to maintain our three-seed status throughout this weekend.
"Our guys were really upset" about losing to Colorado College, Gwozdecky added. "CC played a good series, but we were very upset, and certainly this team has earned the opportunity to play in the national tournament, and certainly we want to be able to take advantage of that second opportunity."
— Matthew Semisch, with Candace Horgan contributing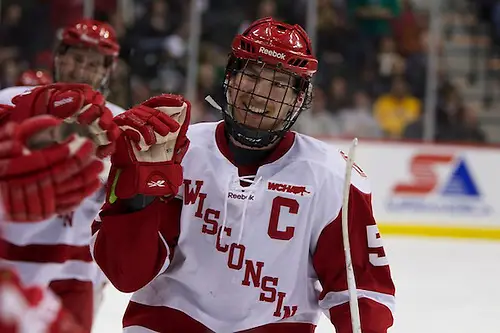 Wisconsin Badgers
Coach: Mike Eaves, 11th season
Record: 22-12-7 (13-8-7 WCHA, tie-fourth)
How they got in: Automatic qualifier, WCHA playoff champion
Regional seed: Fourth
Last NCAA tournament appearance: 2010
Best NCAA finish: Champions in 1973, 1977, 1981, 1983, 1990, 2006
Why they'll get to the Frozen Four: The Badgers are riding a monster hot streak heading into the NCAA tournament, having scored at least three goals in each of UW's five WCHA playoff games and having scored at least that many in all but one of the Badgers' nine games so far this month.
Why they won't get to the Frozen Four: If Massachusetts-Lowell and its defense are as good as advertised, Wisconsin will have problems even surviving past the first day of the tournament.
Life is as good for the Wisconsin Badgers at this point in the season as it was bad nearer the start.
Injuries to key returning players like forward Mark Zengerle, a controversial suspension given to highly touted freshman forward Nic Kerdiles and the sudden departure of assistant coach Bill Butters hampered UW early on, and the Badgers opened the season with a 2-7-5 record through their first 14 games.
They have gone 20-5-2 since Dec. 13, though, and UW is entering this year's NCAA tournament having just won the Badgers' first WCHA playoff championship in 15 years.
Things aren't perfect for Badgers coach Mike Eaves's club — UW has never been at full-strength this season thanks to the Kerdiles suspension and injuries to others, one of which is still keeping Derek Lee (knee) out of action — but they're much better than they were.
The Badgers have scored at least three goals in eight of their nine games in March, and sophomore goaltender Joel Rumpel (.923 save percentage and 1.84 goals against average this season) has been on top form lately, earning WCHA all-tournament team honors.
Eaves said that the team's low point this season undoubtedly came early on, but he said that it wasn't as though the team's mechanics weren't there. They just couldn't do enough to pull out more wins than they did.
"It was the first 10 games," Eaves said. "I think we lost to Colorado College at home and one game in overtime and we lost to [Minnesota State], and coming back into the room, it was almost unbelievable. We weren't playing terrible, but instead of finding ways to win games, we weren't scoring enough to find ways to win those games.
"During that time, you're trying to say the right things to keep these young men with us and to come back and work, and during those first 10 games, our season could've fallen right apart. But I think that through the leadership from some of our older guys and the coaches working together and staying with it, we turned the ship around and got the wind in our sails."
He gives most of the credit to his players, who had the fortitude to stick with Eaves' system through the hard times early on and eventually reap the rewards, which included capturing the Broadmoor Trophy as WCHA playoff champions in UW's final season in the league.
"[It's been] one of the most enjoyable journeys right now, I think because of where we were," Eaves said. "It was tough, there's no two ways about it. It was tough coming to the rink and making tough decisions where we were going to make [each day] the best day we have right now, because that's all we can control, and these young men bought into it.
"A lot of the credit has to go to the guys in the locker room, because we [as coaches] are there 15 percent of the time with them. It's the other 85 [percent] they're around each other: Class, lifting [weights], eating, and what they say to each other and how they hold each other accountable. They carried the flag when [the coaches] weren't there, so they get a great deal of the credit."
— Matthew Semisch