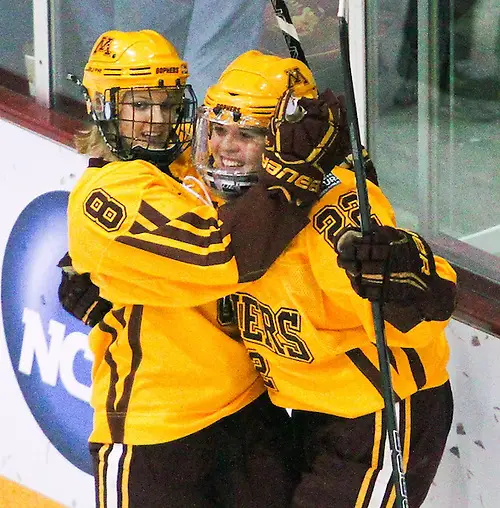 She finished second in the nation in scoring behind her linemate, Amanda Kessel. As such, Minnesota's Hannah Brandt has been selected as the USCHO D-I Women's Rookie of the Year, beating out Haley Skarupa of Boston College and Sarah Lefort of Boston University.
Brandt was highly-touted coming into the season, as she was tabbed the WCHA Preseason Rookie of the Year. She lived up to her billing, as she claimed the WCHA Rookie of the Year Award and was also named to both the All-WCHA First Team and All-WCHA Rookie Team.
It seems odd to think it now, but one of the concerns for Minnesota headed into the season was where the offense would be found after graduating three of its top four scorers in 2012. That was particularly true on opening weekend weekend, when it was unknown how much Amanda Kessel could play as she returned from surgery and Sarah Davis and Kelly Terry were away for a national-team commitment.
Brandt exploded onto the scene with a hat trick in her first game and six points the next night, and she's been a consistent producer throughout, average two points per game.
Coach Brad Frost says that there are two primary things that separate Brandt from most young players. One is that she sees the ice very well, allowing her to read the game at a very high level. In addition, Brandt has the ability to finish scoring chances and put the puck in the net.
The net result is that she finished second in the country in both points and assists, and led all the major offensive categories among freshmen. She finished tied for fourth overall in game-winning goals with seven, scored 10 goals on the power play, finishing second overall in that category, and two while short-handed. She finished second overall in assists with 49, trailing only Kessel, and fifth overall in goals. Brandt also gets the job done at both ends of the ice, leading the nation in plus/minus with a plus-74.
USCHO's D-I Women's Awards are voted on by the D-I columnist and editor. Still to come this week are the All-USCHO first, second, third, and all-rookie teams.