As the CCHA wraps up business after a 42-year history, its two championship-winning teams this season hold the top two spots in the 2013 Midwest Regional.
Notre Dame won the playoff championship to take the final No. 1 seed away from regular season champion Miami, which slipped to the second band.
And if NCAA tournament experience means anything, the RedHawks might have an advantage. They're the only team playing this weekend at Huntington Center in Toledo, Ohio, that was in the NCAA tournament last season.
Minnesota State makes its first appearance since 2003, while St. Cloud State is back after missing the last two national tournaments. The Fighting Irish last made the field in 2011.
Here's a look at the Midwest Regional: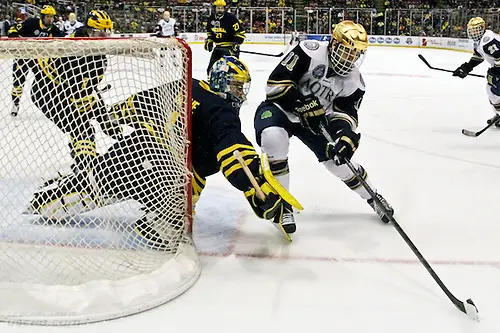 Notre Dame Fighting Irish
Coach: Jeff Jackson, 14th season at Notre Dame, 20th overall
Record: 25-12-3 (17-8-3-2 CCHA, second)
How they got in: Automatic qualifier, CCHA playoff champion
Regional seed: First
Last NCAA tournament appearance: 2011
Best NCAA finish: Runner-up in 2008
Why they'll get to the Frozen Four: The Fighting Irish have consistent goaltending, a smothering defense and a deep, opportunistic offense.
Why they won't get to the Frozen Four: While the Fighting Irish are fast, if they aren't allowed to dictate the pace of the game, they may be out of their element.
Notre Dame may be a No. 1 seed flying under the radar. The Fighting Irish have the nation's best unbeaten streak (7-0-2) entering the NCAA tournament after capturing their third Mason Cup in seven years, all under the guidance of coach Jeff Jackson — and all against the Michigan Wolverines.
"This one's extra special to me because the first team I ever coached as a head coach in college hockey in 1991 won this tournament," Jackson said, "and this will be the last opportunity to win one of these tournaments."
That team in 1991 was Lake Superior State, and it was the first of four CCHA titles that the Lakers won in five years under Jackson's direction. If the Fighting Irish survive this regional, they'll do so because Jeff Jackson knows how to coach championship teams.
If this team prevails, it will be as much about what the Irish have learned in the past two seasons.
Last year's Fighting Irish team didn't make a trip to the NCAA tournament, slumping in midseason and limping toward an eighth-place finish. This year's squad also had a slide in January, a five-game losing streak that knocked the Irish out of first place. This year, though, was different.
"We played hard, we played well, and we kept together as a team," said junior forward Anders Lee, who scored the second goal in Notre Dame's 3-1 CCHA championship victory. Lee said that the team was "so close in the locker room" that losing in January "wasn't going to get to our heads."
In Detroit, the Irish played a complete team game from the goal out. While junior Steven Summerhays faced only 38 shots in two games all weekend, he was ready when he needed to be. The entire team defense was smothering, and the Irish were able to come from behind in their title game win as well as their 3-1 semifinal victory over Ohio State by keeping their cool.
"We have to play our game," Jackson said. "It's a matter of being poised and patient. When you play a great team and they have great speed and great skill, you have to play smart. When you play smart with the puck and you play as a team and you work hard and you have discipline, you're going to have success."
In the tournament, the Irish outshot their opponents 77-38 in two games. "We controlled the puck a lot," Lee said. "We had control. We were the ones who were dictating the play. When you're able to do that, it takes away from them to have opportunities with the puck."
They're well coached, they play as a unit, they have a smothering defense and a deep, skilled offense. If the Fighting Irish also have control of a game, they'll be very, very difficult to beat.
— Paula C. Weston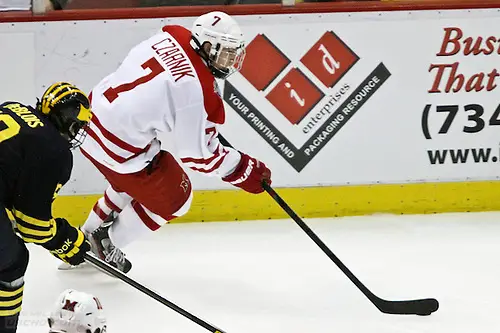 Miami RedHawks
Coach: Enrico Blasi, 14th season
Record: 24-11-5 (17-7-4-4 CCHA, first)
How they got in: At-large bid
Regional seed: Second
Last NCAA tournament appearance: 2012
Best NCAA finish: Runner-up in 2009
Why they'll get to the Frozen Four: The RedHawks are young, fast and skilled with huge offensive potential and a pair of goaltenders who can stop nearly anything.
Why they won't get to the Frozen Four: The RedHawks are young, fast and skilled … and inconsistent.
Because the RedHawks ended 2012-13 as the last regular season CCHA champs, they drew the lowest seed in the CCHA playoff tournament, Michigan — the hottest team in the league heading into Detroit last weekend — in the semifinals.
Miami was already guaranteed a spot in the NCAA tournament before the RedHawks took the ice; the Wolverines, though, needed to win the Mason Cup to make it to the NCAA tournament for the 23rd consecutive year.
The result was Michigan's 6-2 win over Miami, a team that on average gives up fewer than two goals per game.
"We started out good and things didn't go our way," said Miami senior forward Curtis McKenzie, who scored the second goal for the RedHawks in that game. "We'll learn from it and we'll be better next time."
Learning from a game and moving on is one of Miami's greatest strengths this season. The RedHawks are a young team with 11 freshmen on the roster. Their leading scorer, Riley Barber, is a freshman; their two starting goaltenders, Ryan McKay and Jay Williams, are freshmen. Austin Czarnik, this year's CCHA player of the year, is a sophomore.
In many ways, the RedHawks don't know that they're not supposed to be this good so young, and they've proven repeatedly that they can recover from setbacks. In the last weekend of regular season play and with the top spot in the conference on the line, Miami dropped a Friday game to fourth-place Ohio State 3-0 and came back the following night to defeat the Buckeyes 4-2.
The same thing happened two weeks later in the second round of the CCHA playoffs. After losing the opening game of the best-of-three series to last-place Michigan State 3-0 the RedHawks took the second and third games by 4-1 scores.
"This is a resilient group," coach Enrico Blasi said in the CCHA playoff tournament. "Let's not forget that this is the team that won the CCHA regular season championship. So let's not feel sorry for ourselves here. I'm so proud of them. I know that they can play better. I know we learned a big lesson tonight, and we'll move forward."
As much as youth provides resiliency for the RedHawks, it also can provide a lack of consistency. The upside of Miami recovering from shutout losses in pivotal weekends is that the RedHawks recovered. The downside, of course, is that the RedHawks had to recover — and they had to recover from shutouts. Miami was kept scoreless seven times this season and scored a single goal in five contests. While the RedHawks have the nation's second-best defense and Miami is capable of explosive, exciting offense, the RedHawks have the 38th-best offense in the country.
— Paula C. Weston
Minnesota State Mavericks
Coach: Mike Hastings, first season
Record: 24-13-3 (16-11-1 WCHA, tie-fourth)
How they got in: At-large bid
Regional seed: Third
Last NCAA tournament appearance: 2003
Best NCAA finish: First round in 2003
Why they'll get to the Frozen Four: The Mavericks have one of the top power-play units around the country to go against a tough Miami penalty kill.
Why they won't get to the Frozen Four: Minnesota State is a little nicked up and it will be interesting to see how the Mavericks react against a speedy Miami squad.
Last Thursday's WCHA Final Five quarterfinal game was a rough one for Minnesota State, figuratively on the scoreboard and literally in the injury department.
The Mavericks fell 7-2 to Wisconsin and three players left the game injured during the game. WCHA rookie of the year Stephon Williams suffered an upper-body injury after the goaltender took a whack while the puck slid past him into the net in the second period.
Chase Grant left the game with a pulled hamstring as a result of his body moving right while his left leg stayed planted in reaching for a puck in the second period.
He tried to come back a few minutes later but left the ice early on his shift. Williams and Grant have both been cleared to play against Miami on Saturday and practiced Wednesday.
"It was super sore and I couldn't do much with it after that," said Grant, a sophomore with seven goals and 12 assists for the season. He had a goal and two assists in MSU's three-game playoff series against Nebraska-Omaha.
Still not cleared to play as of Wednesday is Eli Zuck, who went leg-first into the boards tangled with Wisconsin's Brendan Woods late in Thursday's game. It was Zuck's first game back from an MCL tear Feb. 16.
"It's important for everybody to be 100 percent and we've been skating well in practice so everyone's excited about that," Grant said. "Zuck's ankle is still bothering him. He's had some bad luck with injuries."
Sophomore Matt Leitner leads the Mavericks offensively with 17 goals and 30 assists. Of Leitner's 47 points, a nation-high 28 of them are on the power play, including a 22 power-play assists, also a national best.
Minnesota State's 44 power-play goals are the most in Division I. A key for the Mavericks to move on this weekend is to score on even strength because Miami's penalty kill is among the best in the nation (88.1 percent).
"We need to take something [from the Wisconsin loss] and now we have an opportunity to play in the national tournament," Minnesota State coach Mike Hastings said. "Whether we win or lose, we have to push the envelope.
"We had an opportunity [against Wisconsin] and we didn't take advantage of it. We'll be better because of it."
Getting Williams cleared to play is huge for MSU, because backup Phil Cook has played very little since his last full start Nov. 3. Cook has allowed six goals on 23 shots in three appearances since then.
In the meantime, the Mavericks are enjoying the moment of playing in the program's first NCAA tournament game since 2003.
"You're proud to walk around school wearing your MSU gear and people kind of look at you in a different way since we've been successful," Grant said. "It's been unbelievable to see the difference in support from the community all season."
— Tyler Buckentine
St. Cloud State Huskies
Coach: Bob Motzko, eighth season
Record: 23-15-1 (18-9-1 WCHA, tie-first)
How they got in: At-large bid
Regional seed: Fourth
Last NCAA tournament appearance: 2010
Best NCAA finish: Second round in 2010
Why they'll get to the Frozen Four: St. Cloud State's struggling power play is improving, going 4-for-13 since the start of the playoffs, and the Huskies are the fourth seed no team wanted to play.
Why they won't get to the Frozen Four: Their first-round opponent, Notre Dame, has one of the hottest teams going into the tournament, unbeaten since Feb. 16 and 9-1-3 since Feb. 2.
If there's a team in the NCAA tournament field that's better than its seed, it most likely would be St. Cloud State.
The Huskies played their way into a No. 4 seed and nearly out of the tournament with key losses throughout the season. First, there was the sweep at the hands of New Hampshire in the first weekend of the season and then the sweep at home by Northern Michigan in early January.
Other than those two weekends, the Huskies didn't leave a weekend without at least a split, but an early exit from the WCHA Final Five after a loss to Wisconsin put them on the bubble.
"Right when we lost on Friday we knew we were on the bubble," said St. Cloud State leading scorer Drew LeBlanc, a Hobey Baker Award finalist and WCHA player of the year.
"It stunk those couple days because it was a waiting game and everything was going wrong that could. We were sweating it out."
But the Huskies wound up on the right side of the tournament cutoff and got the 13th overall seed despite winning the WCHA, the deepest conference in the nation in terms of NCAA teams.
St. Cloud State would be a top seed if it had at least earned splits against New Hampshire and Northern Michigan, but the players understand those losses are in the past, despite their effect on the team's position.
"We've earned the right to be in the tournament," forward Nic Dowd said. "We won our league and that's a challenging thing in itself. We didn't compete against some teams we should've beaten earlier this year."
LeBlanc is the nation's leader in assists with 38 and leads the Huskies in total points with 50. Dowd is second on the team in points with 39 (14 goals, 25 assists). Nick Jensen was named WCHA defensive player of the year and also has great offensive abilities. Jensen has four goals and 26 assists.
Goalie Ryan Faragher hasn't been tested much in the postseason, seeing just 60 shots in three playoff games — two wins against Alaska-Anchorage and the loss to Wisconsin. The sophomore owns a .914 save percentage and a 2.29 goals against average.
— Tyler Buckentine