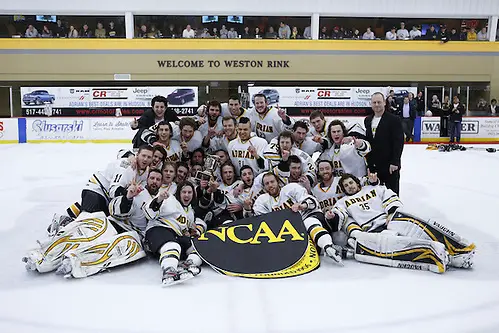 Prior to the start of the 2012-13 season, it was announced that St. Norbert and St. Scholastica of the Northern College Hockey Association would join the Midwest College Hockey Association for the 2013-14 season.
The league announced on Monday however, that the MCHA would be renamed to the NCHA.
The new NCHA will consist of Adrian, Concordia (Wis.), Finlandia, Lake Forest, Lawrence, Marian, Milwaukee School of Engineering, Northland, St. Norbert and St. Scholastica.
The restructuring of the conferences began in summer 2012, when schools that were in the NCHA, but also had other sports competing in the Wisconsin Intercollegiate Athletic Conference, decided to form a men's hockey league for the WIAC.
Keeping up?
"The decision on what to name the conference, or how to move forward, has been a long-time discussion; it can all be pinpointed to when the WIAC schools left (the NCHA), which was completely unexpected for them to bail," explained St. Norbert coach Tim Coghlin.
Coghlin offers a distinctive view on the changes for next season. He was a player in the late '80s, and began coaching St. Norbert in 1993 when the NCHA members looked a lot different. St. Cloud State, Minnesota State-Mankato, and Bemidji State were all a part of the NCHA at one point. Each school moved to the Division I level at some point in the late '80s and '90s.
"I have a unique perspective being in the NCHA as a player when the field looked completely different to what it looks like now," said Coghlin. "The league has always had a history of excellence, even through changes, and we'll look to that we continue forward."
Marian coach A.J. Aitken, is also excited for his team. Aitken was the associate head coach at St. Norbert before taking the head coaching job at Marian for the 2012-13 season. He had been a member of the Green Knights coaching staff, under Coghlin, for nine seasons.
"It's very exciting for me to have them as part of the conference," Aitken explained. "They have a competition level that they'll bring to the league. Both teams have very strong programs, and both have a great arena and atmosphere to play in. I look forward to that next season."
Moving forward, the league has announced that they will keep the NCHA's trophy, the Peter's Cup, as the regular season champion's award. The Harris Cup, which was a part of the MCHA playoff tournament tradition, will remain as the conference's playoff trophy.
While the league is keeping some old traditions, the NCHA will debut a new logo and a new website. Other changes to come, including some changes to the structure of the schedule that were made prior to Monday's announcement, are all positive in the minds of most teams.
"There is no doubt that the former MCHA has strengthened through the addition of St. Scholastica and St. Norbert," explained Adrian coach Ron Fogarty. "The regular season schedule of playing each opponent twice is another move in the right direction. This will give us the opportunity to play 15 different teams next season, an opportunity to enhance our strength of schedule."