Atlantic Hockey on Friday announced new policies on scholarships, scheduling, supplemental discipline and more. The changes were the result of the league's annual board of directors meetings, held earlier this week.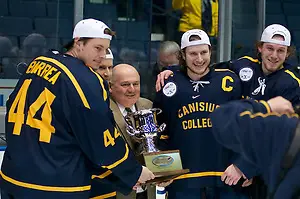 The conference will increase its maximum scholarship limit from 12 to 13 beginning with the 2014-15 season, and then add a 14th in 2015-16. The NCAA allows for a maximum of 18 men's hockey scholarships.
"[The scholarship limit increase] passed easily," Atlantic Hockey commissioner Bob DeGregorio said. "We have always said our goal was to not leave anybody behind, but also not to hold teams back. We made great strides this year with our non-conference RPI and this allows us to continue to move in that direction."
The league will play a 28-game, 11-team schedule starting in 2014-15 following Connecticut's departure to Hockey East. Teams will play six opponents twice and four opponents four times. A rotation system will be used to select the number of games played between opponents.
"We are still working out the formula," DeGregorio said. "Our intention is to be fair and also maintain local rivalries."
The commissioner said the league plans to return to 12 teams and expects to add one of two schools that have shown major interest. Sacred Heart athletic director Don Cook will chair the expansion initiative.
The league would not name the interested schools because they have not yet formally applied. Last November, DeGregorio told USCHO that he was in contact with four schools — St. Anselm, Rhode Island, Navy and Alabama-Huntsville — about joining Atlantic Hockey. Alabama-Huntsville has since joined the WCHA.
"We expect [applications] soon," DeGregorio said.
The conference is streaming its supplemental discipline process and will no longer accept appeals for suspensions of fewer than three games.
"We have astute coaches on our league and most suspensions don't get appealed," DeGregorio said. "And we have never reversed or changed a decision on a two-games-or-less suspension."
Atlantic Hockey will allow the option for video replay in conference games beginning with the 2013-14 season. It will be mandatory beginning in 2014-15, allowing rinks the time to add the necessary equipment.
The conference used video replay for the first time in its 10-year history at last season's postseason championships.
"Referees will be trained on the use of replay in preparation for the coming season," DeGregorio said.
Also, the board of directors approved an update to the league's strategic plan.
"There may be a broadening of branding and media," DeGregorio said. "We're also looking at things like the timing of games at our championships to accommodate more [fan travel].
"It was obviously a great year," DeGregorio said, reflecting on the 2012-13 season. "We had the most non-league wins ever, and two teams [Canisius and Niagara] in the [NCAA] tournament for the first time.
"We looked at the numbers and if Robert Morris had won one more (non-league) game, we would have had three teams in the tournament. This is what amateur sports is all about. It was great to have new blood both in our league championships and in the NCAA tournament."