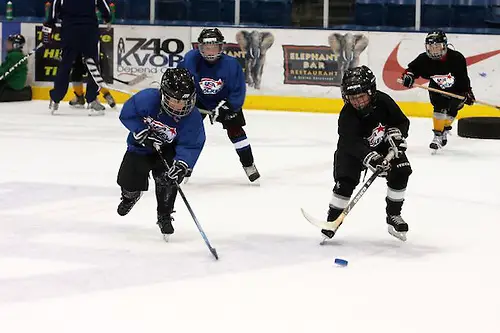 Three letters are causing quite a stir in the youth hockey community across the United States.
ADM.
The American Development Model, developed by USA Hockey in conjunction with the NHL, isn't going away. It will continue to evolve into exactly what the letters stand for, the development model for producing hockey players in the United States.
Launched officially in January 2009, it is being utilized by a majority of youth hockey organizations across the U.S. and is a way for coaches to be better and increase their ability to develop players.
The ADM is a bold initiative developed by experts across many of the fields that encompass competitive athletics. Doctors, coaches, nutritionists and many other specialists lent their expertise to the program, whose end result is the long-term athletic development of American hockey players.
In many ways it is selectively improving how we teach what has long been around. It is also taking what wasn't working well and either eliminating it or putting it into a format that allows it to thrive.
One of the things that assists the ADM's ability to succeed is the teaching that takes place. The Coaching Education Program has reinvented itself over the past few years, and the use of new technology has improved the way we teach our coaches. That, in turn, has led to better practices, better curriculums and more age appropriate teaching of the game and its fundamentals.
"When people first see this in action, they see how much the fundamentals and puck skills are emphasized," said Scott Paluch, a former Bowling Green coach who is one of the regional ADM managers, working full time teaching to youth hockey organizations in the Midwest and Southeast.
"There is so much hockey stuff that gets worked on, especially with the 8-and-under and 10-and-under levels. At that age, it is about skill development. Team tactics can come later."
The best part is seeing kids in constant motion. No one stands around and the stations are designed to work on all areas in the long-term athletic development model.
USA Hockey has come under fire for two of the initiatives that have developed during the tenure of the ADM. One is removing checking from the Pee Wee level; the other is cross-ice games only for Mite level players.
What has been problematic is the old guard purists who feel nothing should ever change from the way they have always done things. Some in sports have always resisted change, whether it is the two-point conversion in pro football, video replay in baseball or making the nets bigger in hockey.
Those who don't know their history are bound to repeat it. When the Civil War began, troops still fought in the old style: line up across open fields and shoot at each other. As the war dragged on and technology improved, things like trench warfare, repeating rifles, ironclad ships were developed to create modern warfare.
The ADM has set out to change the way we run practice. However, having seen just about every NCAA team practice at least once in my 10 years scouting and broadcasting college games, I can tell you first hand that these teams do a ton of stuff that is of the ADM style. Small-area games, splitting to small groups of players to get more reps and more conditioning, goalie specific drills and skill sessions are more the norm than the exception.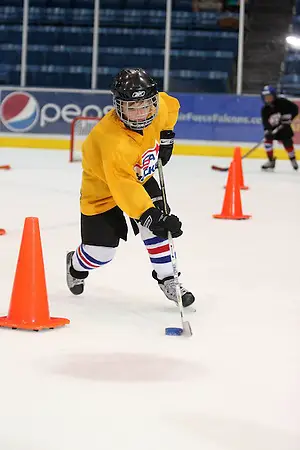 The lesson we have learned through the launch of the ADM is that there are a lot of parents and coaches that are resistant to change. It comes from a lack of understanding of what the ADM really is.
At the very core of the ADM is the desire to improve the experience and development of our young players through more activity, small-area games and more time with pucks on their sticks. Station-based practices with a low coach-to-player ratio allows kids more time to handle the puck, be in motion and actually work on skills.
As it is said, the amount of time a kid has the puck on his stick in a 60-minute ADM-style practice would need about 11 games to replicate.
"There are some people who have 100 percent buy-in right away and then there are some people who have been around the sport a while that don't seem to like it at first," said Matt Herr, a former Michigan and NHL player who now serves as the ADM regional manager for the New York-New Jersey area.
"Then they see the smile on the face of their kid who is a sweaty mess when practice is done and had a blast because he was in constant motion and handling the puck. These kids don't even realize how much they do in these station-based practices."
Having a son who is entering his third year of mites, the No. 1 complaint I hear from parents is that at the Mite level under the ADM philosophy there is no provision for teaching team tactics or systems. The 8-and-under level also has been designated as cross-ice only, and a huge faction of coaches want to see full ice permanently eliminated from Mites. This has some riled up and for mostly the wrong reasons.
"How is my kid going learn offsides, icing and how to break out and forecheck if they are only playing cross ice?" "My kid is not getting the proper conditioning because he/she is not using the whole ice!" "My kid will be behind the Squirt majors who have played full ice before." This is what I hear on a daily basis and what hits the ears of ADM-compliant programs and the ADM managers nationwide.
Those types of complaints can't sway those writing curriculums for youth hockey, especially the 8-and-under level. Like tennis, baseball, soccer, basketball and lacrosse, USA Hockey altered the ice surface to be more age and size appropriate for kids who are small, not very strong and just learning the game. As an adult, try playing a game on an ice surface 45-50 percent bigger than the normal sized rink with nets like soccer goals and a four-pound puck. That's what the ice looks and feels like to a 6-to-8-year-old, even a good one.
"We have to keep doing what we are doing at those levels, the younger levels, because putting these kids on a big surface is not aiding their development," said Mike MacMillan, the national coach-in-chief. "We need to stay the course because we are seeing the results."
Those results, said Paluch, are visible in the retention of players as they hit the age group where dropout normally start, namely Pee Wee and Bantam.
"We are getting testimonials from families about how happy their kids are in these type of practice settings, ones where they are constantly in motion, constantly being challenged to figure things out in small area games," Paluch said. "The station-based practices, what we are doing at 8U, they are contributing to that retention and the numbers are there to show it."
"As far as the cross-ice issue and conditioning, I'll draw on my pro experience," said Herr, who was also part of two national championship teams at Michigan in the 1990s. "When we did battle or small-area games in NHL practices, we went for 30 seconds hard and we were pushed to the limit. That was conditioning at its best and that is what we have these kids doing at all age groups. We are also speeding up their reaction time."
In these practices, kids are getting more reps at the things that become cornerstones of success at the next level: puck protection, stops and starts, and the development of hand skills. Patrick Kane, who many refer to as a guy who could stickhandle in a phone booth, is an example of what USA Hockey is aiming to develop in the next generation of American players.
"We want to see more American players in the top 50 in NHL scoring," Herr said. "To do that you have to be able to play in traffic, and that is what we are teaching through a series of different drills that constantly have these kids playing in small areas, protecting the puck, changing directions. That is a huge part of hockey at the NHL and NCAA level."
While the current core of U.S.-born players did not come through the newly developed ADM, USA Hockey is doing what it can at every opportunity to expose our elite players to ADM-style practices. That was the case at the recent Olympic orientation camp in Washington. Paluch incorporated John Carlson, Seth Jones and Phil Kessel in a 8U ADM practice with 53 kids on the ice. Broken into six stations and constantly rotating to a new station, the youth players, coaches from the local associations and NHL players had a blast.
"The skills that the kids were being taught, the things we were doing with them brought the current players back to a lot of what they loved as a kid. It was about playing games, competition in drills, playing with the puck, finding rewards in the skill work," Paluch said. "It had some of the pond hockey element they loved as kids and it felt really natural to them to participate as coaches."
Paluch also did a 10U and 12U session with 50 kids and used Patrick Kane, Ryan Suter and Jack Johnson. While 50 kids might seem like a lot, they are broken into stations and grouped with kids similar in ability or size. There are no long lines, no inactivity, no standing around and no talent mismatches.
As ADM Michigan regional manager Bob Mancini likes to say, the success here is due to "no lines, no laps and no lectures."
"One thing we have seen, and the numbers are there, is that organizations that have adopted the ADM have a 40 percent better retention rate than the organizations that have not gone to it," said Ken Martel, technical director for the ADM. "We are seeing great results from these organizations in their player development. The kids are having fun and getting better."
One thing that cannot be measured yet are the results from the ADM. It is still too early to be able to see how well the program is working in a big-picture sense, but people like Martel are confident.
"An 8-year-old needs 10 years to be an 18-year-old," Martel said. "However, keeping more of these kids playing hockey at those young ages equates to more high-end kids down the road."
The ADM road show hits New York for seven demonstrations in seven days headed by Herr and his staff. They start in Bethpage on Sunday, Sept. 8 and then visit Westchester, Lake Placid, Syracuse, Rochester and Buffalo.
More on the ADM: www.admkids.com