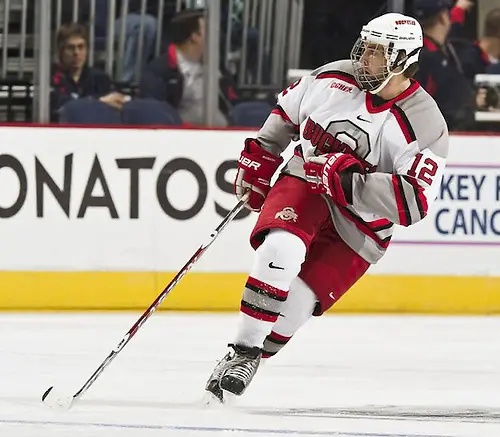 Editor's note: This is part of an occasional series of stories checking in with college hockey personalities, past and present.
Matt Bartkowski's locker was tucked in the far right corner of the room last season at TD Garden, right next to a garbage can. It was the farthest stall from the exit and the closest to the shower. Clearly, though it was posh NHL quarters overall, his nook was not prime real estate.
Such is life for a rookie — called up on an emergency basis, no less — on a Boston Bruins team loaded with veterans.
But things might be changing for this former Ohio State Buckeyes player. He authored up a solid, impromptu performance on the blue line in the postseason as Boston won the Eastern Conference for the second time in three seasons. And now that free agency has opened a few spots on Boston's defensive depth chart, Bartkowski might just earn a full-time NHL gig this season.
And who knows, maybe he'll improve his locker logistics along the way.
Bartkowski worked over the summer on his 6-foot-1, 196-pound frame as he tried to maintain his spring momentum. He was promoted from the AHL in Round 1 — as the Bruins battled the Toronto Maple Leafs — due to injuries suffered by veterans Andrew Ference, Wade Redden and Dennis Seidenberg.
And although he didn't play in every Bruins playoff game, Bartkowski, 25, stuck with the big club for the remainder of the run and gained priceless experience on what a grueling grind the NHL postseason can be. He also acquired a mean playoff beard in the process.
Bartkowski talked to USCHO about the past, present and future. Here's an edited transcript of that conversation:
USCHO: You played in seven playoff games for the Bruins, but didn't take the ice in the final two rounds vs. Pittsburgh and Chicago. Was that frustrating after contributing to series wins over the Maple Leafs and Rangers?
Bartkowski: At times, yeah, but we have a team-first mentality here, and whatever's best for the team is what I want to do. If that means take the ice and go out there and play, or that means get out there in the morning skate, push the guys, then head upstairs and watch the game in a suit, then, whatever they need. It's a great experience one way or the other, and you just try to embrace it and appreciate it.
USCHO: You had a goal and an assist in seven postseason games, and the Bruins went 5-2 during your time on the ice. Surely, you wanted to be out there more, but those are positives, right?
Bartkowski: Absolutely. There's a lot of depth here, and when it's your time, you have to be ready. I think that's one of the things the postseason really showed here in Boston, is the depth this team has built up, and its ability to really plug holes when needed. Things happen, the playoffs can be a marathon, and players can get banged up. To have depth at that time of year in your organization can be huge.
USCHO: You played in 80 games for the Buckeyes, had 27 assists, and really had a taste of what life was like in the CCHA. Do you think it's a good thing that Ohio State will now be a part of the Big Ten hockey conference?
Bartkowski: It's where the college game is headed, and it will be good exposure with television and all, so sure. I'll always have the memories of the CCHA. Playing at Ohio State was an honor for me. To be a part of that program, to be close to home, it was a privilege for sure.
USCHO: You grew up in Pittsburgh and had a lot of opportunities to work on your game because your high school, Mt. Lebanon, had its own rink. That was rare back then, but it's becoming more common in Western Pennsylvania, and the region is producing many college and pro players now. Do you keep tabs on your area?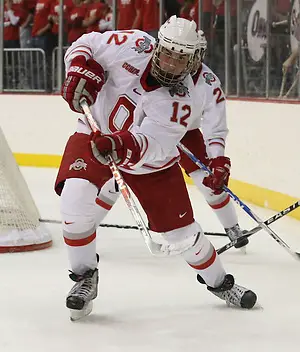 Bartkowski: I do, and there's been a lot of ebbs and flows in American hockey at the youth level in a lot of areas, and Pittsburgh is definitely one of them. When a certain team has stars and is winning — like Pittsburgh was for me growing up with Mario Lemieux and Jaromir Jagr — you see a spike in the interest, in the amount of kids playing, and when that happens, it's win-win for us. There was a bit of a lull in Pittsburgh when the Penguins weren't so good, but ever since Evgeni Malkin and Sidney Crosby have changed the scene, the game's back to being where it was in Pittsburgh, and that's great.
USCHO: American defensemen have been in the news lately, and you're a part of that. Whether it's Torey Krug and yourself making a charge through the postseason with the Bruins, or Seth Jones being selected No. 4 in the NHL Entry Draft, has it been a good time for you guys?
Bartkowski: It is, and the last 10 years, 15 years or so, American defenseman have really come a long way, and you start seeing their impact at our level. You see Torey and I in this locker room, we've come a long way, and Seth definitely adds to that. He has the talent, he certainly seems to have the mentality, and it'll just be a matter of time before he's contributing. I think it's a great thing for American hockey.
USCHO: Speaking of the draft, you were a seventh-round selection of the Florida Panthers in 2008, the 190th player selected. Take us through your draft experience. Was it frustrating to have to wait until the final round and has that fueled you and inspired you throughout your career?
Bartkowski: Well, I don't think about that much anymore. It was a long time ago, and I'm here now, and trying to do the best I can to stay here. At the time, yeah, it doesn't really matter what round, to know that someone wants you, and selects you, it's so sweet and I'll always remember the feeling. Growing up playing hockey in this country, you never think it can happen. You hear things but you try not to worry about it. You focus on your work, you get ready, and when the call comes, wow, it was great.