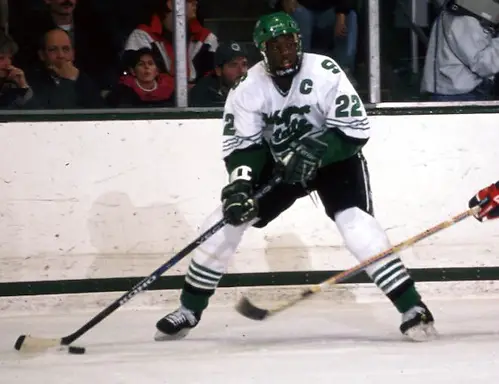 Editor's note: This is part of an occasional series of stories checking in with college hockey personalities, past and present.
Anson Carter roams the hallways of NHL rinks the same way he's always done. He stops, sports a smile and has a handshake for anyone who wants to chat, be it a player, a coach, a reporter, even a security guard.
Indeed, there is a common theory that says hockey players are the most outgoing and outspoken professional athletes out there, active or retired. And if you see Carter's act, you'll have a hard time arguing against that strategy.
It is hard to believe, but the affable Carter is now 39 and has been out of the game since 2008. A 10th-round draft pick of the Quebec Nordiques in 1992, after a standout career with Michigan State, Carter played for the Washington Capitals, Boston Bruins, Edmonton Oilers, New York Rangers, Los Angeles Kings, Vancouver Canucks, Columbus Blue Jackets and Carolina Hurricanes before his NHL tenure concluded.
He even spent a season overseas, playing for HC Lugano in Switzerland before calling it a career.
He clearly made the most of his opportunities — and his 6-foot-1, 210-pound frame — finishing with 202 NHL goals and 421 points. He had his best seasons in Canada, scoring 28 times for the Oilers in 2001-02 and 33 times for the Canucks in 2005-06.
But even in retirement he's never far from a rink these days. As a studio analyst for NBC Sports, Carter covered the Stanley Cup Finals between the Bruins and Chicago Blackhawks last season. He worked the locker rooms, manned the broadcast desks outside the TD Garden and United Center and offered up clear, concise commentary as he builds up his brand as a broadcaster.
Carter recently talked to USCHO about the past, present and future. Here's an edited transcript of that conversation:
USCHO: From watching the way you reported from the Finals, you seem to have a great rapport with the players and their families. The game can be a grind, and there's more to it than just the players themselves. And it seems you're interested in the whole package and not just the normal game-related stuff when you report. Can you explain your strategies?
Carter: It's a family game, and especially at the Cup Finals, there's so much going on, and stories everywhere. I'm learning how to cover all the bases. For the family, there's a lot that goes into it. When you're this far, it's a culmination of a life in hockey. Your brothers and sisters who were there to support you, your mom and dad, who were always there to drive you to the games and the practices and the showcases. Sometimes, they had to sacrifice to get you further ahead in the process, and that's all a part of this.
USCHO: As we talk now, you see players running up and down the halls. Some are on bikes, getting in their cardio work, others are in the weight room. The training never seems to end for these players. Was that the way it was during your era, or is that part of the new-school strategy?
Carter: It's a little of both. It's a 12-month-a-year sport now, no question, and every player not only knows that, but they have to kick it to a higher level to stay in the league. When I started, the game was headed there, but it still wasn't all the way there. In '96 and '97 in the NHL, my agent, Pat Brisson, was big on nutrition, constant training, eating properly. I remember in the locker room when I first started, I'd be making shakes and stuff. And guys would be looking around, 'What are you doing, dude?' Those were the same guys who were drinking beers and smoking cigarettes around the corner. That's all changed now, so it makes it that much harder for new guys to come in. The veterans are much more healthy now, much more in shape, ready to go, and ready to meet the challenge.
USCHO: When you talk to NHL players that played at Michigan State, you usually see their eyes light up when their Spartans careers are mentioned. You scored 106 goals there in four seasons. What is it about that place, or the program in general, that makes it so special?
Carter: It's the people, and the program for sure. I went to Michigan State to play baseball and hockey, and I was always too tired to play baseball because of hockey, and all that went with the sport at Michigan State. To play two sports — and I always was a fan of doing something in the offseason, playing another sport — it just didn't work. But that's because it was so great to play hockey there. It was a dedication thing, 24-7, and you can't shut it off. You're eating it, you're sleeping it, you're breathing it. You better keep that going, no matter what, or someone will pass you. But as tough as that can be sometimes, it makes you that much better of a player. That's why players love going to Michigan State.
USCHO: It also seems that, more than most other programs, many former Spartans players who make the NHL return to Michigan State to get their offseason work in, right?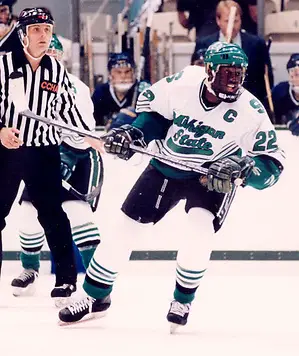 Carter: Yes, and it's the competition that keeps them coming back. It's great to see everyone, obviously, and catch up, but it's also work. They push each other, and that keeps everyone prepared. I was fortunate to get back to Michigan State in the summertime, and I loved playing with those guys. It kept me ready.
USCHO: You're also a draft analyst for NBC Sports now, and so you're covering a different kind of player, people who don't have any guarantees yet. As someone who was in their shoes in 1992, what goes through their minds, before and after the draft?
Carter: No matter where you go, even if you don't go at all and you get signed somewhere down the line, it's important for them to know that this is just the beginning. Soon, the fruits of your labor will all be visible for all to see. But right now, it's just the beginning. There are so many players that get drafted high, middle, whatever. But only so many make the league, and only so many succeed in the league. Many of them have just a cup of coffee and they're gone. What's important for them now is all the information at their disposal. To learn from those who failed, to follow those who succeeded. Getting drafted is a nice step, but there's so much more to go.
USCHO: What are your memories of being drafted by the Nordiques and starting on your NHL journey?
Carter: It's funny. It was much different back in 1992, in many ways. I actually attended the draft because I had a few buddies that were going to go high. So I drove down to Montreal from Toronto, and I went over there for the first few rounds … and I left. Didn't hear my name. Very strange feeling. But the next day, my phone rings, and I pick up, and a voice says "Anson Carter?" "Yes?" "Donny Boyd." And I go, "Hey, Donny, nice to meet you, but what's this about?" "I'm a scout with the Quebec Nordiques, and I wanted to let you know we drafted you." I was like, "Yeah, that's great," because I thought it was [former NHL goaltender and good friend] Kevin Weekes. He's a good impersonator, and I thought he was just joking with me. But Donny says, "You have a newspaper handy? Check it out. Take a look." And there it was, I was drafted. He took me in the 10th round, and that's just how it went back then. I was happy to be drafted, but I was pissed that I went in the 10th round. I kept saying to myself, "I'm not a 10th rounder." And I felt that I had to go out and prove that.