With all the uncertainty in college hockey this season thanks to the glut of conference changes, it seems fit that there would be an equal amount of uncertainty about which goaltenders shape up as the 10 to watch.
That doesn't mean we won't give it a try. Here are 10 goaltenders to watch for the 2013-14 season, listed in alphabetical order: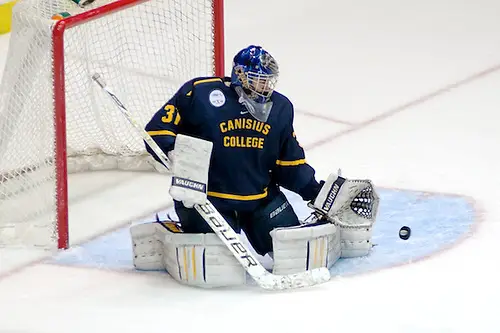 After playing 11 and 19 games during his first two seasons with the Golden Griffins, Capobianco took control of the crease last season, seeing action in 41 games. While the Griffins struggled through their first month, Capobianco kept them in games. As the season continued, he and the team both improved until he rattled off eight consecutive wins to help lift the Griffins into the NCAA tournament.
"Tony was a big reason for the late push Canisius had to the NCAAs," one opposing coach said. "Tony had a great start to the season and carried Canisius until the end of the year when the rest of the team was able to get on track."
The sophomore from South Portland, Maine, gave a solid accounting of himself during his first year with the Friars. He earned back-to-back victories five times last season en route to a 17-win campaign. Five times, he kept opposing scorers off the board, including during a March 8 game against Massachusetts-Lowell, which advanced to the Frozen Four.
He finished his freshman season with a 2.08 goals against average.
"He had a good year," one opposing coach said. "The win-loss record [17-12-6] may be not as good as some of his other numbers, but I think he made great strides."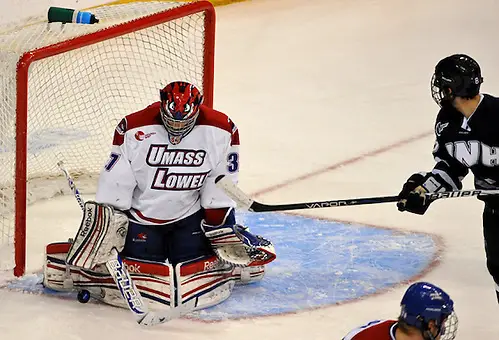 When Norm Bazin brought in the Commerce, Mich., native, most hockey experts outside of Lowell figured he would split time with then-junior Doug Carr. Hellebuyck did just that for the first half of the season while racking up a 12-game winning streak.
Somewhere in the midst of that run, it became clear that the River Hawks had something special on their hands as the freshman stole the show in the second half. He finished the season with 20 wins in 24 games played.
"He's the guy who just came out of nowhere," one opposing coach said. "He did a great job."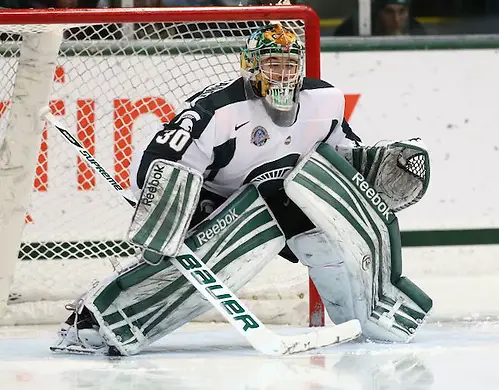 After winning just three times before Christmas, the Spartans freshman found his game in January and went on to win six more times before the season ended. Five of those six came in a seven-game span, including three in a row from March 2 to March 15.
With his second shutout in three starts in a CCHA playoff win over Miami, he helped the Spartans force the RedHawks to a decisive third game. He finished his freshman campaign with a 2.35 goals against average.
Hildebrand is listed a player to watch by Big Ten coaches.
"I really like the Hildebrand kid," one opposing coach said. "I really think he's a sleeper. People don't talk about him much, but I think that when you watch Michigan State last year, he was really good."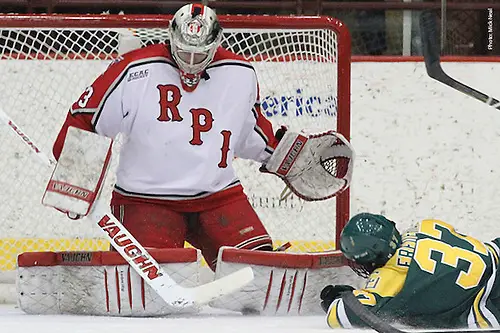 The Winnipeg, Manitoba, native split time with then-senior Bryce Merriam throughout the first two months last season. By December, it was clear that Kasdorf was ready for ECAC Hockey action on a night-in, night-out basis as he won 12 of his final 16 starts.
His 1.62 goals against average gave the Engineers' offense confidence that they would need only two goals most nights to win. He helped the Engineers force a deciding third game in the ECAC playoffs.
Kasdorf has been voted to both the coaches' and media All-ECAC Hockey teams heading into this season.
"I like the Kasdorf kid," one opposing coach said. "[He's] another good, young goalie."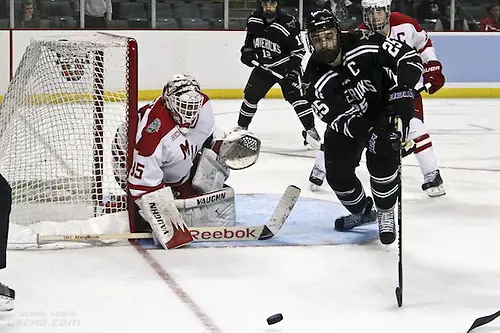 The RedHawks boast a pair of excellent goaltenders heading into their sophomore campaigns, but if you ask coaches around the country, McKay's name is the first off their tongues.
The Palatine, Ill., native posted 13 wins with four shutouts and a 1.39 goals against average in 23 games last season. In a five-game span from Jan. 19 to Feb. 15, he rattled off five consecutive victories.
After surrendering two goals in his first career playoff game, he gave up only two over the next two, helping the RedHawks eliminate Michigan State. He also earned a shutout over Minnesota State in his first NCAA tournament appearance.
After spending his freshman season watching Taylor Nelson carry the Bulldogs to the Frozen Four, Motte got his chance at the spotlight last season and did not disappoint, earning 15 wins and sporting a 2.19 goals against average.
He rattled off four consecutive victories twice. He surrendered just five goals during that second four-game winning streak.
"I think he's going to make their team go this year," one opposing coach said.
While it might seem strange to include a netminder who won just once in his first nine appearances last season on this list, it is important to note that the entire Badgers' squad struggled in the early going, not earning a home win until December.
Rumpel stabilized the Badgers from the back end, first by just giving them a chance to win games, and then by winning four games in a row twice before winning six consecutive at the end of the season to lift the Badgers to the WCHA playoff title and an NCAA tournament berth.
He finished with 16 wins and a 1.96 goals against average in 29 games as a sophomore.
"When you watch that [WCHA] Final Five last year, as he took over, the team went," one opposing coach said. "I think once he established himself, you could see their team really take off. I think he gave them a lot of confidence."
Heading into his sophomore season, Wilcox stands poised to be the top goaltender in the fledgling Big Ten. In 39 games as a freshman, Wilcox posted 25 wins, three shutouts and a 1.88 goals against average.
He also posted winning streaks of six and five games over the course of the season. The five-game streak carried into the WCHA playoffs.
Wilcox has been named as a player to watch by Big Ten coaches.
"Obviously, he's a good goaltender," one opposing coach said. "Wilcox just had a calming effect on their team. I think he's very competitive, but at the same time, very calm."
Second-year head coach Mike Hastings has to be happy to have Williams back between the pipes for his sophomore season. All the Fairbanks, Alaska, native did during his first season was win 21 games in backstopping the Mavericks to an NCAA tournament appearance.
After struggling out of the gate and not picking up a win in his first four starts, Williams won seven in a row and 11 of his next 12 starts. Starting Jan. 19, he had another great run, winning six of seven starts.
Williams was named to the All-WCHA preseason team by both the media and coaches.
"Williams goes in there with not a lot of expectations, you know, a new team," one opposing coach said. "He was really, really good. … He's a very good goalie."