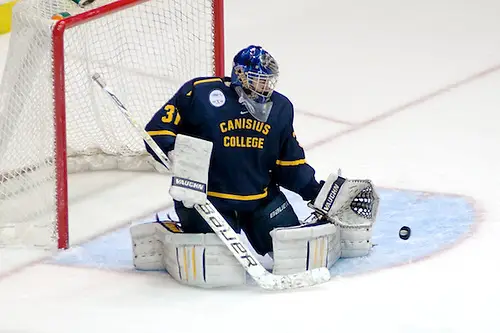 Canisius coach Dave Smith has been getting this question a lot: "What do you do for an encore?"
His Golden Griffins went on a dream run last March, winning eight games in a row to claim the first hockey championship in school history. Only a third-period rally by Quinnipiac prevented Canisius from advancing to the quarterfinals of the NCAA tournament.
"It's been a fun challenge; there's a much different mentality," Smith said. "Now that we've raised the bar, let's keep the bar up there. We haven't had an official practice [yet] but the guys have come back in great shape, they're hungry and ready to get after it now."
It helps to have a strong returning nucleus. The two most important players down the stretch for Canisius last season are back: goaltender Tony Capobianco and forward Kyle Gibbons.
Capobianco was a wall for the Griffs in March, making 34 saves or more in each of Canisius' final nine games. His best performance was at Air Force in a playoff quarterfinal series where he combined for 90 saves in two games.
"[Capobianco] is going to be key to our success again," Smith said. "He's not going to sneak up on anybody this year; teams know they need to get a lot of pucks on net.
"If your goaltender isn't at or near the top of the standings you won't be there as a team. We're going to challenge him and we hope he responds well."
Gibbons recorded only two points in his first nine games but was on fire in the second half of the season, including 18 points in his final nine contests. Gibbons had four points (two goals and two assists) in the AHA championship game.
"Kyle had a wonderful season after a very tough start," Smith said. "From Jan. 1 on, he was in the top if not at the top of scoring in college hockey. He's an elite talent, can absolutely fire the puck, has a wonderful IQ and his compete level is very high. When we got to the tournament, he definitely opened some eyes."
In all, Canisius returns eight of its top 10 scorers, five of its starting defenseman and, of course, Capobianco between the pipes. Getting a taste of NCAA play for the first time should provide plenty of motivation to get back there.
"It's a wonderful accomplishment to get there," Smith said. "We're going to learn from our experience. The level of play in Atlantic Hockey prepares you for the tourney and now people are seeing that. We need to take care of home base first, try and get as high as we can in the standings and get to Rochester. I wouldn't call it unfinished business but we'll definitely be motivated if we can get there."
About the Golden Griffins
2012-13 overall record: 19-19-5
2012-13 AHA record: 12-13-2 (Tie, seventh)
2013-14 predicted finish (coaches poll): Fourth
Key losses: F Preston Shupe, D Torrey Lindsay, D Ben Parker
Players to watch: F Kyle Gibbons, G Tony Capobianco, D Ben Danford
Impact rookie: Shane Conacher looks to follow in his brother Cory's footsteps. Shane was the OJHL playoff MVP last season with St. Michael's, racking up 92 points in 74 games.
Why the Golden Griffins will finish higher than the coaches poll: Canisius' confidence has never been higher, coming off the most successful season in team history. The Griffs return a large part of a squad that won the conference title.
Why the Golden Griffins will finish lower than the coaches poll: Canisius was the hottest team in college hockey down the stretch last season. Time will tell if this was the result of a team reaching its potential or merely a great run.