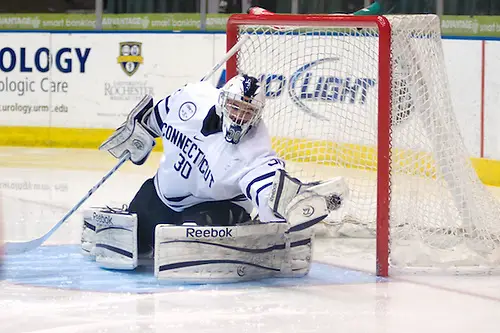 First year head coach Mike Cavanaugh knew he'd have an interesting job to start at Connecticut.
The Huskies are in their final year in Atlantic Hockey before heading for Hockey East. He'd also have to come in a year after the Huskies overcame every obstacle imaginable to finish the year with their second-best winning percentage in their Division I program history.
But if UConn wants to make a splash on the way out the door, it has the chance to do it.
The Huskies return one of the AHA's breakout stars from a year ago in Matt Grogan. Grogan replaced stalwart Garrett Bartus last season thanks in part to 14 wins and a 1.93 GAA.
He stopped 94 percent of all shots on net, and he allowed seven fewer goals than Bartus despite playing 300 more minutes. Not bad for a goalie who played in 10 career games across three seasons before that.
Grogan has a year of eligibility remaining, meaning he's back for an encore as the Huskies look to win one for the road.
"He finished strong last year, and having that experience and leadership in goal will be a big strength for us," Cavanaugh said.
Grogan headlines a team that returns the majority of its offense. Gone are Sean Ambrosie's 105 career points in 150 career games, but every other offensive weapon is back.
Brant Harris and Jordan Sims both had 31 points last year, one fewer than Ambrosie's team high. And Trevor Gerling and Shawn Pauly are both coming off 20-point seasons. Cody Sharib, Billy Latta and Tyler Bouchard round out the returnees of a front line that helped score 102 goals last season.
Perhaps most exciting for UConn, though, will be how it helps the AHA with this season. A Hockey East-ready school, it'll get to battle under the AHA flag, which means it could score big nonconference wins for the league in games against teams like Minnesota State, Boston University and Union.
And the Huskies will do it with a first-time head coach who cut his teeth under the legendary Jerry York at Boston College.
"Our focus is to get better every day," Cavanaugh said. "Our long-range goals are to win an AHA championship and make the NCAA tournament. When we look through the microscope, our goal is to beat Minnesota State, then focus on Union, who I'm very familiar with from my time at BC. After that, we focus on Brian Riley's Army team, which is always well prepared.
"The biggest challenge for any program trying to win a championship is making them believe they can do it. [Interim coach] Dave Berard did a great job making these guys believe they can win. Because of the work Dave did at the end of last year, there are lots of guys who believe they can do it. Now it's just go out, work hard every day and believe we can accomplish that goal."
About the Huskies
2012-13 overall record: 19-4-4
2012-13 conference record: 14-10-3
2013-14 predicted finish (coaches poll): Sixth
Key losses: F Sean Ambrosie, D Alex Gerke, D Tom Janosz
Players to watch: F Brant Harris, F Jordan Sims, F Trevor Gerling, D Jacob Poe, G Matt Grogan
Impact rookie: Defenseman Ryan Segalla was drafted by the Pittsburgh Penguins this year in the fourth round. His scouting report comes with an over-the-top compete level.
Why the Huskies will finish higher than the coaches poll: Cavanaugh is a proven winner from BC, and his assistants are rising stars in their own ranks. With a solid defensive unit and goalie, they could be this year's Niagara.
Why the Huskies will finish lower than the coaches poll: If UConn struggles to pick up Cavanaugh's system and Grogan can't get lightning to strike twice, the AHA will be more than happy to rudely usher them out the door.