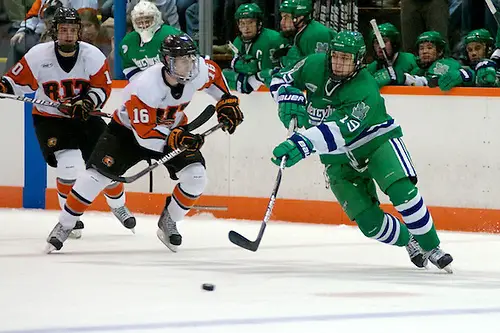 One way or another, year in and year out, Mercyhurst contends for the Atlantic Hockey title. Despite never finishing first in the regular season, the Lakers have made the semifinals in seven of the league's 10 seasons, including two titles and five trips to the championship game.
Last year, despite a sixth-place finish, Mercyhurst was a win away from another conference championship.
Only once in 14 years as a Division I program have the Lakers won fewer than 15 games.
"We pride ourselves on our consistency," said coach Rick Gotkin, who has amassed 453 wins in 25 years with Mercyhurst.
"The league is getting better and better and it's a challenge. It's tighter and tighter, and last year was the tightest and this year is [going to be] no different. Last year you had the six and seven seeds playing for a championship. Anyone can win and it's going to be a great year."
Mercyhurst again has the tools to finish at or near the top of the heap. The Lakers return over 80 percent of their offense, including a quartet of junior forwards that combined for 63 goals and 132 points last season.
Matthew Zay led the team in scoring last season, while classmates Ryan Misiak and Chris Bodo shared the team lead in goals with 18 each.
"The way we look at it is we were a pretty good young team the last couple of years and we expect to be good again," Gotkin said. "We've been through it with a lot of these guys, and we expect to play for a championship.
"If those guys have average years we won't be where we want to be, but I'm confident they'll have good years and we'll be where we want to be."
Nick Jones leads a defensive squad that lost just one player to graduation. The senior captain has 60 points in 115 games, including 26 last season.
Mercyhurst lost half of the goaltending tandem it used last year with the graduation of Max Strang. But Jordan Tibbett emerged in the postseason last year as the go-to guy in net.
"Jordan went into last year behind Max Strang," Gotkin said. "The coaching staff saw it; we said we need to get both of these guys in. Max is going to graduate and Jordan will be here and we need a guy with experience. We ended up with a rotation — one guy would play Friday, one Saturday, then one Saturday and one Friday. It worked out well.
"At the end of the day we got into that small playoff situation, Jordan played great against Holy Cross and both played great at Army. Jordan played great and [the job] ended up being his the rest of the way. We believe he is as good as anybody when he's at the top of his game."
Mercyhurst starts the season with a killer nonconference schedule that starts off at the Ice Breaker Tournament against fifth-ranked Minnesota and either Clarkson or No. 13 New Hampshire. The Lakers also travel to Merrimack and Alaska and host Ferris State before beginning conference play.
About the Lakers
2012-13 overall record: 19-17-5
2012-13 AHA record: 12-11-4 (Sixth)
2013-14 projected finish (coaches poll): Tie, second
Key losses: F Grant Blakey, F Paul Chiasson, G Max Strang
Players to watch: F Ryan Misiak, F Matthew Zay, G Jordan Tibbett
Impact rookie: Stephen Hrehoriak averaged 50 points a season in three campaigns in the Central Canadian Hockey League.
Why the Lakers will finish higher than the coaches poll: Mercyhurst returns five of its top six scorers and goaltender Tibbett, who emerged in the postseason as the Lakers' go-to goaltender.
Why the Lakers will finish lower than the coaches poll: The league's coaches showed confidence in the Lakers, picking them second after a sixth-place regular season finish in 2012-13. Even though Mercyhurst will be better, so will some other teams that could get in the Lakers' way.