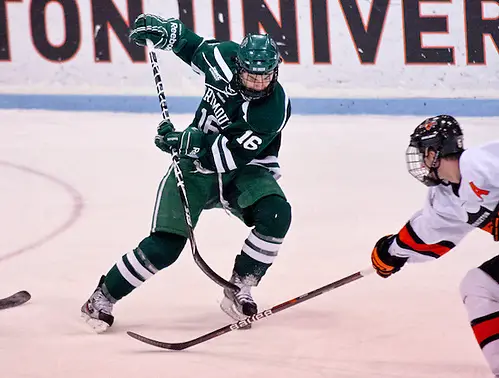 What kind of team will Dartmouth be this year? Is it the team that started out 5-0-1 and rose as high as No. 8 in the national polls, or are the Big Green closer to the group that faded down the stretch and out of a first-round bye?
Chances are it'll be somewhere in between, which should put Dartmouth right in the mix for a top-four spot in the ECAC Hockey standings. Still, coach Bob Gaudet knows the Big Green will need more consistent play from start to finish.
"We had some injuries in the second half that played a role in that," Gaudet said. "We play in a tough league with a tough schedule and a lot of what happens to you is luck. We have to work on being consistent because the teams that prove themselves to be the best are the ones that are consistent."
Since-graduated senior Dustin Walsh and current junior forward Brandon McNally were among some of the big names Dartmouth was without for stretches of last year. McNally played in 16 of the first 17 games before getting hurt at Brown in January and missing the rest of the season. However, he played in all three games during the team's European trip this summer and is good to go for the regular season.
The Big Green were one of two ECAC teams to travel to Europe this summer — Quinnipiac was the other — and Gaudet is hopeful the extra time together before season pays off.
"What it did for team bonding was something even I couldn't predict," Gaudet said. "We took 21 upperclassmen and for the returning guys on our team to be together and get the experience of playing really good hockey and the culture of going to places like Venice and Rome, being at the Vatican and the Colosseum, and Lake Como and Switzerland was truly remarkable."
NCAA rules allow teams to bring their upperclassman on such trips once every four years, and the timing worked out well for Dartmouth. Last year's large freshman class was able to get in some extra work before the season.
The Big Green have only five freshman on their roster for this season, but there are several who should contribute.
Eighteen-year old forward Troy Crema had 66 points in 47 games for the Hamilton Red Wings in the Ontario Junior Hockey League last season, while Josh Hartley is the reigning North American Hockey League defenseman of the year.
The Big Green lost second-leading scorer Matt Lindblad after the forward signed with the Boston Bruins following the conclusion of his junior year. Still, Dartmouth returns plenty with a healthy McNally, along with Eric Robinson and Tyler Sikura.
Goaltending should be one position to keep an eye on. Sophomore Charles Grant and senior Cab Morris split time last season, although Grant saw most of the action in the playoffs.
About the Big Green
2012-13 overall record: 15-14-5
2012-13 ECAC Hockey record: 9-9-4 (fifth)
2013-14 predicted finish: Seventh in the coaches' poll and tied for fifth in the media poll
Key losses: F Matt Lindblad, F Dustin Walsh, D Mike Keenan
Players to watch: F Tyler Sikura, F Eric Robinson
Impact rookies: F Troy Crema, D Josh Hartley
Why the Big Green will finish higher than predicted: The Big Green are able to stay healthy and string together a consistent full season after starting last year on a promising note.
Why the Big Green will finish lower than predicted: Injuries strike again and Dartmouth's large sophomore class doesn't make a jump in production from its freshman season.