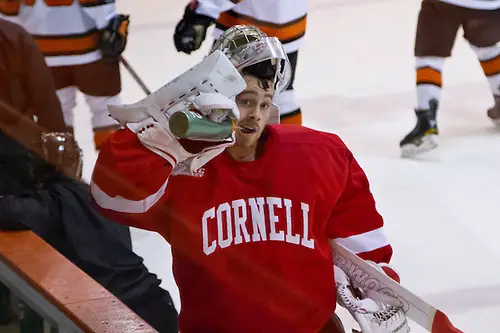 What ended up being a banner year for ECAC Hockey was anything but for the league's usual powerhouse. A seven-game losing streak that stretched from mid-January into February ensured Cornell its first sub-.500 season since 1997-98 and just the second in Mike Schafer's 18 seasons as coach of the Big Red.
"It was a bit of a downer," Schafer said. "It's been a while since we've had that kind of a seven-game losing streak. I think you learn a lot about yourselves. It stung not being at home in the playoffs and it stung not getting to the championship."
Schafer said at points last year that Cornell's struggles were often due to little things that kept on adding up, as there was little indication early that it was anything but a typical season for the Big Red.
Cornell's record stood at 7-3-2 after beating defending national runner-up Ferris State on Dec. 28 in the opening round of the Florida College Hockey Classic.
The Big Red led Maine 3-0 in the tournament's championship game the next day but let the lead evaporate into a 6-4 loss to the Black Bears, who entered the tournament with two wins on the season.
That started a lengthy second-half slump, although Cornell did end the regular season on a 4-1-1 run and swept Princeton in the opening round of the playoffs before taking Quinnipiac to double-overtime in Game 3 of the second round.
Penalties were a problem for the Big Red, as Cornell was first in the country in penalty minutes per game. Their penalty kill was near the bottom of the national leader boards.
The bitterness of last season is an unknown for much of the Cornell roster, as the Big Red brings in 10 freshmen this year. Forward Matt Buckles finished with 71 points and 107 penalty minutes last season for the St. Michael's Buzzers in the Ontario Junior Hockey League, and was a fourth-round pick of Florida in June's draft. He'll be joined by teammate Patrick McCarron, who was the OJHL defenseman of the year last season.
Still, Schafer knows a return to form for the Big Red won't necessarily come from this year's newcomers.
"You're looking for [the freshmen] to survive and learn but you're looking for the improvement in your returning players," he said. "That's where I think you get the biggest jump in your talent, your sophomores through your seniors."
One of those upperclassmen, goalie Andy Iles, has started every game for the Big Red the last two seasons. The senior should continue to have a firm grasp on the goaltender job, although Cornell also has freshmen Ryan Coon and Mitch Gillam.
Leading scorer Greg Miller graduated last year, as did defensemen Braden Birch and Nick D'Agostino. But Cornell should have some depth up front, led by junior Brian Ferlin, who came on strong toward the second half of last season and could have a breakout year if he stays healthy.
Defenseman Joakim Ryan is a solid two-way player and was selected to the preseason all-conference team by the league's coaches.
Forward Cole Bardreau, who was part of the U.S. gold-medal winning team at the World Junior Championship last season, is healthy after fracturing his neck on Jan. 19.
About the Big Red
2012-13 overall record: 15-16-3
2012-13 ECAC Hockey record: 8-11-3 (10th)
2013-14 predicted finish: Fifth in both the coaches' and media polls
Key losses: F John Esposito, F Greg Miller, D Braden Birch, D Nick D'Agostino
Players to watch: G Andy Iles, F Brian Ferlin, F Joel Lowry, D Joakim Ryan
Impact rookies: F Matt Buckles, D Patrick McCarron
Why the Big Red will finish higher than predicted: Cornell puts last year behind it and gets a big year in net from Andy Iles and up front from Brian Ferlin.
Why the Big Red will finish lower than predicted: Iles and the rest of the upperclassman don't raise their game, and Cornell's large freshman class can't pick up the slack.