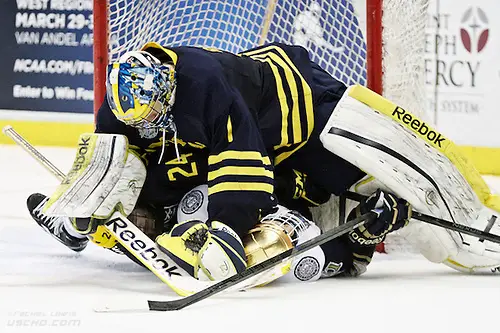 When it comes to understatement, there is no one quite like Michigan coach Red Berenson.
"As you know," he said, "we're coming off a not-so-good year."
Forget that the Wolverines finished in seventh place in the CCHA; they had done that as recently as 2009-10 and had still managed to win the CCHA playoff championship at the end of that season.
No, 2012-13 was not-so-good for other reasons. Michigan finished below .500 for the first time since the 1986-87 season and the Wolverines missed the NCAA tournament for the first time since 1989-90, ending a 22-year appearance streak.
Berenson, now in his 30th season as Michigan's coach, is the first to admit that the Wolverines didn't deserve to make the tournament, and while he's making no excuses, he is candid about one factor that contributed to last season's disappointments.
"Although the second half of the year we got to be good and had a lot of momentum and nearly made it," Berenson said, "nevertheless, there was a question of goalkeeping last year and I hope we've answered that."
The answer is sophomore Steve Racine, who ended last season with a record of 12-6-3 and had a 10-game unbeaten streak (9-0-1) beginning Feb. 22. It was enough to carry the Wolverines into the last game for the Mason Cup, a win they needed to make the NCAA tournament. That performance, said Berenson, earned Racine the role of starter for this season.
It wasn't just shaky goaltending that produced a subpar season for Michigan. There was little consistency in the Wolverines' game in the first half of the season, and part of the glue that held the second half together was junior defenseman Jon Merrill, who elevated the play of everyone around him when he returned during the second half of last season following a neck injury. Merrill, however, is gone, as is another talented defenseman, Jacob Trouba.
"We did lose arguably two of our best defensemen last year as underclassmen to the pros," Berenson said, "and we have to replace those guys with upcoming seniors, and Mac Bennett and Kevin Clare will hopefully carry that load, but also the incoming freshmen."
The Wolverines finished 2012-13 with a defense that gave up 3.25 goals per game on average, worst in the CCHA and ninth-worst in the nation.
One thing Michigan has nearly always been able to count on is goal scoring, and the Wolverines return three players who netted 10 or more goals last season. Lead scorer forward Alex Guptill registered 16 goals in each of his first two seasons.
"I think we'll be deep," Berenson said, "and we'll be good at forward. I think we'll have some good, young players. JT Compher promises to be an outstanding freshman forward coming in, but after that, I think there is a lot of parity and we should have pretty good depth up front."
Compher had 20 goals in 53 games during two seasons with the USA Hockey National Team Development Program.
With 10 freshmen on the roster, this will be on the youngest Michigan team in years. And even though this year's senior class may not be as familiar to hockey fans as some senior classes past, the veterans are tested — and Berenson is counting on that.
"If your seniors are the leaders and the dominant players on your team, then you have a chance to have a good season. That will bring your younger players up a lot quicker and bring them into plays, and it will set the example for them."
About the Wolverines
2012-13 overall record: 18-19-3
2012-13 CCHA record: 10-15-3-3 (seventh)
2013-14 predicted finish (coaches' poll): Third
Key losses: F Kevin Lynch, F A.J. Treais, D Jon Merrill, D Lee Moffie, D Jacob Trouba
Players to watch: F Alex Guptill, F Luke Moffatt, D Kevin Clare, G Steve Racine
Impact rookies: F JT Compher, F Tyler Motte, D Michael Downing, D Nolan De Jong, D Spencer Hyman
Why the Wolverines will finish higher than predicted: As everyone knows, the Wolverines can reload with the best of them — and can pull magic out of thin air, if necessary, as they have done in recent second halves. They're fast and they should be able to score.
Why the Wolverines will finish lower than predicted: Michigan's defense will be young with several freshmen playing in every game. That coupled with goaltending that wasn't quite solid last season may trip the Wolverines.