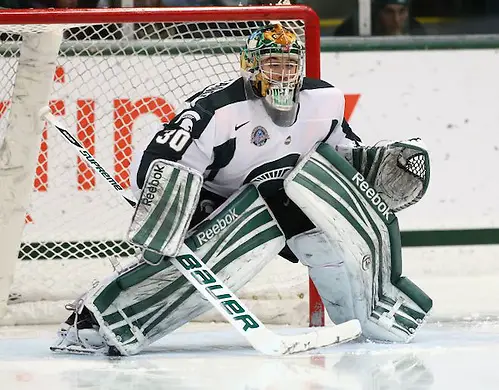 Tom Anastos is straightforward when it comes to his expectations of Michigan State this season.
"I'm looking for 27 guys to step up, actually," he said.
In 2012-13, their second season under Anastos, the Spartans finished last in the CCHA after having made an appearance in the NCAA tournament the season before.
"I really think we're a program in transition," Anastos said. "I know when I took the role there were areas that we looked to address."
An area that Anastos has been vocal about wanting to address is team offense. He's made it clear that he wants to play an up-tempo game with a team that is always thinking about the attack.
The year before he took over at Michigan State, the Spartans were averaging 2.58 goals per game. In Anastos' first season, MSU improved to 2.85 goals per game.
Last year, though, the productivity dropped off to 2.07 goals on average, 55th-best in the nation. The reason, Anastos said, was player turnover.
"We lost them to graduation, and then we lost Torey Krug, our best player and the player of the year in our league that year to early departure to the pros," Anastos said.
This season, the Spartans roster will include a total of 16 freshmen and sophomores.
"We're still going to be young," Anastos said. "But I think we did a lot of growing up last year. We still have a lot of growing up to do. We have very strong goaltending coming into the season, which is a good position to be good at, so I think we have a lot to build on."
Sophomore Jake Hildebrand finished his first season with a .928 save percentage and five wins in his last nine games, including two shutouts — and all in front of a defense that was young.
"We lost five defensemen from the previous year's team," Anastos said, "four of which played with great regularity. We replaced them with new players and we knew that was going to be a very challenging proposition, which it proved to be.
"The good news was in spite of all that, our team got better during the course of the season. We fought through some time periods where confidence was a factor with an inexperienced group. We thought we were playing our best hockey coming together at the end of the season and when the season did end, no one wanted it to end."
The Spartans will begin their season without their top returning scorer, junior forward Matt Berry, who had surgery last month. Junior forwards Matt DeBlouw and Tanner Sorenson each scored double-digit goals last season, as did sophomore Brent Darnell.
"We need to find offense," Anastos said. "We were weak offensively. Part of that is our skill set, and we're recruiting to that, yet we think we can get better with those players that we brought in and players that we have."
Something that has improved markedly under Anastos is the way in which MSU fans see MSU hockey. Munn Ice Arena was full and noisy last season, a noticeable difference from seasons past and something that the Spartans are banking on to help with this team in transition.
"People are excited about Big Ten hockey. They're excited about our program," Anastos said. "Last year despite our season and our finish, we led the CCHA in attendance and we were a top-10 team in attendance, so people are excited about what's going on, and our team feels that excitement as well."
About the Spartans
2012-13 overall record: 14-25-3
2012-13 CCHA record: 9-18-1-0 (11th)
2013-14 predicted finish (coaches' poll): Tie-fourth
Key losses: F Chris Forfar, F Kevin Walrod
Players to watch: F Matt Berry, F Matt DeBlouw, F Brent Darnell, D Jake Chelios, D Travis Walsh, G Jake Hildebrand
Impact rookies: F Mackenzie MacEachern, F JT Stenglein
Why the Spartans will finish higher than predicted: The Spartans have been transitioning to a high-offense game under Tom Anastos and have worked out some of the bugs — like getting pinched less frequently — and they play well as an overall unit. Watch Hildebrand.
Why the Spartans will finish lower than predicted: Michigan State's offense is still rebuilding and the team is young, with 16 freshmen and sophomores on the roster.