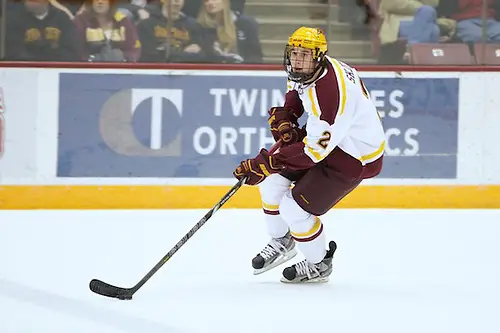 Minnesota graduated only one senior off of last year's team, but that doesn't mean the squad that takes the ice this season will closely resemble last year's.
Gone are Nick Bjugstad, Nate Schmidt, Erik Haula, Zach Budish and Mark Alt, all five of whom chose to forgo their senior season and sign professional contracts. Defenseman Seth Helgeson was the lone senior on the Gophers roster last year.
The losses of Bjugstad and Schmidt leave big holes to fill on both the top forward and defensive line. All in all, the Gophers' reliance on star power over the past couple of years may transition to a youth movement this year.
"We have to be patient and allow them to grow during the course of the season," coach Don Lucia said at the Big Ten's media day. "But we have some guys that can make plays and we've seen that so far in practice and just in a couple days."
Minnesota's defensive corps is one area that is ripe with experience. The Gophers have three junior and senior defensemen along with sophomores Mike Reilly and Brady Skjei.
"So we're a little thin with only seven [defensemen] right now," Lucia said. "But as long as we don't get injuries, we think the seven certainly are all good players and will compete with each other for playing time."
Schmidt had a transformation in which he had an extremely successful sophomore season after a lackluster freshman campaign. Minnesota needs Skjei, who had three points in 36 games last season, to have a similar spike in production this season.
Opponents who get past Minnesota's defense will still have to deal with getting the puck past Adam Wilcox.
The sophomore from South St. Paul, Minn., took over as the Gophers' main goaltender a year ago after a brief experiment in which he split time with Michael Shibrowski in the beginning of the season. Wilcox went 25-8-5 in 38 starts last season.
Even with the loss of freshman Tommy Vanelli, who left the team last month, the Gophers have a solid group of freshmen. Also on that list is forward Connor Reilly, who missed last season with a knee injury.
Lucia hinted at the Big Ten media day that both Kyle Rau and Nate Condon could be moved to center this season. Rau, who had 40 points last season, and Condon, who had 31, are the Gophers' top two returning scorers from last season.
"We need Kyle to score," Lucia said. "He's our leading returning scorer, and we need the puck on his stick as much as we possibly can."
About the Golden Gophers
2012-13 record: 26-9-5
2012-13 WCHA record: 16-7-5 (tie-first)
2013-14 predicted finish (coaches' poll): Second
Key losses: F Nick Bjugstad, F Erik Haula, F Zach Budish, D Nate Schmidt, D Mark Alt, D Seth Helgeson
Players to watch: F Kyle Rau, F Sam Warning, F Nate Condon, D Ben Marshall, G Adam Wilcox
Impact rookies: D Michael Brodzinski, F Hudson Fasching, F Vinni Lettieri, F Connor Reilly
Why the Gophers will finish higher than predicted: Sophomore backstop Adam Wilcox has the capability to shut out any team he faces. Wilcox's flashy style of play can leave him out of position from time to time, but it didn't burn the Gophers last year in terms of pucks ending up in the back of the net that shouldn't have, and shouldn't this year either.
Why the Gophers will finish lower than predicted: To be successful, the Gophers will need to rely on a lot of players to take a step up to the next level, which is entirely possible, but by no means a guarantee.