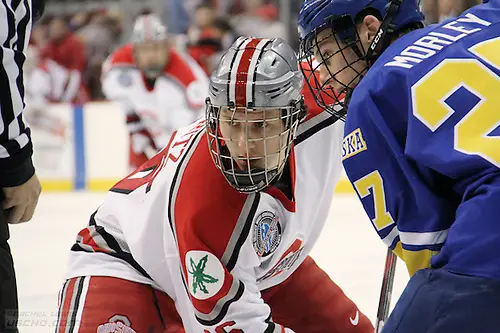 Ohio State begins the season with a new coach, Steve Rohlik, who served as an assistant under Mark Osiecki in Columbus for three seasons.
That makes the Buckeyes a team in transition — and one that is looking to realize its full potential.
"Well, I guess like any change, things happen," Rohlik said. "You know, for me, it's about having the opportunity and taking advantage of it and moving forward. That's what I'm doing right now. I'm looking through the front window and not the rearview mirror and I have to do the best job I can for this program."
For the past three seasons, the Buckeyes have underperformed up front in spite of having acknowledged offensive talent. In 2012-13, they averaged 2.38 goals per game, down from 2.60 the year before and 2.57 in 2010-11.
That's a trend that Rohlik wants to reverse.
"We've got a great group of kids back with our leading scorers," Rohlik said, "with Ryan Dzingel, Tanner Fritz and Max McCormick back up front. [We're] certainly going to have to lean on them."
Senior forward Alex Szczechura also returns, having gone from scoring four goals in 24 games in 2011-12 to a dozen in 37 games last season. If the Buckeyes are to improve in this area, though, they'll need returning players like junior Darik Angeli and sophomore Tyler Lundey to produce more. And they'll need immediate input from freshmen forwards David Gust and Nick Schilkey, both coming to the program from the USHL.
An even bigger question than offense for the Buckeyes, though, is the hole left in the cage by Brady Hjelle, whose senior campaign last year earned him first-team All-American honors. Hjelle's .935 save percentage will be difficult to replace.
"We have a couple of guys there with Collin Olson from Minnesota … and Matt Tomkins from up in Alberta," Rohlik said.
As a freshman last season, Olson played nine games with a .901 save percentage. Tomkins, a freshman this season, had a .924 save percentage over 44 AJHL games last year.
Defensively, the Buckeyes return a solid corps, including senior and captain Curtis Gedig and sophomore Craig Dalrymple, who proved to be a threat on the power play last season as well.
More than anything it seems, though, Rohlik is looking to heighten the profile of Ohio State's program, which would be something that none of his predecessors was able to do successfully.
"Well, we do have a hockey team down here in Columbus," Rohlik said, "and I think people are going to realize that. We do have a tradition. We do have All-Americans. We have played in six national tournaments. I think we're going to go out there and continue to spread that message."
As much as any coach in the Big Ten, Rohlik is relying on the conference to help spread that message.
"At Ohio State, when you think of Ohio State athletics, you think of Big Ten," he said. "I think the hockey program there, we're just scratching the surface, so I think it's really going to affect our program maybe more than any other.
"With that being said, with the city of Columbus and the athletics and people who look at athletics [what] … the brand of Big Ten can mean to our hockey program is tremendous.
"We've got a great locker room, great people, and we've got a ton of support from the administration. I'm really looking forward to the start of this year."
About the Buckeyes
2012-13 overall record: 16-17-7
2012-13 CCHA record: 13-10-5-1 (fourth)
2013-14 predicted finish (coaches' poll): Tie-fourth
Key losses: F Chris Crane, D Devon Krogh, G Brady Hjelle
Players to watch: F Ryan Dzingel, F Max McCormick, D Craig Dalrymple, G Collin Olson
Impact rookies: F Nick Schilkey, D Josh Healey, G Matt Tomkins
Why the Buckeyes will finish higher than predicted: The Buckeyes have a talented team that has underperformed in recent seasons, with a junior class that is ready to break out. Don't underestimate the bounce that can come with a welcome coaching change.
Why the Buckeyes will finish lower than predicted: The net's a big question mark even though the defense is still solid, and Ohio State is still looking for consistent offense.