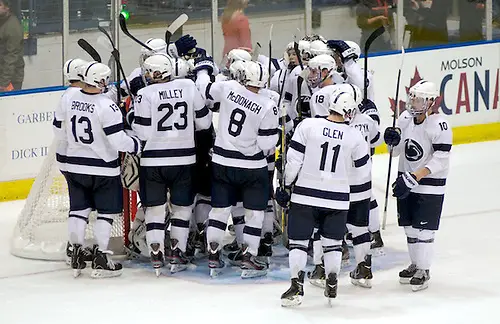 So, you don't know what to expect from Penn State hockey? Well, you're not alone.
"No idea," said Guy Gadowsky, the Division I veteran of 14 years who's building a hockey program from scratch in Happy Valley.
"I mean, we're new," Gadowsky said. "It's a new conference. We've never been in a conference, so [it's] very difficult for me to say this is what you're going to get. We don't know. That is what part of the excitement is about."
And excitement there is. After playing as an independent last season, the Nittany Lions are about to play in the brand-new Pegula Ice Arena and bring Division I conference hockey to the PSU campus for the first time ever.
Pegula Arena, of course, is named for the Nittany Lions' benefactor, Terry Pegula, owner of the Buffalo Sabres of the NHL and the man who contributed more than $100 million for the program and construction of the building that bears his name.
"To describe the arena," Gadowsky said, "I mean, it's beautiful. It's beautiful from a fan perspective. It's a beautiful arena. It's very comfortable. There is not a bad seat in the house.
"From the student body perspective, it's not only beautiful, it's fun. The student section is awesome. It's literally as steep as code will allow.
"From a student-athlete perspective, convenient. It's right in the middle of campus. I don't want to say excessive, but they have everything there that they need to develop."
About that team, though, Gadowsky's great unknown really is difficult to define. The Nittany Lions return their two 10-plus goal scorers from last season, sophomore forwards Casey Bailey and David Glen. Junior Taylor Holstrom had nine goals a year ago, and Penn State's offense was balanced and a little sneaky in 2012-13, averaging 2.74 goals per game to put the Nittany Lions in the middle of Division I teams.
Last year, Penn State played a schedule that included Division I and Division III opponents as well as exhibition games. The Nittany Lions had a winning record last year against Big Ten opponents (3-2), beating Ohio State and splitting with a series each with Michigan State and Wisconsin. Those games at that level of competition were especially helpful, Gadowsky said.
"We'd all like to have another year where we could get more work done," Gadowsky said, "and learn about our team and try to accomplish our foundation. We knew we were going to play Michigan State and Wisconsin, who were already on the [2012-13] schedule. We happened to play Ohio State [in the Three Rivers Classic]. To have those three experiences, I think, are very valuable."
Two freshmen split time in net last season, Matthew Skoff and PJ Musico, both of whom return this season. They're joined by newcomer Eamon McAdam, who spent three years in the USHL.
"The players are all here," Gadowsky said. "These are the guys. If we recruited you to come to Penn State, we believe you're someone hungry to accept that challenge.
"We don't know. Trust me, we're not naive. We understand very well how great the programs are in the Big Ten Conference. At the same time, we need players that have that understanding but are hungry to accept the challenge."
Gadowsky is sincere when he says he doesn't know what the Nittany Lions can do this season, but, he said, "we're looking forward to finding out."
About the Nittany Lions
2012-13 overall record: 13-14 (independent)
2013-14 predicted finish (coaches' poll): Sixth
Key losses: None
Players to watch: F Casey Bailey, F David Glen, D Connor Varley, G Matthew Skoff
Impact rookies: F David Goodwin, F Zach Saar, D Mike Williamson
Why the Nittany Lions will finish higher than predicted: The Nittany Lions averaged more goals per game last season than Michigan State, Ohio State and Wisconsin. Expect them to be a bit underestimated, too.
Why the Nittany Lions will finish lower than predicted: As they are picked to finish last, they can't go any lower … but the Nittany Lions may finish their first Big Ten season in last place because of their relative lack of experience.