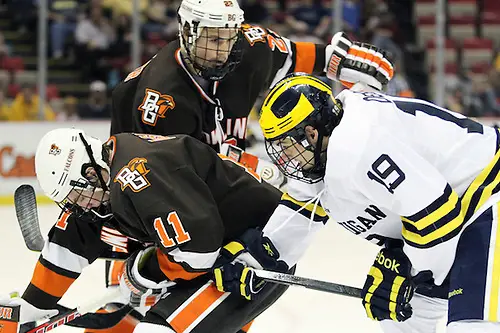 The Bowling Green State Falcons did their best to leave the CCHA — the only league the program's ever known in NCAA Division I until now — with a bang by reaching the league semifinals in 2011-12 as the bottom seed with upsets of Northern Michigan and Ferris State, followed by an upset of Lake Superior State last year in the first round.
Now the Falcons look to take the next step in rebuilding their program under fourth-year coach Chris Bergeron in the WCHA.
The question for Bergeron is, how big of a step can the program take?
"We feel like we're ready to make in impact in this league," said Bergeron, who is 39-73-14 in three seasons at BGSU. "I don't know what that means. We'll have to find out on a nightly basis, but we feel like we're a team that has been through a bunch. We've played a bunch of hockey on the road in the playoffs. We go to hard places and we've done OK.
"So we've found a way to — I don't want to say overachieve — but fight through some things that maybe other people didn't think we could."
After finishing ninth in the CCHA last year and being eliminated in the league quarterfinals by the final Mason Cup champions — Notre Dame — coaches and media alike have the Falcons rising to fourth in the WCHA behind preseason all-conference forward Ryan Carpenter.
The junior led the Falcons in scoring with 18 goals and 15 assists while Bryce Williamson was second in goals scored at 12 to go along with his seven assists.
Junior Dan DeSalvo finished second in scoring as a sophomore with five goals and 20 assists. The five goals was a disappointing number for BGSU considering DeSalvo scored 14 goals as a freshman, with 10 of those goals coming in CCHA playoffs series against Northern Michigan and Ferris State.
"Last year, he did not have the year he wanted to in terms of goals," Bergeron said. "He had a decent playoffs again last year, but nowhere near what it was as a freshman.
"We're looking for him to really make that jump from sophomore year to junior year. The jump we're looking for is consistency. We think he's a guy that can be a top player every day, practice included. That's what his challenge is going to be."
Sophomore defenseman Ralfs Freibergs of Latvia will anchor the Falcons blue line. He played only eight games a year ago after being ineligible for the first 30 because he played against professional teams in Europe.
BGSU is young in goal after losing veteran Andrew Hammond. Sophomore Tommy Burke played in 16 games with 13 starts as a freshman. He finished 5-6-2 with a 2.57 GAA and .889 save percentage.
Bergeron said Burke will be pushed by freshman Tomas Sholl, who played last year for the Fresno Monsters of the NAHL.
"We think with those two guys in kind of a one-one situation, that we should be in good hands," Bergeron said.
About the Falcons
2012-13 overall record: 15-21-5
2012-13 CCHA record: 10-15-3 (ninth)
2013-14 predicted finish: Fourth
Key losses: G Andrew Hammond, F Robert Shea
Players to watch: F Ryan Carpenter, F Dajon Mingo, F Camden Wojtala, D Connor Kucera, D Mike Sullivan, G Tommy Burke
Impact rookies: F Pierre-Luc Mercier, F Kevin Dufour
Why the Falcons will finish higher than predicted: As the lone university in the WCHA that plays all its sports at the NCAA Division I level, the Falcons are in the best position to emerge as the dominant program year after year, if one is to emerge in the new-look WCHA. In 2013-14, BGSU will have sophomore Ralfs Freibergs on defense for a whole season this time around as opposed to eight games last year. Double-digit goal scorers Carpenter and Bryce Williamson are both back as well, and if Dan DeSalvo can conjure up his postseason magic during the regular season, the Falcons will be tough to stop on offense.
Why the Falcons will finish lower than predicted: Coach Chris Bergeron said it himself during the preseason conference call that the Falcons' inconsistencies have kept the program from taking the next step despite success in the CCHA playoffs each of the last two years. The loss of veteran goalie Hammond also could hinder the Falcons as sophomore Burke and freshman Tomas Sholl split time in net.