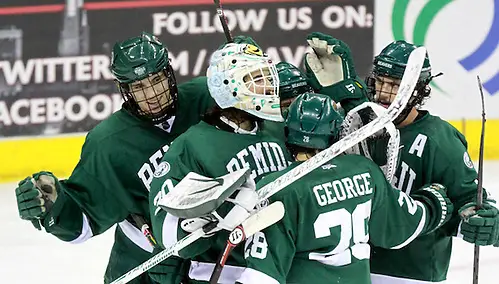 Road games at St. Cloud State, Alabama-Huntsville and Ferris State. Home games against Minnesota and Minnesota State.
The first five weeks of the season will be no picnic for Bemidji State.
"I don't know what the general manager was thinking," Beavers coach Tom Serratore joked. "I think the general manager should take scheduling lessons."
Getting through that stretch in good shape would be huge for the Beavers as they try to rebound from a season in which they won just six games, including one in the second half of the season.
"It was the toughest year we've had in a long time at Bemidji State," Serratore said. "We struggled at home. Typically we've been a team that's hard to play against at home, and we weren't last year. We have to find that again, but our schedule is not easy."
To win games, Bemidji State is going to need to keep games low-scoring. The Beavers return just 35 goals from a year ago and have 11 new players on the roster.
"We're probably a little offensively challenged," Serratore said. "We lost nine players and have 11 new players. It's the youngest team I've ever had.
"You wonder who's going to score some goals and how these new kids are going to emerge. … But there's nothing like youthful energy and youthful enthusiasm. We have a ways to go, but it's also an exciting time as well."
Danny Mattson is the top returning scorer, with 19 points a year ago. Cory Ward had a strong second half of his freshman year and is next with 15 points, including nine goals.
Serratore is hoping veterans Radoslav Illo and Jeff Jubinville can take big steps up front.
There's some excitement about freshman forward Brendan Harms, too.
But the strength of the team is at the back end, starting with goaltender Andrew Walsh.
Despite his 5-14-6 record a season ago, the junior had a .916 save percentage and a 2.65 GAA.
Veteran defensemen Matt Prapavessis and Sam Rendle return after playing in every game last season, and the Beavers have three other returning blueliners with experience, including Sam Windle, who played in 32 games.
"We're going to rely on our [defensive] corps, and we're going to rely on Walshy," Serratore said. "And then we're going to have to find a way to manufacture offense.
"We have to have a net presence. We have to be hard to play against. We have to compete. We have to win battles to loose pucks. We have to get shots on net. We're going to have to get our nose dirty to manufacture some offense."
About the Beavers
2012-13 overall record: 6-22-8
2012-13 WCHA record: 5-16-7 (11th)
2013-14 predicted finish: Seventh
Key losses: F Brance Orban, F Jordan George
Players to watch: F Danny Mattson, F Cory Ward, D Matt Prapavessis, G Andrew Walsh
Impact rookies: F Brendan Harms, D Ruslan Pedan
Why the Beavers will finish higher than predicted: Walsh proves to be of the best goaltenders in the conference.
Why the Beavers will finish lower than predicted: They're unable to score enough goals to help out their fine goaltender.