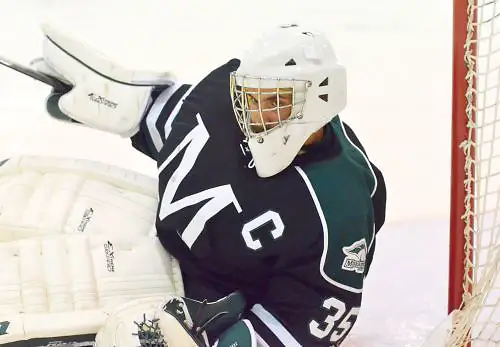 They weren't mad and they aren't trying to get even.
Even so, the Mustangs of Morrisville brought burrs beneath their saddle blankets with them into the still-new 2013-14 season.
No one likes to be pegged for last place in a pre-season poll and the 'Stangs, who were consigned [with Cortland] for the cellar by the SUNYAC coaches, are no exception.
Morrisville intends to use the low expectations as a spur to lofty things.
"It was some bulletin board material for us," said senior goalie and team captain Chris Azzano. "Everyone's aware. In all honesty, we haven't proven anything. We've finished last in the SUNYAC the last two years and have won four games [each year]. It's kind of expected. It only makes us want to work harder, show up to the rink each day and get better so we can surprise these teams."
Morrisville coach Kevin Krogol, who carried the interim tag last year, was in agreement.
"It was a little motivation for our guys," Krogol said. "At the same time, it's to be expected. We haven't proved anything in the league yet. Those coaches on the other bench are the ones who voted you in that position. So go out and prove them wrong."
So far, Morrisville has taken a few steps in that direction.
The Mustangs are a modest 1-3 (all in the SUNYAC) after the first two weekends and that start is a whole lot better than last year's 0-10 stumble out of the gate.
"If you look at us compared to last year, I think we added some offense," Krogol said. "We have more depth up front and we have a very good freshman class. They're going to do great things for us, propel us to the next level."
A talent upgrade has certainly been helpful to the Morrisville cause, but so has stability.
A year ago, the program was shaken by the sudden resignation of former coach Brian Grady one month before the season started.
Krogol, an assistant on Grady's staff, was given a battlefield promotion, but although he had the full support of his players, there was plenty of catching up to be done.
"It's a huge difference having the one year under my belt," Krogol said. "Last year, it was [all] thrown into the mix. It was a learning year. It was nice to go into this year having everything down."
Azzano said that the team is fully able to concentrate on following Krogol's lead.
"It's unbelievable," Azzano said. "He's putting in place a good program here. All the boys love him. All the boys want to play for him. Everyone's buying into it. We know he's here to stay. He's recruiting his type of guy now."
Actually, Krogol already has one of his feisty ilk already between the pipes in Azzano.
A transfer from Wentworth following his freshman year, Azzano is a stalwart in the Morrisville net who has seen it all during his time as a Mustang.
"We've gone from academic probation from the NCAA to a coaching change," Azzano said. "This year, we're as prepared as we've ever been. A lot of teams are counting us out, but I think we can actually do some damage this year. We have a lot of confidence. I think we're in a great position."