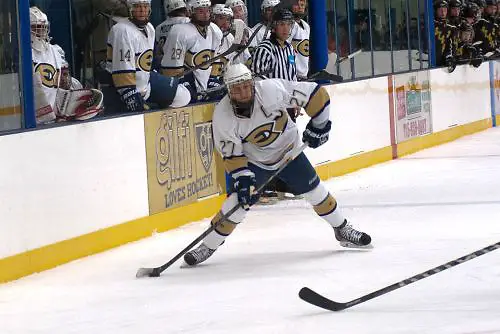 Expectations rise when a team wins a national championship.
Those expectations carry over into the next season, even if the team does have a different look than it did during the title run.
Wisconsin-Eau Claire is adjusting to life with the bulls-eye once again, ranked No. 1 in the nation and attracting every opponent's best shot like a magnet.
Eau Claire coach Matt Loen said it's taken time for this team to come together and yet, the Blugolds are unbeaten through four games.
"It can be very tough because we lost a lot of good players from last year's team," Loen said. "We had a very good group of upperclassmen and we're still working on gelling as a team and getting acclimated to each other."
The Blugolds have won three of their four games by two or more goals and Loen is happy with the way the team has played up to this point.
"So far, so good," Loen said. "We've been challenged by very good opponents and we've been able to find a way to win. We've had different guys step up and we are just continuing to work to get better as a team."
What has been helpful for the Blugolds in the early going is their play on the defensive end of the ice. Eau Claire returned its top five defensemen this season, including David Donnellan, who has been effective on offense as well with four goals and an assist.
Forward Ethan Nauman has tallied two goals and forward Joe Krause has racked up two goals as well.
"Our defense has been our biggest strength," Loen said. "We have played very good defense and that's been important to our success and has been a big help as we work to get going on offense."
The Blugolds have tallied 16 goals in their first four games and goalie Tyler Green has started three times, giving up four goals and making 82 saves. He has won in all three of his starts.
"Tyler has done a good job and it helps that he has a veteran defense in front of him," Loen said. "He's been solid for us and will continue to get better as the year goes on."
Eau Claire still has seven games remaining in the first half of the year and Loen wants his team to continue to make strides as it builds toward making another championship run.
"Our younger players will gain a lot of experience and we just want to keep playing good hockey," Loen said. "Our goal is to be playing our best hockey in the second half. We want to be at our best when it matters most."
CLOSE CALL: Wisconsin-Stout gave nationally-ranked St. Thomas all it could handle in a 1-0 loss to the Tommies on Saturday night.
The Blue Devils did not give up a goal in the first two periods, but Charlie Adams scored in the third to secure the win.
Stout missed out on several opportunities to score on the power play as it came up empty on four chances. St. Thomas, though, wasn't much better as it went 0-for-6.
Corey Koop played a tremendous game in goal as he racked up 29 saves, including 24 in the first two periods. Stout is 2-4 on the season. Koop has started all six games this year and has racked up 156 saves. He has allowed 13 goals and has a save percentage of .923.
OT BATTLE: Wisconsin-River Falls went toe-to-toe with Augsburg Saturday night in Minneapolis and lost 3-2 in overtime. It was the first loss of the year for the Falcons, who are 2-1-1 on the year.
Mike Fazio gave River Falls a 1-0 lead in the opening period and the Falcons stretched their lead to 2-0 on a goal by Willie Hess. Augsburg scored the next three goals, though, to put the game away.
Scott Lewan took the loss in goal as he gave up all three goals and made 23 saves. River Falls was outshot 26-23.
River Falls has scored 13 goals on the year and has given up nine. The goal by Fazio on Saturday was his first of the season. Hess leads the Falcons in goals with five and has also dished out one assist.