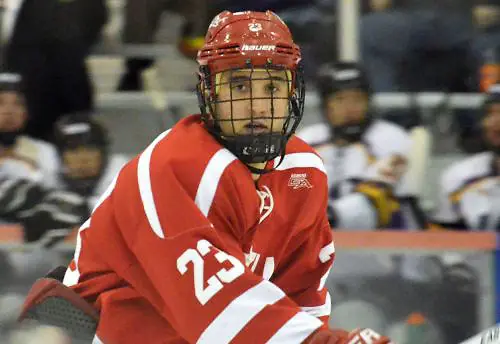 The question was as logical as it was simple.
"What did you have for breakfast on Saturday, Stephen?"
You'd have asked it, too, if you had seen the sort of unexpected offensive eruption that Cortland senior defenseman Stephen Nardi put out against visiting Morrisville.
Known more as a body-banging defenseman who is adept at keeping the peace in front of the net, Nardi, who had authored just five tallies through his first three seasons as a Red Dragon, popped in not one, but two goals (while assisting on another) to help Cortland take a solid 6-1 triumph over their Central New York State cousins.
Hockey can provide a strange twist with every shift, and Nardi, who hails from Long Island, admitted to being a little taken for a loop when one puck, then another, made it into the cage.
"Yeah," he said, "a little. I guess I was surprised. I knew if I kept working, the points would come."
On this night, he was rewarded handsomely for his all his work as the points came in a tidy cluster.
Nardi got the scoring less than four minutes into the game. It ended a goal drought that stretched back to Jan. 27, 2012, when he last scored (against Brockport).
"I got a great pass [from Nick Zappia] on the first goal," Nardi said. "I just kind of threw it to the net. Someone set a good screen and it happened to go in."
His second came late in the second stanza while he was penalty killing with defense partner Ryan Wagner.
Wagner blocked a Mustang shot and when the puck came loose, Nardi grabbed it an polished off his scoring chance.
"He [Wagner] put it out there in front of me," said Nardi. "He did all the hard work."
Nardi's offensive contribution was a welcome one for a Red Dragons' squad that is off to a solid 2-2-1 start despite having lost last year's two top scorers – Michael Lysyj and Chris Kaleta – to graduation.
Even without those two point-getters, Nardi feels that Cortland is better balanced than in previous years.
"Our team's much stronger this year," he said. "We're just trying to prove that. I was just trying to help our cause."
While every college team is forced to deal with graduation losses, not every team undergoes a coaching change. Cortland did during the offseason when Joe Baldarotta retired and was replaced by Tom Cranfield, who had previously coached the Red Dragons from 2001-07.
Nardi, who serves as a team co-captain, said the Dragons have taken well to Cranfield's up-tempo, in-your-face style of play.
"Everyone's enjoyed it thus far," said Nardi. "It's a change of pace with good energy. Our practices have a lot of energy all the time. We're always moving on the ice. It's like a 'go go go' kind of thing. The atmosphere is more energetic."
And to produce that kind of energy, one has to be well-nourished.
Which brings us to the original question.
What did give Nardi all that scoring vigor?
Just the "Breakfast of Champions," he laughed.
"I definitely had some extra Wheaties, that day," said Nardi.