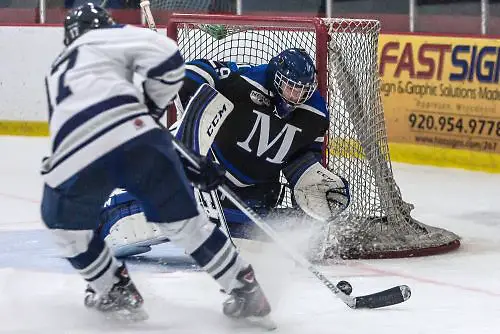 Last weekend, Marian shut out the Milwaukee School of Engineering in 4-0 and 2-0 performances and the series sweep came after a 6-2 win over Lawrence the previous weekend.
Riding high on the three-game win streak is exactly where the Sabres hoped to be after losing the first four games of the season.
"We weren't playing bad, we started with a tough schedule and were playing really good teams," said coach A.J. Aitken of the team's first four games. "We were learning the process for us, we changed the lineup a few times and things start to work."
Aitken is correct. The Sabres opened their season with a 4-3 overtime loss against Wisconsin-Stout. They then started conference play against St. Norbert and battled them to a 2-1 loss before dropping game two of the series 5-2.
Before the win streak started, the Sabres fell to Lawrence 3-1 on Friday night. All four games were hard-fought battles that the team wasn't getting rewarded for.
"The first weekends we had tough opponents and we learned a lot about our team," said senior captain Matt Berger. "We got stung and learned a lot. It is going to take the same compete level every night moving forward."
The current win streak has been highlighted with a pair of shutout wins against conference foe MSOE.
Senior goalie Josh Baker started both nights last weekend and made 36 saves on the weekend. Baker turned away 15 shots on goal in Friday's 4-0 victory and then Saturday night, he blanked the Raiders with 21 saves.
"We are confident in [Baker]," said Aitken of the reigning NCHA defensive player of the week. "He has always given us a chance to win every night."
Another standout early in the season has been sophomore transfer Ben Morgan, who transferred from Norwich and has been on a tear this since his arrival. During the win streak, Morgan has a 2-3-5 scoring line.
"[Morgan] is a hard worker, he brings speed to the team," said Berger. "This has been good for him."
Looking forward to next weekend, the Sabres want to keep their momentum moving forward. They will travel to face two nonconference opponents with Wisconsin-Superior and Wisconsin-Stevens Point on the docket.
"For us, it is just another weekend, each weekend is the same process," said Berger. "Monday through Thursday we work hard, always moving forward. Everyone knows the importance of what we are doing at practice."
Around the League
Adrian (7-0-0) and St. Norbert (6-0-0) remain the two perfect teams in the league that have yet to suffer a loss or a tie. Adrian swept past Concordia (Wis.) over the weekend before a 5-1 win over Geneso on Tuesday night. The Bulldogs have outscored their opponents by a 36-6 count.
St. Norbert swept past Lake Forest last weekend with 9-1 and 4-1 scores.
St. Scholastica has an equally impressive record at 4-0-2 on the season.
Finlandia (0-6-0) and MSOE (0-6-0) remain winless on the season.
St. Scholastica senior forward Brandon Nowakowski was named the NCHA offensive player of the week with a 3-2-5 scoring line in the weekend sweep of Finlandia.
There is only one conference series this upcoming weekend with Finlandia traveling to Lake Forest. Everyone else will be playing nonconference games.