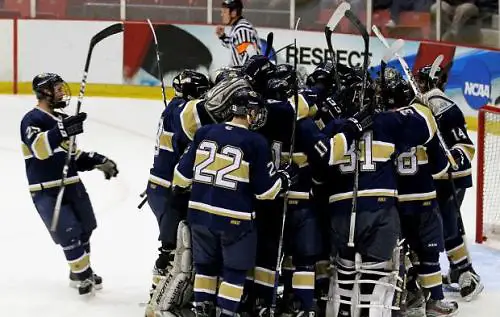 The USCHO.com Division III gang is back at it this week with their predictions on this weekend's games.
ECAC EAST – Tim Costello
Back-to-back weeks at 4-1-0 (.800) bring the season total to 8-2-0 (.800), which is a pretty good start to the prognostications for the conference this season. The schedule heats up this week, so the challenge to be accurate only gets harder.
Here are my picks for the upcoming weekend:
Friday, Nov. 22
St. Anselm @ Norwich
The Cadets have had great success against the Hawks particularly at home and this year is not likely to be different in the regard. This one sees too much offense for the Hawks to handle and another win for Norwich. Norwich 4-1.
University of New England @ Southern Maine
This rivalry of travel partners is on the rise and while the Huskies have had the early advantage in the series, the Nor'easters are out to prove they are up to the task on the opponent's rink. It's close, but a late goal swings it to the visitors. UNE 3-2.
Massachusetts-Boston @ Castleton
Both teams are off to good starts in the season and are looking to build on that success. Home ice and a raucous crowd will help the home team eke out a tight one where special teams are the difference. Castleton 3-2.
Saturday, Nov. 22
St. Anselm @ St. Michael's
One game that counts in two leagues – now that is unusual, but all the more important to theses two D-II schools fighting for seeding in the NE-10, as well as looking to move up in the ECAC East. Neither team has started out great, but this might be the jump start the Hawks need to get in the win column. St. Anselm 5-4.
Babson @ Castleton
Sometimes you have to grit one out with a lot of team defense and goals that aren't going to make anyone's highlight reel but get the job done. The Beavers may be better at that than anyone and it is an effort level that is needed to take down the Spartans at home. Babson 2-1.
Some really key matchups this weekend that will help separate the contenders in the early season schedule – drop the puck!
ECAC NORTHEAST – Nathan Fournier
Saturday, Nov. 23
Suffolk at Becker
This should be an interesting matchup. Suffolk has confidence after a win against Western New England last Saturday. Becker has been struggling to score some goals so far. It should be a very competitive game and I will take Becker in this matchup 3-2.
Nichols at Johnson and Wales
A very intriguing game between a team of veterans in Nichols and a young team in Johnson and Wales. Nichols, so far, has lived up to the expectations they had going into the season, while Johnson and Wales is also off to a strong start with their freshmen and sophomores. Both teams have excellent goaltenders and while Joey Ballmer has USHL experience and off to a great start with Johnson and Wales, I will take Nichols in a 4-1 victory.
Curry at Wentworth
If both teams want to turn things around, they will need to get the power play going. Overall, both offenses have been struggling. Curry defense has been strong and to keep the goals down. I think Wenworth is going to get it together sooner rather than later and take this contest at home 4-3.
Salve Regina at Western New England
This will be an offensive showcase and both defenses will be on their heels all game long. Who will win this game will come down who can can score on the power play. Both team have solid penalty kills and if one team can score on the power play, I think they will be the victor because both teams have shown to score at even strength. I will take Salve Regina on the road with a 6-4 victory.
Tuesday, Nov. 26
Johnson and Wales at Assumption
I think Johnson and Wales will come out on top in this contest. They have been battle-tested this season and their top line has been lights-out this season. Assumption has been struggling to score goals so far this season. Johnson and Wales 5-2.
Southern New Hampshire at Suffolk
This is a team Suffolk doesn't want to see coming into town. Southern New Hampshire has been very good on the road, winning their first three games on the road this season. They have outstanding offensive firepower with four players with eight or more points so far. I think the Penmen will be too much to handle for the Rams in a 6-3 victory.
Becker at Tufts
Becker has to like its chances going into Tufts with the Jumbos playing not only their third game of the season, but third in five days. That will definitely play in Becker's advantage as they will have only played one game the previous weekend. I think Becker comes away with the 5-2 win in this midweek contest.
Manhattanville at Western New England
This a very good nonconference matchup. Both teams are very skilled, which will make for a competitive game. Both teams are defensively sound, but Western New England has the advantage offensively. I will take Western New England in a 4-2 victory.
ECAC WEST – Dan Hickling
Friday, Nov. 22
Elmira (2-2-0, 3-4-0) @ Nazareth (0-4-1, 1-4-1) – Nazareth 4 Elmira 3
A tough team on their home ice, Nazareth is seeking its first league victory of the year. Elmira is looking to move up in the standings. The guess here is that the Golden Flyers will find a way to eke this one out.
Saturday, Nov. 23
No. 7 Utica (4-1-0, 5-1-0) @ No. 14 Hobart (2-0-2, 2-1-3) – Utica 5 Hobart 4
The back end of a two-game set between the two at Hobart. It would be a shock if one team swept both games, but no surprise to see the Pioneers avenge their last second loss to Hobart at home a few weeks back.
MASCAC – Nathan Fournier
Saturday, Nov. 23
Framingham State at Fitchberg State
The Rams of Framingham State have been a surprise so far, winning their first three MASCAC games of the season. They aren't relying on one guy either, as only five players who have appeared in a game this season haven't put up a point. They are winning the high-scoring contests. The Falcons also have put some goals on the board early on this season. It will be a high-scoring contest and I will take the Falcons in a 6-3 game.
Massachusetts-Dartmouth at Westfield State
This is probably the game of the night in the MASCAC. Both teams have high hopes of championship aspirations this season. UMass-Dartmouth has been struggling defensively so far, allowing around four goals per game and the penalty killing has been sub par. Westfield has had their struggles so far to this season, but seemed to turn things around last Saturday. I will take Westfield at home in a 7-4 game.
Plymouth State at Worcester State.
It was a storybook start for Worcester State, winning their first three nonconference games, but MASCAC hasn't been as nice to them. They have dropped their first two games in conference and I think Plymouth State will be ready to hand them another loss. They have had a slow start, but I think this is a game they are looking to turn things around. The Panthers win 4-1.
Tuesday, Nov. 26
New England College at Framingham State
This is a very good nonconference contest for Framingham State to see where they stand. The Pilgrims of New England College are off to a strong start and have gotten contributions from all the lines do far. The Rams might not have many chances offensively to score as New England College has allowed under two goals per game so far. With Thanksgiving just two days away, I will take the Pilgrims 5-1.
Babson at UMass-Dartmouth
At the start of the season, this was one of the games circled on the calendar on the East Coast. Babson has been as advertised so far, both offensively and defensively. It will be interesting how well the Corsairs do this upcoming week with two other non-onference games right after Thanksgiving against Colby and Bowdoin. Until UMass- Dartmouth puts a couple of games together, I will take Babson 4-2.
Salem State at Southern Maine
The Vikings will travel up to Gorham, Maine, and take on the Huskies of the Southern Maine. This should be an even matchup. The Viking will have the advantage offensively, scoring nearly 3.50 goals a game compared to USM's 2.50. The Vikings aren't afraid to put up shots either, which will create rebounds and scoring chances. I will take Salem State in a 4-3 win.
Franklin Pierce at Westfield State
It has been a tough start for Franklin Pierce so far this season. The Ravens have had trouble finding the back of the net and the penalty kill has already allowed six goals so far. That's not a very good combination in facing an offensive team like Westfield State, who has shown they can put the puck in the net early and often. I will take Westfield State in a 7-1 victory.
MIAC/WIAC – Brian Lester
It's time for another week of hockey picks.
Conference play begins to pick up in the MIAC and this is the time of the year where teams start establshing themselves as contender or see their hopes to contend in the conference begin to fade away.
In the WIAC, several teams will be on the road, including Wisconsin-Eau Claire, which has a pivotal non-conference battle with St. Norbert in what will be a statement game for both teams.
So once again, it's time to test my intelligence and make some predicitions.
Friday, Nov. 22 – MIAC
Bethel at Concordia (Minn.)
Bethel heads into its matchup with Concordia looking for its first win of the year. The Royals have lost thre consecutive games and have managed only 10 goals while allowing 18. Colin Mayer and Travis Payne have two goals apiece and will need to play well for the Royals to have a shot at winning this series opener. Concordia has been very productive on offense, racking up 17 goals, and it has allowed only 10 goals. If the Cobbers get a solid effort from Chris Neamonitis (1.67 goals-against average, 214 saves) and are as effective offensively as they have been during their 4-2 start, they will prevail. Concordia, 4-1.
Hamline at Gustavus Adolphus
The Pipers are another MIAC team searching for their first victory of the season. They have forged one tie in six games and have lost two in a row. Their problem has been they have allowed far too many goals, giving up 32 on the year. John Sellie-Hanson has started one game and if he starts again, he will need to be at his best for Hamline to have a shot. The Pipers need to be solid all around on defense to be successful. Gustavus is 3-3 and has an opportunity to pick up momentum in the conference. The Gusties have tallied 16 goals, including four by Corey Leivermann, and if Gustavus can execute on offense, they will be tough to beat in this one. Gustavus, 6-2.
St. John's at St. Mary's
The defending conference champion Johnnies will be tested in this road series with the Cardinals, but they have an opportunity to send a message early that they are the team to beat in the league. Josh Gross, Kevin Becker and Tyson Fulton have scored two goals apiece and the Johnnies have the balance to be successful against the Cardinals. Throw in the fact that Saxton Soley has made 79 saves and allows just two goals per game, and the Johnnies are going to be tough to top. St. Mary's has won twice in six games and has struggled to keep the puck out of the net. The Cardinals have allowed 20 goals while tallying 13 on the year. Bob Marx has scored three goals to pace the Cardinals offensively, but if St. Mary's is going to win this one, Christian Gaffy needs to have a strong showing in goal. He has given up 14 goals on the year and has tallied 155 saves. He has a goals-against average of 2.85. St. John's 4-2.
Saturday, Nov. 23 – MIAC
St. John's at St. Mary's
The Johnnies are determined to win another league title and closing out this series with a win would be a huge step forward in that quest to be champions. But the Cardinals are at home and I can see them taking one in this series. St. Mary's 3-2.
Bethel at Concordia (Minn.)
The Cobbers are too good on offense and are at home as well. They will prevail for the second straight night. Concordia, 4-3.
St. Olaf at St. Thomas
St. Olaf has won only one game and is winless in three road games. Playing at St. Thomas will be a challenge. The Oles have managed to score only 12 goals and have given up 26. They will need to be at their best on defense to get out of town with a win. The Tommies have only one loss and lead the league in goals allowed (nine). Considering how tough they are on defense, especially with Drew Fielding (1.50 goals-against average, 154 saves) in goal, don't expect St. Thomas to come up short in this win. St. Thomas 5-1.
Friday, Nov. 22 – WIAC
Wisconsin-Stevens Point at Milwaukee School of Engineering
The Pointers have yet to lose in six games and have racked up 42 goals on the season. Their ability to step up on the offensive end will make them tough to deal with. The Pointers have 11 players with two or more goals, including Garrett Ladd, who has scored seven to go along with six assists. If the Pointers play up to their potential offensively, they will be fine against the winless Raiders. Stevens Point, 5-2.
Wisconsin- Eau Claire at St. Norbert
The defending national champions play a key road game agianst St. Norbert, and this one, a battle of the top two teams in the nation, could go a long way in helping the Blugolds build momentum for another title run at the end of the year. They have given up only five goals and Tyler Green has been tough in goal, allowing only four goals. If Eau Claire plays well on defense, it will be in good shape. The Green Knights are unbeaten as well and have given up just eight goals. The team that can play the best defensively will prevail. Eau Claire, 2-1.
Wisconsin River Falls at Concordia (Wis.)
The Falcons have won two of their first four games, but have managed to only score 13 goals. But they have given up just nine goals and will be looking for Willie Hess (five goals) to step up in order to help lead the way to a win. Concordia has lost two in a row, but has tallied 19 goals on the year. It has allowed 23. If the Falcons can get on track early, it should be in a position to steal this win. River Falls, 4-3.
Saturday, Nov. 23 – WIAC
River Falls at Milwaukee School of Engineering
The Falcons will have an opportunity to cap their weekend with a win on the road over a Raiders team that has yet to win. Again, the key for the Falcons is to get off to a good start. Scott Lewan (2.28 goals-against average, 69 saves) will need a strong game in goal as well, especially with this being on the road.
Wisconsin-Stout at St. Norbert
Stout faces one of its toughest challenges of the year against the Green Knights. Stout has lost three in a row and has scored two or more goals only twice. It will need its best all-around effort of the year to pull this game off. The Green Knights are just too strong, though, and will prevail. St. Norbert, 5-2.
Eau Claire at Concordia (Wis.)
The Blugolds have enough talent offensively to overwhelm Concordia. Not only are they the better team on offense, but their defense will be tough to crack. Eau Claire, 5-1.
NCHA – Katie Carito
I'm going to keep my picks this season to conference games and so far on the season, I am 7-2-0 – not a bad way to start. There is only one conference series on the docket this weekend.
Finlandia at Lake Forest
Last weekend, the Foresters (3-2-0) were swept by St. Norbert, marking their first two losses of the season. Finlandia (0-6-0) was swept by St. Scholastica. Finlandia joins MSOE as the only team in the NCHA without a conference win. Finlandia sophomore goaltender Troy Chandler made a total of 78 saves on the weekend, which makes me think that their defense needs to step up this weekend. Lake Forest wins both, 3-2, 4-1
NESCAC – Tim Costello
Opening week, I went 4-0-1 (.900) on my picks, so not much room for improvement with some interesting games among some of the closest rivals.
Here are my picks heading into the weekend and second week of conference play:
Friday, Nov. 22
Middlebury @ Tufts
The Panthers came out of last week's games with Bowdoin and Colby showing they can play it close and also open up the offense. Tufts should be worried about the potent Panther attack that is balanced across all lines. Middlebury 5-2.
Bowdoin @ Colby
Throw out the statistics in this 101st edition of the Maine hockey rivalry. Since both games now count in the standings, it's a chance make a statement in the conference and on behalf of hockey alumni everywhere for your school. Polar Bears look to bounce back after tough outing at Williams. Bowdoin 4-3.
Williams @ Connecticut College
The Ephs are off to a fast start, including last Sunday's 5-2 win over Bowdoin. The Camels certainly deserved some points out of their first weekend, but couldn't get the puck bounce when they needed it most. Williams doesn't beat itself and here won't let the Camels do it either. Williams 3-1.
Saturday, Nov. 23
Trinity @ Amherst
The Lord Jeffs have a history of playing great at home and making things very difficult for the opposition to score goals. Trinity will get its chances, but Amherst takes advantage of a power play late and that is the difference in this contest. Amherst 3-2.
Wesleyan @ Hamilton
After missing game two last weekend, Keith Buehler is back in the lineup and that is not good news for Hamilton. Don't know if the Vorel-Hartnett-Buehler line can keep scoring at this pace, but Wesleyan has enough depth elsewhere to pick up the slack. Wesleyan 4-1.
There's lots of great action as teams still figure out all of the pieces coming together – drop the puck!
SUNYAC – Dan Hickling
Friday, Nov. 22
No. 8 Oswego (2-1-0, 3-1-0) @ No. 15 Geneseo (3-1-0, 4-2-0) – Geneseo 4, Oswego 2
A year ago, the Lakers went into Genny and administered a 10-1 beating. Not this time. Despite their national rankings, both teams have had a few early-season struggles and are seeking to find an indentity. On this night, the Ice Knights will find theirs.
Saturday, Nov. 23
No. 4 Plattsburgh (4-0-1, 4-0-1) @ Morrisville (1-4-1, 1-4-1) – Plattsburgh 5, Morrisville 1
The Mustangs are capable of giving any opponent a tough time, but do not have enough horses to upend the nation's fourth-ranked team.