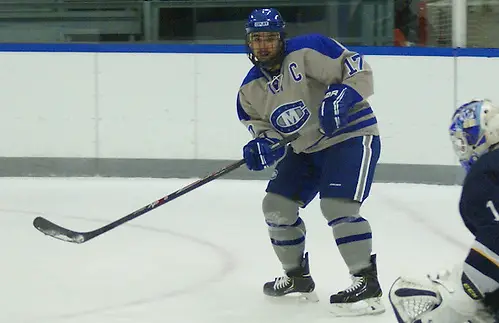 Here's what happened this past weekend across the country in Division II and Division III circles:
NESCAC
The rivalry between Colby and Bowdoin resumed this weekend and the two teams earned a split. The Polar Bears went up to Waterville, Maine, on Friday night and earned a 3-1 win over Colby. Ollie Koo, Jay Livermore and Harry Matheson all scored for Bowdoin, while Geoff Sullivan scored for Colby. On Saturday night, the Mules earned the 4-2 victory down in Brunswick, Maine, on Nick Lanza's hat trick. EJ Rauseo also scored for Colby. Kendall Culbertson and Matt Rubinoff scored for Bowdoin.
Two teams ranked in last week's USCHO.com Division III Men's Poll, Williams and Amherst, were also in action. Williams earned a 5-2 victory over Connecticut College on Friday night, getting goals from five different players. On Saturday night, Williams earned a 4-1 win over Tufts behind Craig Kitto's two goals. Amherst earned a 3-1 win over Trinity on Saturday night with Brian Safstrom picking up a power play and shorthanded marker. Sunday, Amherst picked up a 4-1 victory over Wesleyan.
ECAC East
Norwich earned three points on the weekend, starting with a 2-2 tie with St. Anselm. Paul Russel and Shane Gorman scored for Norwich. Joe Tebano and Kevin Vanous scored for St. Anselm. On Saturday, Norwich's offense came to life with a 6-2 victory over New England College. Travis Janke had a goal and two assists, while Shane Gorman had a goal and an assist. Nick Pichette, Chris Duszynski and Anthony Flaherty also scored. Jesse Ostring and Garrett Brazzier scored for New England College.
Babson earned a pair of 2-1 victories over Skidmore and Castleton. Friday at Skidmore, Nik Tasiopoulos and Mike Vollmin scored. Thomas Park scored the lone goal for Skidmore. Saturday against Castleton, Mike Driscoll and Matt Furley scored, while Bart Moran scored for Castleton.
ECAC Northeast
Salve Regina leads a tightly-bunched ECAC Northeast and picked up a 4-1 victory over Western New England in what was supposed to be an offensive showdown Saturday night. Trace Redman, Cameron Gaudet, Jonathan Felteau and Peter Gintoli scored for the Seahawks. Dan Monahan picked up the lone goal for Western New England.
Nichols, the other team with only one loss this season, picked up a 3-1 victory over Johnson and Wales Saturday night. Sean Fleming, Joe Sposit and Daniel Bufis scored for the Bison. Eddie Patterson scored for Johnson and Wales.
Wentworth picked up a 1-0 victory over Curry while Becker and Suffolk skated to a 3-3 tie.
ECAC West
The matchup of the weekend in the ECAC West was the two games between Utica and Hobart, which didn't disappoint. Friday night, the two teams skated to a 3-3 tie. Pete LaFosse, Rob Morton and Kevin Kiristis each scored for the Pioneers. Hobart responded with goals from Robert Sovik, Bo Webster and Keith Clarke. Saturday night, it was a 3-2 thriller in overtime that went to Utica. Adam Graff had two goals, including the game-winner, and an assist. Jide Idowu also scored. Webster and Terrance O'Neil tallied for Hobart.
Elsewhere, Neumann and Manhattanville faced each other in a game where defense was apparently optional in Neumann's 7-4 victory. Collin O'Neil had two goals. Kajon McKay, Ryan Luiten, Shane Topf, Chris Bournazos and Shayne Morrissey also scored for Neumann. Louie Balzano had two goals for Manhattanville, while Adam Young and Anthony Luzzi also scored.
MASCAC
Westfield picked up two wins this past week after a slow start to the season. Thursday, Westfield defeated Fitchurg State 6-4. Tyler Prendergast had two goals in the victory with teammates Jackson Leef, Taylor Murphy, Vincent Perrault and Dan Loughlin also scoring. Jake Martin, Max Lorenzen, Ryan Connolly and Cameron Synder scored for Fitchburg State. Saturday night, they squeaked out a 3-2 victory over Massachusetts-Dartmouth. Dalton Jay had two goals and an assist, while Josh McCully scored the game-winner. Shaun Walters scored both goals for UMass-Dartmouth.
In other MASCAC action, Salem State also handed UMass- Dartmouth a heartbreaking loss on Thursday, coming out on top with a 4-3 victory. Fitchburg State earned a 5-2 victory over Framingham State. Worcester State and Framingham State ended in a 3-3 tie. Plymouth State defeated Worcester State on Saturday 5-3.
MIAC
St. Thomas swept the weekend with two wins over St. Olaf. On Friday night, St. Thomas needed a shootout to beat St. Olaf 3-2 (officially a 2-2 tie). Alex Altenbernd and Steve Sorensen scored for St. Thomas. St. Olaf picked up goals from Peter Lindblad and Marc Richards. Saturday, it was a 3-0 victory with Altenbernd scoring twice and Drew Fielding making 30 saves in the victory.
Augsberg's offense was clicking with 9-2 and 7-3 victories over Northland. Ben McClellan had four goals and two assists in Friday night's 9-2 win. He also had two assists on Saturday. On Saturday, B.J. McClellan had two goals and an assist. St. John's earned a split with St. Mary's. After Friday's 4-3 victory, St. John's dropped Saturday's game 3-2.
NCHA
Clash of the Titans faced off in a nonconference matchup as St. Nobert welcomed Wisconsin-Eau Claire to town. St. Nobert handed Wisconsin-Eau Claire their first loss of the season with a 5-2 victory. Pijus Rulevicius, Michael Hill, Erik Cooper, Brandon Hoogenboom and Mason Baptista scored for St. Nobert. Jon Waggoner scored twice for the Blugolds. On Saturday, St. Nobert defeated Wisconsin-Stout 5-2. Chris Rial provided two goals, while Cooper, Baptista and Joe Perry also scored.
St. Scholastica had two nonconference games this past weekend. They opened the weekend with a 4-3 victory over Stout. Dave Williams and Keegan Bruce each provided the lone assist on the others' goal. Chad Golanowski and Paul Marcoux also scored for St. Scholastica. Wisconsin-Superior came to town on Saturday and came away with the 3-2 victory. Bruce and Josh Hansen scored in the loss.
Northeast-10
Southern New Hampshire earned two victories this past weekend. On Tuesday, they defeated Franklin Pierce 5-1 behind a two-goal effort by Joe Collins. John Humphrey, Steven Berry and Zach Lubinski also scored. The lone goalscorer for Franklin Pierce was Bryan Colella. On Saturday, Berry got the game-winning goal in the 3-2 victory over Assumption. Jay Sylvia and Dane Caracino also scored. Nick Mattiello scored twice for Assumption.
Stonehill earned a 6-2 victory over Canton. Richard Harris had two goals and Bryan Rooney, Kevin Aufiero and Bill Carey also scored for Stonehill.
SUNYAC
Plattsburgh continues to roll with a weekend sweep of Morrisville. Friday night, the Cardinals put seven goals on the scoreboard from seven different players. Alex Jensen had a goal and two assists, while Dillan Fox and Ryan Farnan each had a goal and assist. Luke Baleshta, Connor Gorman, Mark Constanine and Adam Scuglia also scored. Zach Bake picked up the lone goal for Morrisville. Saturday, Gorman had a goal and three assists. Barry Roytman, Jensen and Fox picked up the other goals. Joe Santino, Ryan Marcuz and Marc-Antone Chaput scored for Morrisville.
Oswego and Geneseo met Friday night with Geneseo coming out on top with the 7-4 victory. Justin Scharfe had two goals for Geneseo, while Connor Anthoine, Jonathan Sucese and Matt Solomon had a goal and assist. AJ Sgaraglio and Zach Vit also picked up goals in the win. Mike Montagna, Brandon Adams, Andrew Barton and Chris Waterstreet scored for Oswego. Saturday, Geneseo defeated Cortland 7-4, while Oswego defeated Brockport 4-0.
WIAC
Wisconsin-Stevens Point picked up two victories with a 6-1 win over the Milwaukee School of Engineering on Friday and a 2-0 win over Marian Saturday. Garrett Ladd and Evan Dixon had a goal and assist Friday night. Kyle Brodie, Joe Kalisz, Kyle Heck and Lawrence Corneller also tallied a goal Friday night. Kalisz had both goals Saturday night in the win over Marian.
After dropping a 5-2 decision to St. Nobert on Friday night, Wisconsin-Eau Claire ended the weekend on the road with a 7-0 victory over Concordia (Wis.). Jon Waggoner had two goals and an assist, while Charles Thauwald also had a pair of goals. Brian Nehring, Joe Krause and Jason Eddy added the other goals. Jay Deo stopped 29 shots to earn the shutout.