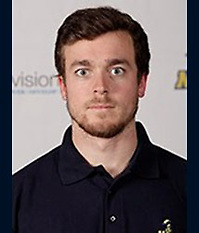 Ice time is a precious commodity, even more so for a freshman trying to work his way into the lineup.
Last Saturday, Neumann freshman Collin O'Neil certainly made the most of his shifts.
A healthy scratch for four of the Knights' first five tilts, O'Neil found himself in the lineup for Saturday's conference clash with Manhattanville and came through with two goals and an assist in what played out as a 7-4 Neumann triumph.
"It felt pretty good," said O'Neil, who hails from nearby Hummellstown, Pa. "I was just trying to go out there and earn my spot. I was just trying to work hard and got pretty lucky."
Luck? Some say you make your own.
O'Neil, who was stationed at left wing, netted both of his goals in succession in the second period. It served to rip open what had been a slim 2-1 Knights lead.
"It was timely," said Neumann coach Dominick Dawes. "He got an opportunity to get in the lineup and he took advantage of it. He worked hard, scored a couple goals. That's all you can ask of anyone."
O'Neil said he had no visions of grandeur as he took the ice for the first time in three weeks.
Slotted on Neumann's fourth line, he was simply trying to grind out one shift after another.
"I was just trying to play the way Coach wants us to play," he said. "I was able to get back out there for a couple more shifts and luckily, was able to score a couple goals."
The first of those came 5:35 into the second stanza after a faceoff win by teammate Kajon McKay.
He said that seeing the puck enter the net was something of a surreal experience.
"It was pretty awesome," O'Neil said. "I was really excited to score my first goal. Really excited to help contribute to the team."
That excitement nearly turned sour later in the period when O'Neil was sent to the box for hooking.
It's many a rookie who has found himself chained to the bench after putting his team down a man, but O'Neil never gave Dawes the chance to sit him down.
Indeed, as O'Neil was finishing his penalty, Neumann defenseman Dan McDougall hit him with a perfect lead pass and sent O'Neil sailing into the clear.
"I almost jumped out of the box a couple seconds too early," O'Neil said. "Then I jumped back in. Then the puck came right to me and I had a clean breakaway. I had to calm down."
It's safe to say that with his performance, which earned him the league's rookie of the week honors, O'Neil is bound to find himself back in the lineup soon.
Even so, O'Neil said he's taking nothing for granted.
"It's just nice to be able to contribute whenever [I] can," he said.