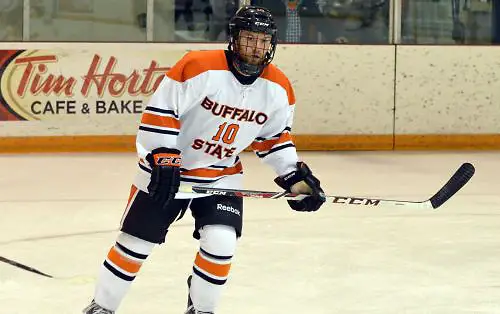 What's that old chestnut about half a loaf being better than nothing?
You wouldn't have known it by the reaction from either side of Friday's 4-4 draw between Fredonia and Buffalo State.
Judging by the respective reactions, neither side found the result to be particularly tasty, even though each came away with a precious SUNYAC standings point.
"I think we thought that we were our worst enemy on Friday night late," said Fredonia bench boss Jeff Meredith, whose team let a 4-2 third-period advantage slip through their grasp. "We worked hard to get a two-goal lead and then gave it away with bad penalties and our inability to make simple plays."
For a time, it seemed as though Fredonia would skate out of town with a hard-earned road win, thanks to strong goaltending by freshman Chris Eiserman and a pair of power-play tallies by invigorated junior Jared Wynia, who now has five goals, just two off last year's total.
However, Buff State stormed back to knot the game in the final 5:30 of regulation, getting to within a goal on Adam Rossi's power-play marker.
Senior Shane Avery tied the game with 58 seconds to play.
Bengals' coach Nick Carriere, who got his coaching start a decade ago as an assistant under Meredith, felt that while his team put out the effort, much of it was wasted energy.
"I thought we had a lot of chances and a lot of time," said Carriere. "But I thought we did a poor job of making sure we got pucks through and on the net. We had shots blocked and a lot of our shots went wide. I thought we did a good job of keeping them away from the 'Grade-As,' but it seemed like every time they got a shot on net, it went in."
Meredith, who is noticeably sleeker after having dropped 40 pounds during the offseason, said that his youth-laden crew is still trying to sort itself out.
"I think it is fair to say that we have yet to establish our identity," he said. "Having 14 freshmen, it is taking some time to get to know each of their strengths and weaknesses and figuring out where each of them fit into our team. I like them a lot and think they are all pretty talented, I think it is about how fast they adapt to college hockey and how unforgiving it is to when you try to complicate the game."
As for the more experienced Bengals, Carriere said his squad is on the way to achieving that much-desired cohesiveness.
"I think we have a pretty good team identity," he said. "I think we understand what we are good at. We have to do a better job of hanging on to that. Friday night, we did a job job of puck control, but whether we did anything good with that puck control is another topic of conversation. We played a strong defensive team in Fredonia that didn't give us a lot."