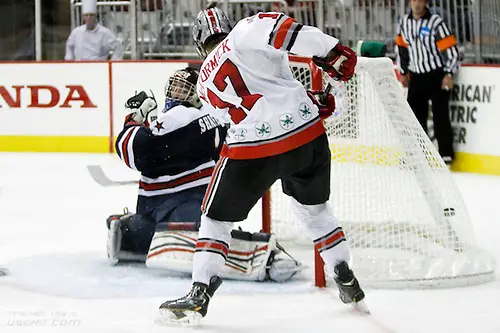 Ohio State didn't get off to the most dazzling start under new head coach Steve Rohlik.
The Buckeyes surrendered 12 goals in their two opening-weekend losses to Miami and followed that up by heading to Bowling Green a couple days later and dropping a game to the Falcons 4-3.
However, that was then and this is now. Rohlik's squad has rattled off eight wins in its last nine games.
"After the start, and getting off to a little slow start, our guys have somehow found a way to win some hockey games," Rohlik said. "We're certainly pleased that we're winning some hockey games, but we certainly have to continue to get better. I think that we've done some things pretty well and we've gotten better in some areas, but we have a lot of areas that we have to continue to improve on."
Rohlik said that the team's mood hasn't changed this season, whether the team was 0-3 or on the current five-game winning streak.
"To be honest with you, our guys have never wavered," Rohlik said. "They've been the same, win or lose. Our goals, they sound simple, but we've talked about just trying to get better each week and game by game instead of looking at the big picture."
The Buckeyes have benefited from playing most of those contests at Value City Arena. They completed their sweep of a home-and-home series with Robert Morris on the road, but have played every other game since the loss to Bowling Green at home.
Though the schedule has the Buckeyes playing a lot at home, Rohlik said that he was excited to get out on the road. Ohio State hasn't had an overnight road trip so far this season.
"It's weird because last year we were on the road a lot; this year we've been at home," Rohlik said, adding that going to Michigan for Friday's Big Ten opener would be the team's first overnight trip. "It's certainly great playing here at home an playing in a great venue, but I think we're ready to get on the road. It's important sometimes to get on the road for team chemistry and team bonding."
What makes the streak impressive is that it has come in the face of some adversity. Sophomore goaltender Collin Olson left the team because of a lack of playing time. That means that the goaltending duties fell directly on two freshmen.
Matt Tomkins has a 5-3 record in eight starts and Logan Davis has a 3-0 record in two starts. Davis has been a bright spot — the backstop from Upper Arlington, Ohio, was named the Big Ten third star of the week last week. He has a 0.68 GAA this season.
"I couldn't be happier for him," Rohlik said of Davis. "He goes out there every day and does his job and take pucks in practice just as hard as anybody else. I give him credit: He put himself in a situation where he was ready and when he was called upon he went in there and did the job. It's a dream come true for him, and he gained a lot of respect from everybody in that locker room."
Rohlik said that the goaltender situation was an example of one of the unexpected things he has had to work through in his rookie season.
"I think on a day-to-day basis, when you really think about it, the coaching aspect when you get on the ice is such a small percentage compared to everything else that you're involved with," he said. "From off-ice, to meetings, to administration. So certainly I've learned in that sense that there's certainly a lot more that goes into it. With coaching, and being on the ice, you truly look forward to that, spending that hour and a half with the guys."
Tomkins left the Nov. 9 game against Niagara with a lower-body injury. Rohlik said he practiced all week and would be a game-time decision this weekend.
The quality of opponents Ohio State has faced during the streak is something that you can't ignore. The Buckeyes have sweeps over Robert Morris, Niagara and Canisius, teams with a combined record of 8-24-2. The Buckeyes do have wins over Minnesota-Duluth, which scored six goals against Minnesota on Sunday, and a solid Bowling Green team, however.
"We still haven't put a three-period game together," Rohlik said. "But our team has stayed focused and stayed positive. And I certainly think it's been paying off for us."
Junior forward Ryan Dzingel is the Buckeyes' leading scorer with seven goals and seven assists. Dzingel had 38 points last season. Max McCormick, Alex Szczechura and Tanner Fritz all have 10 or more points.
Fritz, who had 26 assists last season, looks to have picked up right where he left off. He has nine helpers this year.
Is Ohio State a legitimate contender for the Big Ten crown? More than likely not. But the team is worth noticing, considering it already has won half the amount of games it did last year with four games remaining in the season's first half.
And as we've seen in the past (Michigan Tech under Mel Pearson and Minnesota State under Mike Hastings), teams under first-year coaches can get hot. In playing in a conference with Minnesota, Michigan and Wisconsin, the Buckeyes will get opportunities to prove themselves this season.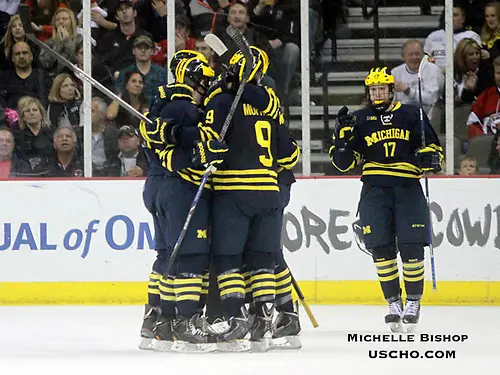 Conference play set to begin
As the Black Eyed Peas once said, let's get it started.
For the first time this season, teams from the Big Ten will play teams from the Big Ten. Wisconsin will travel to Minnesota this weekend, while Michigan and Ohio State will play a home-and-home series on Friday and Monday.
"It's almost surreal that it's here," Rohlik said. "Obviously, it's an honor and a privilege, and it's exciting for Ohio State to be part of such a prestigious league."
Rohlik said he was most excited about the brand that the conference has.
"With the other five schools involved, we know what we're getting into every night," he said. "We certainly have to be on our 'A' game."
Wisconsin coach Mike Eaves will take his team, and his incredible mustache, to face the No. 1 team in the nation. Eaves said he sees the trip as a way for the Badgers to make some noise.
"First of all, we're excited to get back playing," Eaves said. "The fact that we're going into Minnesota and they're ranked where they are, our kids will be excited. It's an opportunity to bang the drum a little bit and make some noise by going in there and playing well."
Though the conferences are new, the rivalries are not. Wisconsin and Minnesota played each other in the WCHA up until this year and Michigan and Ohio State did the same in the CCHA.
"I think it adds a little more hype to the game, just because it's the first Big Ten one," Ohio State senior forward Travis Statchuk said.
Teams ink players during early signing period
Schools are announcing the players that have signed a National Letter of Intent. We're keeping track on this page.
Here are the players from Big Ten schools:
Minnesota: Leon Bristedt, Ryan Collins, Jack Glover, Steven Johnson and Jack Ramsey.
Wisconsin: Jack Dougherty, Keegan Ford, Gabe Grunwald, Jake Linhart, Matthew Ustaski and Ryan Wagner.
Michigan: Dexter Dancs, Dylan Larkin, Hayden Lavigne and Cutler Martin.
Michigan State: Josh Jacobs and Edwin Minney.
Penn State: James Robinson.
Three stars
First star — Michigan freshman goaltender Zach Nagelvoort: The freshman netminder recorded his first collegiate shutout in Michigan's 6-0 victory over Niagara and was awarded his third Big Ten honor of the season for his efforts. He ranks first in the nation in GAA (1.48) and is third in save percentage (.950). Nagelvoort has allowed two or fewer goals in seven of his eight games this season.
Second star — Michigan freshman forward Tyler Motte: Motte scored his fifth goal of the season 34 seconds into Michigan's contest with Niagara. He also tallied two assists in the game. It was his first career three-point game. This is his second weekly honor of the season.
Third star — Minnesota freshman defenseman Michael Brodzinski: Brodzinski had two goals and one assist in the Gophers' split with Minnesota-Duluth last weekend. He ranks second among Big Ten defensemen with four goals this season.
Big Ten in the poll
Here's where the Big Ten teams stand in this week's USCHO.com Division I Men's Poll:
No. 1 Minnesota (last week — No. 1)
No. 3 Michigan (LW — 5)
No. 12 Wisconsin (LW — 12)
This week's matchups
Wisconsin at Minnesota (Friday and Saturday, Mariucci Arena)
Ohio State at Michigan (Friday, Yost Ice Arena)
Michigan at Ohio State (Monday, Value City Arena)
Princeton at Michigan State (Friday and Sunday, Munn Arena)
Union at Penn State (Saturday and Sunday, Pegula Ice Arena)