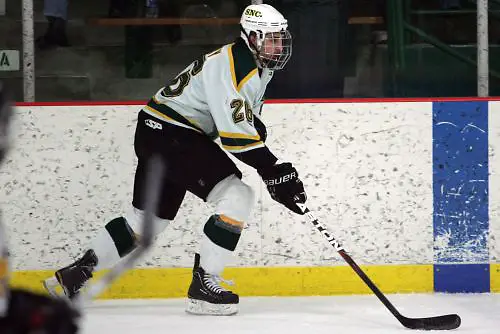 St. Norbert is currently the top-ranked team in the nation, toting a 9-0-0 overall record and a 6-0-0 slate in the NCHA.
Many teams in Division III hockey would find them as the team to beat.
However, it's the Green Knights that see room for improvement.
"I think we have a pretty average group so far," said SNC coach Tim Coghlin. "I think we have a lot of pieces of our game that are missing. We knew at the start of the season we would be okay keeping the puck out of the net, it has been a little bit of a roller coaster."
The Green Knights sit fourth in the nation for team offense, averaging five goals a game. They are eighth in the nation for team defense, allowing an average of 1.56 goals per game. Their power play has struggled, though, going 10-for-48, ranked 30th in the nation.
"So far it has been scoring by committee [and] our power play has been anything but special," Coghlin said. "In the early going, we have [junior forward] Mason Bapsita standing out."
Baptista (3-9–12) and sophomore forward Michael Hill (7-5–12) are tied for St. Norbert's leading scorers and are tied for seventh in the nation.
Last Friday and Wednesday, the Green Knights faced quite possibly their biggest challenge in facing defending national champion Wisconsin-Eau Claire.
The Green Knights rose to the challenge, beating the Blugolds 5-2 on Nov. 22. On Wednesday, the Green Knights continued their winning ways beating UWEC by an 8-2 count. Wednesday's win came with a three-goal performance from Hill.
"They are definitely a good team [and] we look back at last year with bad blood," said St. Norbert senior forward Brandon Hoogenboom. "It's big to come out this season with two wins against them."
Hoogenboom is enjoying the team's success, but doesn't see them as shoe-in for any win this season.
"It is only November, we have a long season ahead of us," Hoogenboom said. "We are not quite where we want to be, we have a long way to go. We still have a lot of things to learn. It is a work progress. We are well on our way, but we have a lot of things to clean up."
The Green Knights will take on familiar foe St. Scholastica in a nonconference game in Wausau, Wis., this weekend. The neutral-site game will benefit the Marathon County Youth Hockey Association.
"It is about a two-hour ride for us," said Coghlin. "They take care of everything for us, the guys are excited for it."
Around the League
Lake Forest swept Finlandia in the sole conference series last weekend with scores of 3-2 and 3-1.
Senior forward Tyler Klein of Marian earned NCHA offensive player of the week honors after a hat trick against Wisconsin-Superior in the Sabres' 7-3 victory. Klein also had an assist on the night.
Lake Forest sophomore defenseman Ben Certo picked up NCHA defensive player of the week accolades. Certo had two-point nights in each of Lake Forest's games over the weekend in the sweep of Finlandia. Friday's game saw Certo with a two-assist scoring line, while Saturday, he notched one goal and had one assist.
This weekend there are no conference games as Marian and Lawrence will be playing in the NCHA-MIAC Thanksgiving Showdown against St. Olaf and Gustavus Adolphus.
Lake Forest will play two games against St. Mary's, while Bethel travels to Concordia (Wis.) for nonconference games.
Adrian hosts Fredonia on Saturday before hosting Nazareth on Sunday.