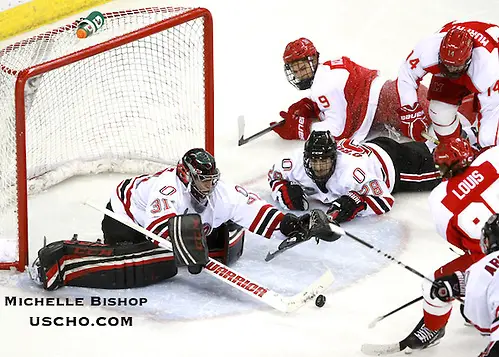 From strictly results and momentum perspectives, perhaps Nebraska-Omaha's first idle weekend of the season didn't come at the best time.
The Mavericks finished November 6-2 and atop the NCHC standings before taking last weekend off.
On a human level, though, Mavericks coach Dean Blais was happy he and his team were able to recharge their batteries over Thanksgiving weekend.
November looked like it could've given UNO a bumpy ride as Blais' group faced, in order, Denver away and then North Dakota, Michigan and Miami at home. All four were ranked at the time they faced the Mavericks, who had stumbled out of the blocks and finished October 2-4.
Things got a lot better for UNO last month, but going from the proverbial night to day took a toll on the Mavericks' energy reserves. That left Blais feeling his team's first off week of the season came just when the Mavericks needed it most.
"We needed the time off because of the intensity of the last month," Blais said. "If there was a meter on your energy and your concentration, we'd have kind of depleted it with Denver, North Dakota, Michigan and Miami.
"Those are four of the best teams in the country, traditionally, and they were all ranked in the top 20 when we played them, for sure, and some even in the top 10. You've only got so much emotional energy in your body, and I think we used it all up.
"It was good for the guys to go home and get away from hockey, but now it's our job as coaches to get them back to where they were going into last week."
This week, UNO is trying to resume normal service before the Mavericks fly out to Colorado Springs, Colo., on Thursday ahead of this weekend's series against Colorado College.
With his players working to get their legs back after spending the second half of last weekend with their families, Blais said Monday that he's excited to see what his team can do against the Tigers, whose World Arena houses one of only two Olympic-sized rinks in the NCHC (St. Cloud State's National Hockey Center is the other).
The other six arenas housing league teams have NHL-size rinks, which are 85 feet wide. UNO split its only two games on the 100-foot-wide ice so far this season in a series at Northern Michigan Oct. 18-19, and the Mavericks will be on Olympic-sized ice again Jan. 3-4 when they travel to face New Hampshire.
UNO pulled out a 3-2 win Oct. 18 at Northern Michigan before losing 6-3 the following night. Blais said that when his team hits the bigger ice again against the Tigers, he's looking for a pair of cleaner performances from his team than it had against the Wildcats.
"I thought, at Northern, we played pretty well on the big ice offensively," Blais said. "Defensively, we didn't cover as well as we should've because they scored some goals where we just had some breakdowns. We'd have control of the puck but then turned it over and, bam, it's in the back of our net because we got beat.
"We were real sloppy defensively, so that's what we need to concentrate on in our Thursday practice this week [at World Arena]: our play without the puck. Playing with the puck, on our rink here, we'll have good practices, but you have to defend on the bigger ice, so our approach changes a little bit."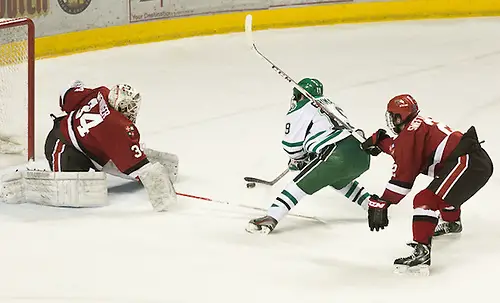 North Dakota recovers well after hitting low point
It's hard to look at North Dakota's 5-2 loss last Friday at home to St. Lawrence as anything other than the lowest point of UND's 2013-14 campaign to date.
Running a winless streak to four games, UND fell flat in the series-opener against the Saints. St. Lawrence never trailed in the game, and its special teams units notched four goals en route to the Saints' first victory in Grand Forks, N.D.
UND coach Dave Hakstol didn't mince words when asked if the loss last Friday was his team's lowest point of the season thus far.
"That's the poorest 60 minutes of hockey we've played in quite some time," Hakstol said. "Obviously, I'll keep it to this year, but it was just 60 minutes where, in every phase of the game, we were slow and sluggish within it."
Hakstol's group did, however, make a marked improvement the following night. UND's special teams units contributed both a short-handed and a power-play goal, netminder Zane Gothberg made 25 saves, and a Stephane Pattyn tally in the dying seconds of Saturday's second period stood up as the game-winner in a 3-2 victory for the hosts.
Hakstol said he didn't feel relieved about his team snapping its winless skid, but he did say Saturday's performance was much closer to what he expects from his team than Friday's was.
"Our battle level and our compete level was present for 60 minutes," Hakstol said of his team's effort Saturday. "More importantly than anything [compared to] 24 hours before, those are the things we wanted to make sure we accomplished."
His team's next challenge will be to keep the ball rolling this weekend at Western Michigan. Hakstol's familiar with the Broncos from his own playing days at North Dakota but, apart from a 3-1 win over Western in the 2012 NCAA tournament, that's a program UND has no other recent experience with.
Prior to that postseason meeting, UND and WMU hadn't faced each other on the ice since the first week of 1998. UND is, however, 5-0 all-time against the Broncos.
Hakstol's group will have a major challenge on its hands as it tries to pick up a couple of positive results in what's usually a hostile atmosphere inside Lawson Arena, and Hakstol suggested one of the keys to any success his team has this weekend will involve silencing the home crowd in Kalamazoo.
"Obviously it's a new venue [for us], but we're going out there to play a couple of games of hockey," Hakstol said. "And if we're going to start looking for excuses and that type of a disadvantage, then I think we're making a big mistake.
"It's a big challenge because Western is a good hockey team that plays very well in its building."
Chad Johnson remembered
Memorial services were held Nov. 25 in Fargo, N.D., for Chad Johnson, a former North Dakota player who died Nov. 18 after being hit by a train in an industrial area of the city.
Hakstol and Johnson were teammates at UND for two seasons, and Hakstol said Monday the memorial services for Johnson provided a send-off worthy of someone who touched so many lives in and around the UND hockey program as well as the greater communities in Fargo and Johnson's hometown of Grand Forks, N.D.
"It was a fitting turnout for Chad, and it showed just what kind of a person he was, not just with the quantity but the quality of people that were back for the two days in and around his services," Hakstol said.
"He was a pretty special guy that's missed by many, but there's a lot of great memories we all have of him."
Following a four-year professional playing career, Johnson turned to coaching. He had most recently spent three seasons as the head coach of the USHL's Lincoln Stars, but he resigned from that role in September, citing personal and health issues, before moving to Fargo to be nearer to his girlfriend and their young son.
Blais, who hired Johnson as an assistant coach for the same league's Fargo Force, shed some light on what he knew of Johnson's situation up until his passing.
"Chad was a good guy and everything, but he held everything in internally," Blais said. "When you get mad, people probably know you're getting mad, and when you're happy, same thing, but he held everything in.
"He was always upbeat and everything, but a lot of little things bothered him. His girlfriend didn't come down to Lincoln when he was coaching the Stars and they had a little baby and he didn't see his baby enough, and that's why he resigned in Lincoln: He just wanted to be around his kid more."
Blais knew Johnson well even away from the ice, and Blais said not a day has gone by in the last two weeks where he didn't think of Johnson.
"It pops into my mind every day at some point," Blais said. "Even driving back from Minneapolis [for Thanksgiving], out of the blue, I thought about Chad, whether it was hunting with him or fishing. We did a lot of things together, and I had him on my staff in Fargo as an assistant coach.
"I've known him and his family for a lot of years, and [the news of Johnson's passing] was really upsetting. His dad died at the same age, 43 years old, but that's a really solid family."
NCHC players of the week
Offensive player of the week — Austin Czarnik, Miami: The junior forward had a monster night Saturday during Miami's 6-3 victory at Bemidji State. Czarnik was limited to only one shot on goal in the RedHawks' 4-4 tie with the Beavers on Friday, but he came back and netted five assists — three of them primary helpers — in the rematch. His fourth assist of the night saw him reach the 100-point mark for his collegiate career, making him Miami's 48th centurion.
Defensive player of the week — Troy Stecher, North Dakota: Stecher was UND's rock at its blue line last weekend against St. Lawrence in posting an assist, a blocked shot and a plus-2 rating in his team's split with the Saints. He was particularly heroic in UND's 3-2 win Saturday over SLU, assisting on a power-play goal in the second period that put UND up 2-1. He helped UND kill all three power-play opportunities Saturday for a Saints team that boasted the nation's top power-play units.
Rookie of the week — Keaton Thompson, North Dakota: The defenseman picked up the first goal of his collegiate career in Friday's third period to cut St. Lawrence's lead to 3-2. Thompson then returned the following night to help Stecher and UND's other penalty killers shut down the Saints' power-play personnel.
Goaltender of the week — Frank Slubowski, Western Michigan: The Broncos junior officially stopped 56 of the 57 shots he faced last weekend in Notre Dame's Shillelagh Tournament. Slubowski made 32 saves Friday against Northeastern in a 1-1 overtime tie before the Huskies advanced to the tournament final thanks to a win in the shootout. In Saturday's consolation game against Alabama-Huntsville, Slubowski stopped all 24 shots he faced in the Broncos' 1-0 win but had to settle for a partial shutout after he missed 1:48 of game action due to an equipment issue.