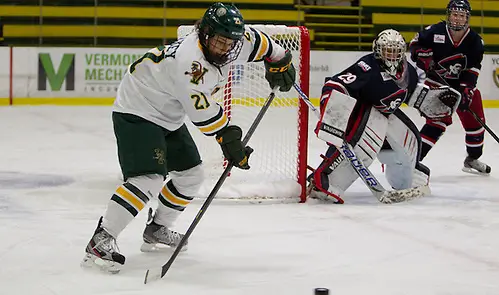 Arlan: A variety of events happened over the course of what was a spread out schedule of games, including a couple of injuries to starting goaltenders on highly ranked teams, the first loss for the final undefeated team, the end to Ohio State's winless slump, and Mercyhurst's push back into national contention only to still be looking up at Robert Morris.
I'd like to start by looking at Vermont, a team we haven't discussed that much this year. The Catamounts were taken to overtime in all three games they played this week. They were able to win at Brown, but paid with ties for blowing third-period leads in both games at Colgate. My first reaction is to conclude that those are wasted games, but I need to remind myself that Vermont's record is still level at 7-7-4. That's only one less win than it had last year in Jim Plumer's first season, and already an improvement over the four wins of two seasons ago. The team is 4-1-3 over its last eight games, so while it may struggle at times to win, it is getting better at avoiding losses. Amanda Pelkey and Brittany Zuback are averaging over a point a game up front, and Dayna Colang is nearly matching that production from the blue line.
Vermont hit its peak around this time last season. Should we expect the Catamounts to start to fade, or will they ascend another step or two in the progression?
Candace: I don't know if ascend is the right word. I guess it's possible. When I look at Vermont's overall performance to date, they have done OK against other teams that have struggled. Two ties against Colgate aren't exactly a ringing endorsement, especially since the Catamounts couldn't hold a lead in either game, and Vermont got crushed by both Boston College and Boston University. Robert Morris also put up a lot of goals in sweeping Vermont. Then again, in looking at their schedule the rest of the way, aside from BC and BU, and perhaps Syracuse, I don't see any reason why they can't go on a push and perhaps make a top four finish in Hockey East. It's not like the rest of the league has done much in terms of consistency, and even the Eagles and Terriers have displayed vulnerability.
Before moving on to Ohio State and New Hampshire, I want to discuss the Eagles. They earned a split with Cornell, ending the Big Red's unbeaten season, but I wonder if Cornell having to replace Lauren Slebodnick with Paula Voorheis in the first period of Saturday's BC win played into it. Voorheis is a freshman, and had only played in one game beforehand, against Union. Suddenly playing against one of the highest-powered offenses in the game in your second collegiate game is definitely a pressure situation. To its credit, BC took advantage, but do we take this game as BC being in the hunt for another Frozen Four slot, or look at the shutout loss to the better goalie as an indication that BC is too much affected by the loss of Alex Carpenter to the Olympics to be in the hunt this year?
Arlan: I haven't had a chance to go back and watch the second BC at Cornell game online yet, but I did see game one, and based on that, I'd say that BC is in the hunt. The Eagles generated more chances in that first game, despite being shut out. Sometimes Slebodnick made big saves, on other chances her defense came up big, and at times BC just missed the net. It definitely didn't get any bounces, and could have conceivably had a few more power-play chances as well. The Big Red defensive scheme on Haley Skarupa was along the lines of knock her down whenever possible and figure that the referees won't call everything a penalty.
Cornell is the steadier team on the back end, and I think that the Eagles still have work to do and improvements to be made on their blue line. But they had some advantages over the Big Red, which looked to be the best team in the East heading into that series. BC has better team speed, and can generate offense from any of its lines. I didn't see much from Cornell in that game at even strength offensively apart from Jillian Saulnier's line. Emily Fulton really looks to be the glue that ties everything together for that combo. The defensemen also generate offense by passing the puck where it needs to go, but that mainly comes to the forefront on the power play.
If I had a question on the Eagles' offense against a top opponent, it is whether Skarupa and Emily Field should be on the same line, as opposed to being on separate units as they were. That may help reduce the attention that defenses can afford to focus on Skarupa. Friday's game was also my first look at Andie Anastos, and she looks like a strong player that can create her own offense. Such a high percentage of the games this year are competitive, so if a team has a few people that can break open a game, it makes life for that squad much easier.
I remember that Cornell had a brief defensive meltdown versus Quinnipiac last season in a game that the Big Red eventually won while Slebodnick was out with an injury. On many top teams, a big question mark pops out if it is forced to call on its backup goalie. Does that give a team like Wisconsin an edge, as the Badgers proved they could win a tight game without Alex Rigsby in uniform by Saturday's end?
Candace: Yes and no. It's impressive that Rigsby's backup, Ann-Renée Desbiens, was able to hold Minnesota-Duluth scoreless for half the game, even if scoring isn't always the Bulldogs strong suit. Wisconsin does probably have the best overall team defense, one that can clamp down and limit a team's scoring chances, which in turn makes the goalie look better, as she doesn't have to face as many quality chances. Still, I think having Rigsby is an X-factor that gives the Badgers more confidence in the offensive end to take chances, as there is less of a fear of paying the consequences if they mess up and the other team moves in transition. While scoring has improved for Wisconsin, it's not at the level of the team that had Meghan Duggan and Brianna Decker to call upon for points in tight situations, so Wisconsin's best chance is to get a couple of opportunistic goals. With Rigsby, I feel like the Badgers might be able to open up a tad more than with Desbiens.
Speaking of WCHA teams, Ohio State broke its nine-game winless streak by sweeping New Hampshire. Lisa Steffes was solid in net for the Buckeyes, who needed the turnaround. Of course, so do the Wildcats. After a good start, New Hampshire has just one win in nine games in November. A lot of the losses have been of the tight defensive variety; it seems New Hampshire can't score. Do you think either team can take positives from this weekend?
Arlan: Ohio State certainly can. When a team hasn't won in more than a month, any win has to look mighty fine. A road sweep — even better. Saturday's game was the first time since Oct. 12 and only the third time all season that the Buckeyes have scored more than two goals in a game, so that had to lift some weight off their minds as well. The defense hasn't been the biggest problem, but when a team isn't scoring, any reduction in goals allowed is huge, so limiting the Wildcats' shots and holding them to two goals was vital. It remains to be seen from subsequent games whether Ohio State has turned a corner or just mixed a good weekend into a frustrating season.
The biggest positive for UNH may be that Alexis Crossley and Jonna Curtis returned to the lineup, so the Wildcats went from 13 skaters to 15. Those were the first games of the year for Curtis, and Crossley missed nine contests, so both will likely need time to get into game shape. At least it sets them up better for January when UNH returns to Hockey East play. Because these were nonconference games and national rankings aren't really an issue, it may not matter as much. New Hampshire is a proud program though, so I don't know that it will be taking moral victories from staying close with a short bench.
Another team that faced Ohio State last week and came away with something better than a moral victory was Robert Morris. I know that we keep looking at the Colonials and questioning the quality of their wins, but a lesson that I'm learning this season is any win sure beats a loss. RMU does have three losses, but in each case it came out and avenged that defeat the next day. The knock on CHA teams is usually that they play in a soft conference, but is the CHA really any weaker than Hockey East this year? If so, it can't be by much. Perhaps at the bottom of the conference, but the trio of RMU, Mercyhurst, and Syracuse compares well with the top half of Hockey East, and maybe we should include RIT as well. Does Brittany Howard's offense and the goaltending of Jessica Dodds make the Colonials the best bet for a first-time entrant into the NCAA tournament?
Candace: I think so yes. Robert Morris has really passed almost every test it has faced this year. Beat Boston University? Check. Beat Mercyhurst? Check. In fact, I think the Colonials, currently sitting at seven in the PairWise and ahead of Boston College, have a lot of opportunity in the second half, since BC lost to Quinnipiac and Syracuse. Robert Morris has a pair with St. Lawrence, a pair with Quinnipiac, and another pair with both Syracuse and Mercyhurst. It gives the Colonials ways to stay in the top eight and get that coveted playoff spot, whereas BC's best chances to move into the top eight are against BU and Harvard. Of course, there are places Robert Morris could really lose ground too, such as losses in those games, as well as to RIT, so it's still early to be betting on PairWise finishes. Howard has really impressed so far, currently sitting at five in the country in scoring as a freshman, and Dodds, currently seventh in goaltending, has been a revelation in net. Certainly with those two, there is a lot of growth potential, and coach Paul Colontino must be excited about how his program is shaping up for the next few years.
One team I expected more of this weekend was St. Cloud, which got swept at home by Rensselaer. How do we view that one? Is it a huge setback for the Huskies, or we do look at it as further evidence that RPI is over its early-season malaise?
Arlan: It's the same story, different day for the Huskies. They can't score. Over the previous three seasons, they've ranked last, second to last, and bottom five in scoring offense. This year, only Colgate and Dartmouth score less. I was at Friday's game versus RPI, and if there was a way that St. Cloud could manage to not score, the Huskies found it. They didn't have a lot of puck luck, and there is no doubt that Kelly O'Brien played well for the Engineers. As Jeff Giesen said after the game, the Huskies also made O'Brien look pretty good, putting a lot of shots into her pads and missing the net on several grade-A chances. The positive from their perspective would have to be that at least they were getting chances. Some of their prior teams would have been stuck in their own zone playing defense. I don't know if it gets much better in the short term. The only Huskies with more than three goals are Julia Gilbert and Molli Mott with five apiece, and they're both seniors. Only Gilbert (17) and Mott (29) have double-digit goals in their careers, so Giesen will need to dig up some new offense. Junior defenseman Audrey Hanmer is probably the team's best all-around player, and she might find the net a time or two before the season is over, but it is hard to expect a defenseman to carry the offense for a team that has little unless she's another Angela Ruggiero.
As for the Engineers, I may be more puzzled than ever. When they slumped, I had basically written them off, but after seeing them play, I was impressed by a number of their players. I'll have more on both RPI and Princeton in this week's column.
The one thing that we can be sure of where Rensselaer is concerned is that it beat Harvard, when ranked teams Quinnipiac, Clarkson, Cornell, and Boston University couldn't. The Crimson host BC on Saturday. If they defeat the Eagles, will they finally start to get more love from the voters in the poll? Harvard is currently fifth in the poll despite being second in both winning percentage and the PairWise.
Candace: It depends. How's that for analysis? Really though, it does. BC is currently ranked 6, Harvard 5, and Harvard has home ice. Who is Harvard going to displace? North Dakota, who stopped Minnesota's win streak and has tied Wisconsin? Cornell, which tied the Crimson in a game on Harvard's ice? Maybe, but I think people still feel that Cornell is slightly stronger than the Crimson. Wisconsin, which has a 12-2-2 record and has played a tougher schedule? It's not just that Harvard has to win; the teams above the Crimson would have to falter for me to vote them higher. I can't put Harvard over any of the WCHA teams, and they didn't beat Cornell yet, so I can't put them over the Big Red yet either. Harvard's strength of schedule is only 16; I think that plays into a lot of what you see with the poll rankings. Don't get me wrong, I like the Crimson. I think Emerance Maschmeyer is one of the top goalies in the game, one of the handful that can actually steal a game for her team. I think the Crimson's offense is better than some think it is, and has a lot of balance. I pretty much at this point expect Harvard to make the NCAA tournament, but I also think their current poll rank is pretty accurate.
We talked earlier about Wisconsin and the series against Minnesota-Duluth. The latter has another big series this weekend, traveling to Boston to take on the Terriers. Do we take that series as signs of life for an inconsistent Bulldogs team? I'll admit I looked askance at Minnesota-Duluth after the losses to St. Cloud and Bemidji. However, the Bulldogs have taken both North Dakota and Wisconsin to shootouts after OT ties this year, so perhaps they just had a little bit of relaxation heading into games against teams they should beat.
Arlan: UMD has always gotten up to play top opponents, so the Bulldogs competing with Wisconsin isn't a surprise. The fact that they didn't win any of their six games against the teams above them in the WCHA standings, with four of those being played in Duluth, says a little about where their talent is relative to the other contenders. UMD sandwiched exhibitions with Team Russia around the Wisconsin series, and apparently a couple of players were injured in the most recent one, so it could be a tired and short-handed team that heads to Boston. It still has another December series remaining at St. Cloud before it wraps for 2013. Brigette Lacquette will presumably be back for the second semester, but by then her team will be down to a dozen regular-season games left. Those will in part be compromised by player absences for the Olympics. The Bulldogs will spring an upset on somebody, but I don't know that they have the numbers to make a concerted push up the standings or national rankings.
The other remaining series between a WCHA team and an out-of-conference contender also takes place this weekend when North Dakota journeys to Clarkson. The two teams split in Grand Forks a year ago, and that would figure to be the likely outcome again. Should either get swept, its future NCAA at-large hopes take a hit. Both have enough difficulty remaining in conference schedules to mount a rally, but suffering two losses would leave that team with a poor record against Teams Under Consideration, at a disadvantage in many Common Opponents comparisons, and unlikely to win a PairWise comparison with its upcoming opponent due to those head-to-head losses. Clarkson and North Dakota are No. 5 and No. 6 respectively in the PairWise as I type this, but each already has three losses and two ties. Making that five losses at this point of the year figures to cause it to drop a few places. Both teams will be aware of this, so the squad that loses on Friday will be playing with urgency on Saturday. I've gone back and forth during the season on which team would have the upper hand in that series. First it looked like Clarkson, then the Golden Knights slumped, and now they've won four straight and regained their offense. Am I wrong to expect a split after UND's problems scoring in its most recent series versus Wisconsin?
Candace: Probably not. Between the travel, the Golden Knights improved play of late, and North Dakota's slump, that's the most likely scenario. Of course, the last time I thought I had a handle on Clarkson, the Golden Knights lost a few games I thought they'd win and put up a poor showing against Cornell. Still, Erica Howe has been virtually impenetrable in net, Jamie Lee Rattray is having a Kazmaier-like senior year, Erin Ambrose is one of the best young offensive defensemen in the game, and a couple of other seniors, Carly Mercer and Brittany Styner, have stepped up. Maybe that last swoon came from starting to believe the hype, and now the Golden Knights will be on guard against a letdown
Still, I don't know how much you can read into North Dakota's power outage against Wisconsin. I mean, it is the Badgers we are talking about, the one team that hasn't let anyone score more than two goals in a game all year. EVERYONE has difficulty scoring against Wisconsin. And North Dakota was primed for a letdown in the scoreless tie since it came right on the heels of the win against Minnesota that broke the Gophers win streak. I'd expect two close games, but honestly, a split or a sweep by North Dakota wouldn't surprise me. Even a Clarkson sweep isn't out of the realm of possibility, though extremely unlikely for a North Dakota squad that hasn't been swept this year.