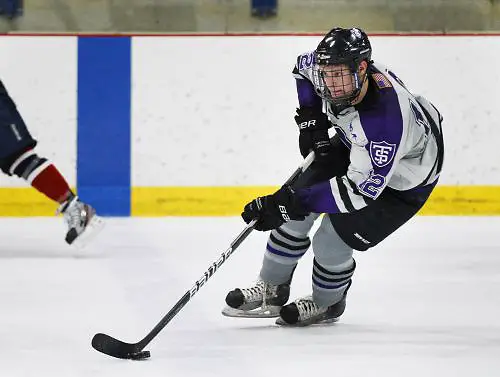 Although St. Thomas has certainly played good hockey through the first month of the season, winnning six of its first eight games and losing just once, coach Jeff Boeser will tell you the Tommies are not a finished product.
"We have a long way to go to be a good team," Boeser said. "We have done a pretty good job with our penalty kill and we have great goaltending, but we can be better on offense. And we have to continue to eliminate some of our mistakes, but overall, it hasn't been a bad start."
The Tommies have been off since Nov. 23 when they knocked off St. Olaf 3-0 in MIAC action. Their only loss during a 6-1-1 start to the season was 3-0 defeat at the hands of nationally-ranked Wisconsin-Stevens Point on Nov. 15.
St. Thomas is 3-0-1 in the MIAC.
Boeser said generating offense has been a work in progress. The Tommies have 20 goals on the season, including five by Alex Altenbernd, and Connor McBride has tallied three goals.
"We've been working very hard at being better on offense," Boeser said. "We've been doing different drills in practice and just focused on capitalizing on the opportunities we get. But I do like our depth. We don't have one star, but we have a lot of guys who are capable of stepping up."
From a defensive standpoint, the Tommies have not been easy to crack. Not with Drew Fielding stepping up time and again between the pipes. Fielding has started all eight games and has made 210 saves. He owns a goals-against average of 1.36 and has allowed just 11 goals. Fielding has nine shutouts in his career.
"Drew has been very good for us," Boeser said. "He has made a lot of big saves and prepares very well for each game. He's been strong all year. Our goaltending coach [Jacque Vezina] does a phenomenal job of getting all of our goalies ready to play. A lot of credit goes to him."
St. Thomas has been tough in penalty kill situations as well. Opponents are just 2-for 33 on the power play against the Tommies.
"We've worked hard all year at being good in those situations," Boeser said. "Our team defense is definitely a strength. It's played a big part in our success."
St. Thomas shared the regular-season championship last season in the MIAC and has its eyes set on a title again this year.
But if the Tommies are to be champions, they will have to be ready to go every night. Wins are not handed out in the tightly-contested MIAC.
"You can't look at a weekend and say it's going to be an easy one – every game is going to be tough," Boeser said. "The parity in this league is as good as I've seen it in my time as a coach. We need to play at our best every night."
STREAK CONTINUES: St. Mary's stretched its win streak to three games on Saturday as it earned its second straight 2-1 win over Lake Forest.
The Cardinals, who improved to 5-5 overall, forced the Foresters to go 0-for-7 on the power play Saturday. Lake Forest finished 0-for-12 overall on the weekend in power-play situations.
Phil Heinle made his first career start in goal and racked up 30 saves. Dylan Dock and Andrew Ketterer both scored goals for the Cardinals, with Ketterer becoming the fourth St. Mary's player to score his first goal of the year over the weekend.
OFFENSIVE OUTBURST: St. Olaf rolled to a 5-1 win over Lawrence on Saturday to complete a weekend sweep and eight players from the Oles factored into the scoring in what was highest-scoring game of the season for St. Olaf.
Dan Cecka, Nick Marsh, David Rath, Geoff Gieni and Peter Lindblad all scored goals for the Oles. Rath also tallied two assists. Henrik Wood made his first start since Nov. 9 and came through with a solid performance as he stopped 23 shots and helped St. Olaf improve to 3-6-1 on the year. The Oles have won their last two games.
FINISHING STRONG: Gustavus Adolphus closed out its weekend with a 3-2 win over Marian on Saturday. The Gusties trailed 2-1 going into the final period, but rallied behind a two-goal outburst in the first five minutes of the period.
Corey Lieverman scored his second goal of the weekend to tie the score at 2-2 and Drew Aspinwall came through the game-winner to lift Gustavus to its fourth win in the last five games. Gustavus opened the weekend with a 6-6 tie against Lawrence and hasn't lost since a 3-1 loss to MIAC foe Concordia on Nov. 15.
The goal by Aspinwall was the first of his career. Tony Paulson also scored his first collegiate goal in the victory.
Goaltender Erik Johnson earned his first win, stopping 23 shots. The Gusties were outshot 25-24.