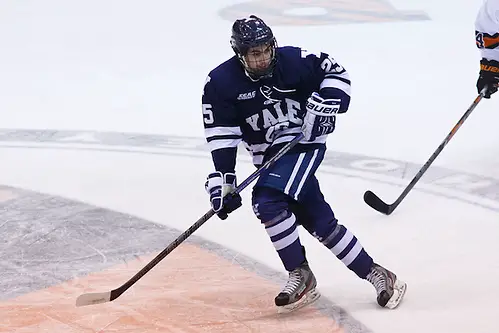 Last Saturday's overtime win over Merrimack wasn't quite as dramatic as Yale's last win in overtime — a 3-2 victory over Massachusetts-Lowell in the opening game of the 2013 Frozen Four that sent the Bulldogs to their first national championship game and ultimately the school's first national title.
Still, it was an important win for Yale, as the Bulldogs came back from 1-0 and 2-1 deficits to tie the Warriors before freshman Chris Izmirlian scored with 45.3 seconds left in overtime for the 3-2 win.
"It was a great character-building win," Yale coach Keith Allain said following the game. "The fact that the guys stuck with it was key."
The Bulldogs got the victory despite missing three key players with injuries: forwards Anthony Day and Jesse Root, along with defenseman Ryan Obuchowski.
Allain said this week that some of the three would play this weekend, but he wasn't entirely sure. Day has missed three games, while Root and Obuchowski sat out for this first time this weekend.
Yale has plenty of returners from last year's national title team but has gotten contributions from several freshmen, including leading scorer Mike Doherty and goalies Patrick Spano and Alex Lyon.
Sophomore forward Nico Weberg returned to the lineup last weekend, while Allain is also pleased with the progress Day has made.
"All year long we've been getting contributions from everybody," Allain said. "You can't pick one guy who has been 'the guy.' If we develop that strength going forward, that's going to make us pretty dangerous toward the end of the hockey season."
Lyon has started five straight games for the Bulldogs after splitting time with Spano earlier in the year.
"He seems to be like our team: a guy that has the ability to get a bad break or bad situation and kind of let it roll off your shoulders and be ready for the next shot," Allain said of Lyon. "He's gotten better at handling the puck in each game."
The Bulldogs (6-2-2) look to be in good position heading into the break. Yale this weekend hosts Dartmouth and Harvard, two teams that have struggled this season and teams against whom the Bulldogs have a recent run of success. Yale is on an 11-1-1 run against the Big Green, and swept the regular season series against Harvard last season.
Former Big Red player sets out on his own
There are plenty of ECAC Hockey players who have gone on to a career in the NHL. Former Cornell alternate captain Mitch Carefoot played with some of them, including Matt Moulson, Ben Scrivens, Byron Bitz and Ryan O'Byrne.
But Carefoot, who graduated in 2007 with a degree in Applied Economics and Management with a focus in marketing and finance, has used his hockey experience and Ivy education for success in a different field. Carefoot recently left his corporate job at E.H. Price in Canada to start his own entrepreneurship with another former college hockey player, Rochester Institute of Technology alumnus Matt Crowell.
The pair run Get in the Loop, a mobile marketing service that connects businesses with websites' paid members.
Crowell and Carefoot met through dinner with a mutual friend and made a connection thanks to their hockey backgrounds and entrepreneurial interests.
For Carefoot, who was an eighth-round pick of Atlanta in the 2004 NHL Entry Draft and played two seasons with the Phoenix Roadrunners in the ECHL, it was a chance to break free from his corporate job and do something he was passionate about.
"I was wrestling with myself — was this something I wanted to be doing for the rest of my life?" Carefoot said of working at E.H. Price.
He said he gradually started planning his next move, making sure he was prepared once he did leave. "It was making sure all your bases are covered," he said. "What am I going to do to make this business flourish? How am I going to expand into different cities? I organized and reached out to the right people."
Carefoot finally left E.H. Price in November. "Everything was all lined up, so I woke up on Monday and walked in and said, 'You know, I think I'm going to go a different route,'" he said.
Get in the Loop, based in Kelowna, British Columbia, has several major clients, including Canad Inns, Moxie's, Boston Pizza, Harvest Golf Course and the Brandon Wheat Kings, the WHL team that once held Carefoot's junior hockey rights after a trade with the Prince Albert Raiders.
In addition to Get in the Loop, Carefoot and Crowell are planning to launch LinkforPay, an online business set to debut sometime in 2014.
He said running a tech startup isn't that different from leading a hockey team, which Carefoot did as the Roadrunners' captain during his final pro season, 2008-09.
"In hockey, you have 20 different guys and they're all into different things," Carefoot said. The same goes for Get in the Loop's 15 employees. "It's a small team; you have to kind of bring everyone together. There are always going to be some issues that you have to contend with trying to find the best way to make it work for everybody."
Despite having his rights held by the Wheat Kings as a youth player, Carefoot decided to go the college route, in part because his father Brad played at Denver.
"Obviously, I wanted to give pro hockey a go, but if you're good enough you'll be found," he said. "I wouldn't have changed a thing.
"All these different young guys develop [differently]. Matt Moulson was at Cornell when I was there. He struggled in juniors but then came to school, and look at him now."
Carefoot says he still follows the Big Red and stays in touch with coach Mike Schafer and assistant coach Topher Scott, who played with Carefoot in Ithaca.
"I loved everything about Cornell," Carefoot said. "Playing in front of the crowd at Lynah Rink — it doesn't get any better than that for sure."
Around the league
• Union rallied from a 4-1 deficit Sunday at Penn State, with Daniel Ciampini scoring the game winner with three seconds left in regulation. Defenseman Shayne Gostisbehere had two goals, giving him five in his last five games, and finished the night with 12 shots on net. Boston University had 11 shots as a team in Saturday's 3-2 win over Cornell at Madison Square Garden.
• Ciampini and Brown forward Matt Harlow both made the NCAA's top five plays of the week. Check out the video here.
• Dartmouth finally broke through with its first win of the season, scoring two unanswered goals to beat Harvard 2-1 Saturday. The Big Green moved to 1-8, leaving Alabama-Huntsville as the only winless Division I team in the country.
• Princeton had arguably its biggest win in recent memory two weeks ago at Quinnipiac, scoring three straight third-period goals to snap the Bobcats' 13-game unbeaten streak. But the Tigers failed to carry any of that momentum to last weekend; they were swept at Michigan State by a combined score of 12-3.
• The league announced a one-game suspension for Quinnipiac forward Brooks Robinson for an incident at 19:16 in the second period Saturday against Massachusetts. Robinson was assessed a major and a game misconduct for hitting from behind. The senior has played in five games this season and will have to sit out Friday's matchup against Rensselaer.
Weekly and monthly awards
As selected by the league:
Player of the week — Greg Carey, St. Lawrence: Carey had his third four-point night of the season to help the Saints to a 5-2 win at North Dakota Friday. His five points on the weekend was tied for first among all Division I players, and his 29 points on the season leads the nation.
Rookie of the week — Mitch Gillam, Cornell: Gillam became the first goaltender in Division I history to score a goal in his collegiate debut. Gillam's 180-foot shot into an empty net iced a 4-2 victory over Niagara, which included 24 saves from the Big Red goalie. He is just the third Division I goalie to shoot the puck for a goal (the first since 2002) and the eighth goalie to ever be credited with a goal (the first since 2008).
Goalie of the week — Charles Grant, Dartmouth: The Dartmouth sophomore stopped 22 of 23 shots to lead the Big Green to its first win of the season Saturday night against Harvard.
Player of the month — Greg Carey, St. Lawrence: Carey had goals in nine of the Saints' 10 games in November, and is on a 10-game point streak.
Rookie of the month — Sam Anas, Quinnipiac: Anas had six goals and 10 assists in November, and leads all freshman nationally with 12 goals and 12 assists.
Goalie of the month — Michael Garteig, Quinnipiac: The sophomore was 7-1-2 with a 1.59 GAA and .917 save percentage for the month. He also had three shutouts.