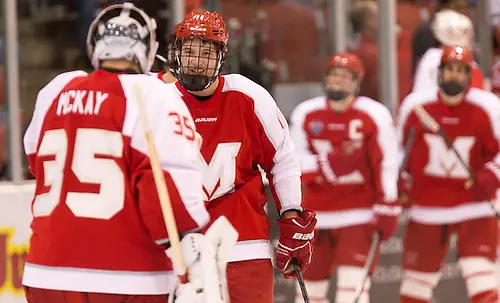 The biggest question for the U.S. National Junior Team is obvious: Can the Americans repeat their gold medal run from the 2013 World Junior Championship?
That remains to be seen, but with three players returning from that championship squad of a year ago (Riley Barber, Ryan Hartman and Jon Gillies) to the 26-man preliminary roster released by USA Hockey on Wednesday, Team USA will have at least a smattering of experience from last year.
2014 World Junior Championship
Dec. 26-Jan. 5, Malmo, Sweden
All U.S. games on NHL Network; times Eastern
Dec. 26: U.S. 5, Czech Republic 1
Dec. 28: U.S. 6, Slovakia 3
Dec. 29: U.S. 8, Germany 0
Dec. 31: Canada 3, U.S. 2
Jan. 2: Quarterfinal — Russia 5, U.S. 3
• Preliminary U.S. World Junior roster boasts 19 NCAA players
• After golden World Juniors apprenticeship, Providence's Gillies ready for leadership role
• Miami's Barber named U.S. World Junior captain, Compher and Fitzgerald among cuts
Barber is a sophomore forward at Miami, while Gillies plays between the pipes at Providence as a sophomore. Hartman, who reneged on a commitment to Miami, is in his second season with the Plymouth Whalers of the Ontario Hockey League.
Jim Johansson, USA Hockey's assistant executive director of hockey operations and GM for the national junior team, said having Barber, Gillies and Hartman back in the fold will be a major asset for the Americans.
"I think if you look at the seasons those guys are having, they were certainly a big part of last year's team and we expect leadership coming from them," said Johansson. "We also have a group of players who have had international success playing for USA Hockey and are having good seasons on their respective clubs.
"I think we came out of Lake Placid [at the summer evaluation camp] with a pretty good feel on some players, but it was very challenging to separate some players out. Certain players really raised their games in the fall to solidify their spot on this team. Until you get guys to camp and on the ice, it's important to show that you're a versatile player, which is helpful in short tournaments."
Last year, the Americans defeated Sweden 3-1 in the gold-medal game in Ufa, Russia, to win their first crown since 2010 and third overall. Team USA nabbed the 2004 title as well.
This year's head coach, Minnesota's Don Lucia, said he expects nothing short of success in Malmo, Sweden.
"I like the group we have," said Lucia. "I think we have a team that can get up and down the rink and I think we'll have a team that will compete hard shift in and shift out. And like in any tournament, you have to have flexibility in the lineup and that's what we're looking for. You have to have guys that can play multiple roles."
While this team is not the 2013 version, Johansson knows that and added his thoughts on what the new crop will need to do in order to raise some hardware in January.
"This is a group that will need to create their own identity and create their trademarks, if you will," Johansson said. "It's a group that has very good depth at all positions and, certainly, when you talk about the World Juniors and short tournaments, it all starts with goaltending. We feel very strong about the goaltenders coming to camp and where they fit."
"You go in with certain expectations, but at the same time, you're going to have to play your way into spots," Lucia added. "[Gillies] was on the team last year [and] he's had two very good years at Providence, but I thought [Anthony] Stolarz was very good this summer at camp. [Boston College freshman Thatcher] Demko is the youngest of the three, but he's done a nice job at Boston College this year and had a pretty good camp this summer. That's one of the things you want to let it play itself out. We'll have three exhibition games to make further evaluations on these guys."
Stolarz began the 2012-13 season at Nebraska-Omaha before leaving for the OHL's London Knights midway through the season.
One notable addition to the preliminary roster is U.S. National Team Development Program forward Jack Eichel, a 17-year-old Boston University recruit that isn't eligible for the NHL draft until 2015 and is already being pegged as a possible first-rounder.
"[Eichel] is a dynamic offensive player," Johansson said. "He is physically ready to play at this level. He's had success playing the college schedule we play here and has dominated the USHL [teams] he's played against. Regardless of his age, we think he's ready for this challenge and that's why he's coming."
A glaring absence on the roster is defenseman Pat Sieloff, a one-time Miami recruit who is out with an infection. He played a major role on last year's World Junior team, but he has played just two games for the AHL's Abbotsford Heat this season in the Calgary system.
"[Sieloff is] going to be missed, no question," Lucia said. "He was very good this summer. I had been [to Lake Placid] two years in a row and I was impressed by the growth of his game. I thought he was a tough, physical, rugged defenseman, but I thought his decision-making and stick skills really improved over the last year and he would have been counted on. But at the same time, we know we don't have him and we like the group we do have. It's another opportunity for somebody else."
Johansson mentioned that the preliminary roster could have a handful of additions after this weekend.
Prior to the tournament itself, the 26 players will participate in a training camp Dec. 15-18 at Mariucci Arena in Minneapolis and will then travel to Angelholm, Sweden, before the final 23-man roster is announced on Dec. 23.
Team USA has three exhibition games scheduled, including Dec. 17 against Minnesota State in Mankato, Minn., and two in Angelholm, against Finland on Dec. 20 and Sweden on Dec. 22.
"In a perfect world, for planning, we'd like to get down to a player or two less prior to going over to Europe," Johansson said.