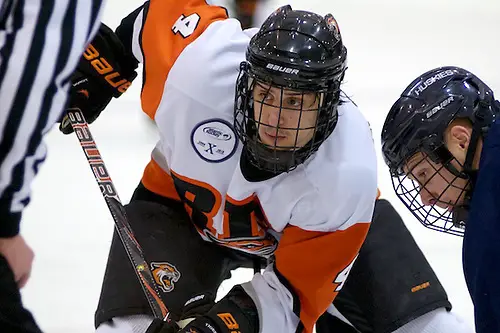 Like most Atlantic Hockey teams, the Tigers of Rochester Institute of Technology have had an up-and-down season so far. RIT started the 2013-14 campaign 0-6-2 but has won four of its last six contests, including three in a row.
"I think overall we've played well," said coach Wayne Wilson, in his 15th season. "We've played six league games [3-3], one at home. That one [2-0 loss to Air Force], I thought we were the better team. [Falcons coach] Frank [Serratore] said as much after the game. I thought we played well at Mercyhurst [a 3-2 loss].
"We've played some good teams, although maybe not with the results we were hoping for. We split with St. Lawrence, and they're a very good team. We stole a point at Clarkson and they've turned out to be really good. And Michigan, a top-three team, a game I thought was winnable. We tied at Penn State, which is not an easy place to play."
Wilson can take some solace in playing well against difficult competition, but, as you'd expect, the bottom line is what's on the scoreboard.
"We're not looking for excuses," he said. "We did not get the results we're accustomed to and the results we've been looking for. We did not play well at all against Colgate. We did not play well at Canisius. We've had lapses at bad times that have cost us."
But the Tigers showed improvement last weekend in a 5-2, 4-0 sweep of Sacred Heart. Senior Mike Colavecchia was named co-player of the week in the AHA after a five-point weekend against the Pioneers. He's been a steady point-getter, averaging 1.2 per game.
The rest of the offense was sputtering early, and things looked bad after an injury to captain and proven scorer Matt Garbowsky, who hasn't played since Nov. 9 and isn't expected to return any time soon. But a pair of underclassmen have stepped up big time. Sophomore Dan Schuler had just two assists prior to Garbowsky's injury but has six goals and two helpers in the five games since.
Rookie Todd Skirving has a similar story: one goal prior to Garbowsky leaving the lineup and two goals and six assists since. Skirving was the rookie of the month in Atlantic Hockey for November.
"[Skirving] is getting more comfortable and continues to grow," said Wilson. "The freshmen are making some big contributions already."
That rookie class includes goaltender Mike Rotolo, who has started the last three games in net for the Tigers, backstopping them to three straight wins. He recorded his first collegiate shutout on Saturday in that 4-0 win.
"He's played better with each game," said Wilson. "The team is responding to him right now. He's a little different, he's a vocal guy."
Next up is just the second and third league home games for the Tigers, who host American International on Friday and Saturday. The Yellow Jackets come in losers of five in a row after getting off to a 3-0 start in conference play, their best ever.
"I know they can win 8-7 and win 1-0," Wilson said on AIC's victories over Bentley and Holy Cross. "It sounds simple, but it's true: If we play well we're going to have a good chance to win. If we don't, we're probably going to lose."
Cross another one off
Despite a less-than-awesome nonconference record, this season has seen AHA teams slay a few giants. The most recent example came last Friday when Holy Cross sprinted out to a 5-1 lead over host Boston College and then held on for a 5-4 win.
It was the best offensive output of the season so far for the Crusaders, and goaltender Matt Ginn made 34 saves, including 14 in the third period.
The win marked the first time that Boston College had lost to an Atlantic Hockey team, which leaves, by my research, 10 Division I teams left that have not been beaten by an AHA team. Some I would have guessed; others were a surprise. If there are errors, they are mine, so feel free to corrected me in the comments below.
• Alaska Anchorage (6-0-2, beaten by Robert Morris it was in the AHA)
• Bowling Green (10-0-4, defeated by Niagara before it was in the AHA)
• Harvard (4-0)
• Michigan State (8-0-1)
• Minnesota-Duluth (1-0)
• Minnesota State (7-0)
• North Dakota (7-0)
• Northern Michigan (1-0)
• Wisconsin (10-0)
• Vermont (3-0-2, lost to Niagara before it was in the AHA)
I found it interesting that Northern Michigan and Minnesota-Duluth have each played just a single game against an entire league in over 10 seasons. Both meetings were on neutral ice, with Minnesota-Duluth defeating Mercyhurst in the 2010 Catamount Cup and Northern Michigan beating Sacred Heart at the Denver Cup in 2007.
West is best again, for now
The league's Western contingent has gotten the better of its Eastern counterparts since the league's expansion in 2006. The standings each season reflect parity in the early going as inter-pod play keeps things close. But once the regions begin to square off against each other, we've seen the West often rise to the top.
As my co-columnist Dan Rubin pointed out, the West had a big weekend, going 5-1-2 against the East. The bright spot for the New England schools was Bentley's win and tie at Air Force. The (Air Force) Falcons managed to steal a point with an extra-attacker goal with 28 seconds to play on Saturday, but the (Bentley) Falcons took the weekend series in Colorado Springs for the second straight time.
Bentley's big guns got the job done in the series. Brett Switzer had a pair of goals in Friday's 4-2 win on Friday, and Alex Grieve and Brett Gensler scored in Saturday's 2-2 draw.
Gensler's four points last weekend put him one behind Bentley's all-time scorer Dain Prewitt, who finished with 126 career points. Defenseman Steve Weinstein's three assists last weekend moved him into first place in career points for a blueliner with 58, and Weinstein is less than halfway through his junior season.
Killers
Canisius' penalty kill was the second-best in the nation last year, stopping opponents 90.1 percent of the time. But the Golden Griffins got off to a rough start this season, averaging just 68.8 percent through their first seven games.
But the Griffs have locked things down recently, recording a stretch of 22 kills in a row in games from Nov. 9 to Dec. 1. Canisius shut down Connecticut, which came into last weekend's series against the Griffs with the best power play in Division I (29.6 percent), in the Huskies' first nine attempts. The streak came to an end at an inopportune time for Canisius on Saturday, as UConn scored a six-on-four power-play goal with 1:25 to play to earn a 2-2 tie.
I can't decide
RIT's Rotolo is the AHA goaltender of the week, but there were several good performances in net that deserve recognition:
• Bentley's Branden Komm posted a .941 save percentage at Air Force, allowing four goals on 68 shots.
• Tony Capobianco faced 64 shots and stopped 61 of them against UConn for a .953 save percentage.
• Mercyhurst's Jimmy Sarjeant made 51 saves on 55 shots in a sweep of American International, keeping him a perfect 5-0 in league play.
• And finally, in leading Holy Cross to that 5-4 win over Boston College, Matt Ginn made his 2,000th career save. He's second all-time in saves at Holy Cross with 2008 and counting, and is only in his junior season.
USCHO weekly awards
The league had a two-way tie for player of the week, but I'm throwing in a third candidate.
Players of the week: RIT's Colavecchia (a goal and four assists) and Mercyhurst's Daniel Bahntge (three goals and an assist) were the AHA's choice, but I'm adding Jon Puskar of AIC, who had a pair of goals and three assists in a losing effort.
Goalie of the week: Rotolo from RIT, who stopped 64 out of 66 shots at Sacred Heart.
Rookie of the week: Holy Cross' Mike Barrett, who had a pair of goals in the 5-4 win over Boston College. He has four goals on the season, tops on the team.