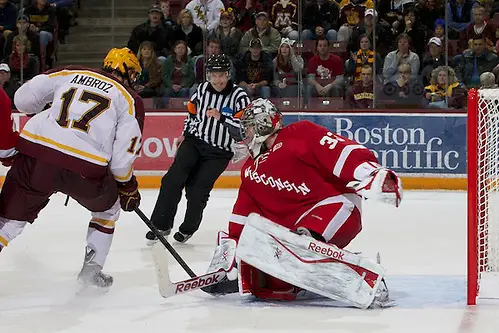 There is much to be said for winning a close game.
After Ohio State scored to tie Michigan late in the third period the day after Thanksgiving in Ann Arbor, the Wolverines won 4-3 on Andrew Copp's goal at 3:38 in overtime. In last Monday's rematch in Columbus, Mac Bennett scored with 1:35 left in regulation to lift Michigan over OSU 5-4.
Last Saturday night, Minnesota's Seth Ambroz scored at 19:34 in the third to put the Golden Gophers ahead of Wisconsin 4-3, giving Minnesota a sweep of the weekend.
But there is also something to be said about the experience of losing close games. Motivation is one byproduct of such a loss — especially when that loss comes at the hands of a traditional rival.
"When you work this hard and get this close and don't win, it hurts." That's what Wisconsin coach Mike Eaves said after that second loss to Minnesota. "I think we have to build on that hurt and get better."
"It could be better," is how Ohio State Steve Rohlik described his week following the home-and-home sweep at the hands of Michigan. "Frustrating weekend when you lose in the last minute of overtime and then in the last minute of a game against a very good hockey team."
Penn State dropped two one-goal games to Union last weekend, losing 4-3 Saturday and 5-4 Sunday. In the second game, the Nittany Lions were leading 4-1 by the middle of the second period.
"Union is an excellent team," said Penn State coach Guy Gadowsky. "For stretches we felt really good about how we played, but for the present, we can't maintain that for a full 60 minutes."
In Sunday's contest, said Gadowsky, "We got into some penalty trouble and that cost us." After David Glen scored short-handed to push the Penn State lead to 4-1 at 11:43, Union's Shayne Gostisbehere scored on the power play at 12:48 and then again at 15:54, making it a 4-3 game after two.
"They got momentum and we couldn't hold on," said Gadowsky. "You've got to go through those types of games to understand how to play them."
And that is the situation in which Penn State finds itself. Entering Big Ten play this weekend with two road games against Wisconsin, the Nittany Lions have very little against which to measure, well, anything.
Even with almost half a season of Big Ten affiliation under their collective belts, the Nittany Lions are so new to Division I hockey that nearly every experience is a learning experience.
Gadowsky said that he can't contextualize what his team learned from the two close losses to Union because his team has never lost two close games to a ranked team before.
"We won't know until the future when we come into another situation like that," said Gadowsky. "Those experiences, we're obviously lacking. We haven't played many Division I games. We've never been in a league before. We still haven't. This [first game against Wisconsin] is our first league game. We played some Division I games last year as an independent. I do think it's all new territory."
Because Penn State is still learning the Division I ropes, Gadowsky said that in practice weekly, the team focuses primarily on itself. "We're really using every weekend to gain as much as we can. We're really concentrating on ourselves. That's the best way to gain every bit of knowledge and experience that we need."
As much fun as Gadowsky admits he and his coaching staff are having with the new program, he said that it's still frustrating.
"We do expect to be a little further ahead than we thought at this time," he said, "but it's a process and we're well aware of that and we look forward to the challenge of making it right."
Rohlik, in his first year at Ohio State, said that the games against Michigan were a barometer of sorts for a program that is attempting to redefine itself.
"Michigan is usually a measuring stick in college hockey for where you're at," said Rohlik. "[Wolverines coach] Red [Berenson has] proven that for 30 years. When you compete with Michigan, here's a good measuring stick for where we're at."
And where is Ohio State?
"I feel we played very well Monday," said Rohlik. "I thought we deserved some points Monday night." At this point, Rohlik chuckled. "I guess I felt that way coming out of Friday, too. Good teams find a way to win."
After Friday's overtime loss, Rohlik said that the Buckeyes "came out and did what" they had to do.
"They scored in the last minute," said Rohlik. "Tough way to lose on both nights. If you don't learn from it, you're not getting better. I think our team took a step forward, but we know that we have work to do. Michigan has proven themselves so far right now as one of the top teams in college hockey. We're a pretty good hockey team. Knowing that, there's room for improvement.
"I want our guys to believe they can go out and win every night. We want to expect to win no matter who we play. That's a little bit of an attitude thing that good teams have. It's a step in any program. We've improved. We've gone through a lot."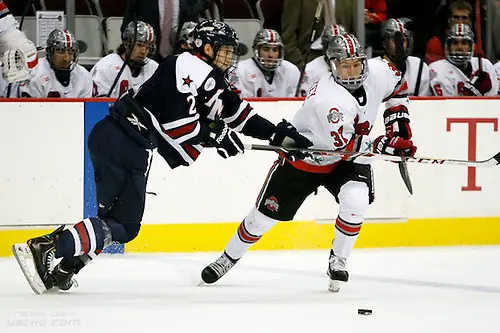 The Big Ten, finally
The Wisconsin-Minnesota and Ohio State-Michigan series last weekend marked the start of Big Ten league play.
Congratulations to Wisconsin junior forward Joseph LaBate, whose goal at 6:31 in the first period of the early Friday game between the Badgers and Golden Gophers became the first goal scored in Big Ten league play.
Kudos as well to Minnesota sophomore goaltender Adam Wilcox, who earned the first win in Big Ten league play.
Two weeks ago, Minnesota coach Don Lucia told me that the first Big Ten series for the Golden Gophers — the games last weekend against Wisconsin — would hardly feel like playing in a new league because of the longstanding rivalry and because the series against the Badgers capped three straight weekends of play against former WCHA foes, including a series against Minnesota State and one against Minnesota-Duluth.
In the home-and-home series between Ohio State and Michigan, the opposite was true for Rohlik.
"The rivalry with Michigan to me is unmatched — if it's hockey, it's football, you see the rivalry," said Rohlik.
Big Ten commissioner Jim Delany dropped the puck at the beginning of the OSU-Michigan game at Yost Ice Arena the day after Thanksgiving, and Rohlik said that he felt the significance of it.
"The feeling you had going into that building was different," he said. "Jim Delany dropping the puck, talking about the Big Ten, it's finally here.
"There's only one first. That started to sink in. There is only one first. We've played Michigan however many times and now in the Big Ten, this was our first ever."
Rohlik said that as he and his staff prepared the Buckeyes for the series against Michigan, they began to talk about how important the series was historically.
"Just a couple days prior we talked about the Big Ten conference being here," Rohlik said. "There's only 20 games and we are aware that there are only 20 league games. I told our guys to enjoy themselves because that first game won't come again."
Rohlik said that the two close losses were "motivational" for the Buckeyes. "It's all part of our process. It's just tough to walk away with two losses at the end of the first half of the season."
Yes, the first half of the season is over for Ohio State. The Buckeyes don't play again until they meet Mercyhurst in Columbus for two games Dec. 28-29. The Big Ten schedule is a little, well, quirky.
"I hate that we have to wait a month to play," said Rohlik. "It's pretty different when you get to get back out on the ice after a weekend like that."
Is there anyone more quotable than Tom Anastos?
Michigan State coach Tom Anastos is a natural-born storyteller — and he can tell a big story with just a few words.
"It was nice to see the puck go in the net." That is what Anastos said after the Spartans beat visiting Princeton 8-2 on Sunday. Six different MSU players scored.
The Spartans scored a dozen goals in two games against the Tigers; MSU had netted three goals in four previous games — a series against Michigan Tech and one against Western Michigan — and had been shut out twice in that span.
Players of the week
This week's three stars are brought to you by the letter M.
First star: Minnesota junior forward Seth Ambroz
Ambroz had the game-winning goals in each of Minnesota's wins over Wisconsin and had a total of four on the weekend. That brings his season total to seven goals in 14 games — two shy of the nine he had in 38 games last season and two more than he had in 41 games two seasons ago as a freshman.
Second star: Michigan freshman forward JT Compher
Compher had three goals and an assist in Michigan's sweep of Ohio State and he leads all Big Ten freshmen with an average of 1.08 points per game.
Third star: Michigan senior defenseman Mac Bennett
Bennett had the first assist on Andrew Copp's overtime winner against Ohio State last Friday and the game-winner itself in Monday's win. He also finished plus-6 on the weekend.
My ballot
1. Minnesota
2. Michigan
3. St. Cloud State
4. Ferris State
5. Providence
6. Quinnipiac
7. Massachusetts-Lowell
8. Miami
9. Yale
10. Boston College
11. Notre Dame
12. Clarkson
13. Wisconsin
14. Lake Superior
15. Union
16. Minnesota-Duluth
17. Nebraska-Omaha
18. New Hampshire
19. Northeastern
20. North Dakota
Keep in touch …
… and say hello. I'll be covering Saturday's Minnesota-Michigan State matinee game.
Remember that next week, Drew Claussen has the column and I have the Monday blog. I'll post our picks for this weekend's games on Friday morning.
Follow both of us on Twitter: @drewclaussen and @paulacweston.