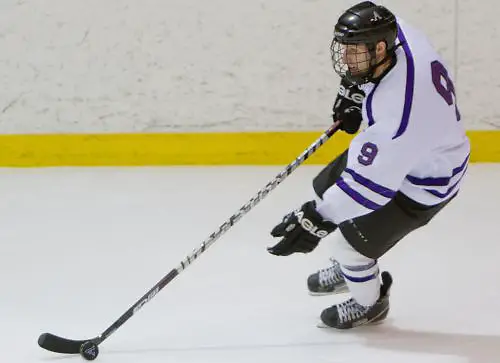 The names are a bit different on the roster, experience may be not as deep in years past and the goaltender, until now has gone under the radar screen, but a quick look at the NESCAC standings finds Amherst sitting atop the league at 4-0-0 coming into their final weekend of play before finals, the semester break and the holidays.
So just how does that happen when many teams are still figuring out the new pieces of the puzzle especially early in the season?
"We have some of those key pieces that have been here during our successful run in the past couple of years," noted Lord Jeffs' coach Jack Arena. "Our top four or five guys have been really good since the first drop of the puck and we are getting some contributions from our sophomore group to help with our balance. Dave [Cunningham] has been very sharp in goal for us and we focus on really playing our game and doing the things we are known for in our style of play. We play really sound team defense, rely on getting a big save when we need one, timely scoring and really good special teams. So far, that has us off to a good start."
The Lord Jeffs are off to a very good start with their only blemish on their overall record coming last weekend in a nonconference game against Babson. The 2-0 defeat reminded the coach of some things in Amherst's recent past and the need to get better as the season progresses.
"It was a good game and [Babson] is really good," stated Arena. "It reminded me of our teams a couple years ago where you couldn't tell the difference between their top line and their third line, all six defensemen were solid and the goaltender was really good. They put on a passing clinic against us and showed us we still have room to improve. They are probably about as good as we are going to see in level of competition, so we know to compete at that level we are going to have to get better."
With such a young roster, one way the team has maintained the culture and consistency in playing style has been the addition of recent Amherst grad Eddie Effinger to the coaching staff. Although just a couple of years removed from the team, Effinger has blended in nicely with the very experienced group of coaches on Arena's staff and has already made noticeable contributions to the team and their individual skills.
"He is a natural," said Arena. "If he decides he wants to do this for the long-term, he can be a very good hockey coach. He has such energy and enthusiasm to go with really understanding the game. We have a very experienced group of coaches on staff here, but Eddie has fit right in and speaks right up as part of the conversation as much as anyone else in the room. It is a big help that some of the kids like Brian [Safstrom], Andrew [Kurlandski], Mike [Rowbotham] and Aaron [Deutsch] were here with him when we made our run, so there is that respect. The younger guys have that respect, too, just in the way he approaches the game and the details. Right now, he is mostly working on the offense, but spends a lot of 1-on-1 time with players working on individual skills and that has had obvious benefits with our players and our team overall."
The last weekend of the first semester doesn't present any easy ones on the schedule for Amherst. Just behind them in the standings finds this week's opponents from Middlebury and Williams – two teams that are also off to very good starts in this young season.
"We don't expect any game in our conference to be easy," said Arena. "[Games will be] especially difficult with these two teams. We had Middlebury's number for a few games until last year's conference tournament and they certainly have the offensive weapons to cause us some problems. They are off to a good start and other than the first period against Plattsburgh last week seem to be playing Middlebury hockey.
"I saw some of the Williams game against Babson online. I don't think that Babson came out with the same intensity and crispness that we saw on Saturday, but that is to take nothing away from Williams, who skated well and held them to just a single goal in the third period when they were trying everything to get back in the hockey game. These will be true tests for our team and it is nice to have both games here at home to close out the semester."
Amherst doesn't play again until after the New Year with their inclusion in the annual tournament hosted by Norwich, so there will be a lot of focus on each game this weekend with no other action until 2014.
"This weekend is really it until the 28th," stated Arena. "We can't officially practice, but the ice will be available for guys that can make the time outside of papers and finals. You're never sure what access they have when they go home, but unlike past years where we may have only had three or four days before playing, this year we have an entire week to get tuned up before heading off to Norwich. I am sure most of the guys will be doing something over the break, so we shouldn't lose too much and hopefully, we will be getting a couple of our key guys back from injuries to give us a little more depth on both ends of the ice."
The view from the top of the league standings is a nice one and to stay there the Amherst style will have to be executed well against two tough contenders this weekend. The recipe remains the same and when all of the ingredients are mixed right, the results have been great so far.