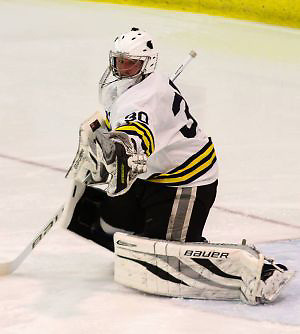 For years, this writer and coach Jeff Beaney at Southern Maine have had a running joke come season preview time.
Beaney, tongue-in-cheek, always looks for the lowest predicted standing possible so he can build his team for success and over-achievement versus whatever the bottom end number looks like.
This year, I had picked the Huskies eighth in the very competitive ECAC East, which was duly noted by coach Beaney.
"I have joked with you on this subject for years," noted Beaney. "I can see why you would have picked us there based on finishing tenth last season and really struggling for the first time in a lot of years. We had some real issues last season and it showed in the results. Some teams might have used that as validation for where we are as a team, but this group didn't do that. This group has really used last season as motivation to move the program back forward and be competitive every game we play. The kids came back stronger, fitter and definitely more focused in looking for greater success this season and putting behind us what was a difficult year last year."
The Huskies have started off well this season, moving towards the top of the standings early. While the roster is young, many players who saw extensive playing time last season are showing improved play and the strong commitment to helping the team succeed.
"We had like 13 freshmen all see a lot of ice last year," said Beaney. "That experience has helped them come back with a greater focus this season and definitely more successful outcomes on the ice having been through the indoctrination of college hockey and the challenges of our conference last season. We are definitely getting great effort and consistent effort so far this season, as well as some secondary scoring from guys that aren't really expected to carry the load for this team. The balance has been nice to see so far."
Perhaps the biggest difference for the Huskies can be found in the goal crease where last year, the team struggled to find consistency from a No. 1 goaltender for virtually the entire season.
Enter freshman Dylan Wells, who has assumed the starting role and has provided goaltending that the team obviously has confidence in.
"You must not have known about the goaltender when you picked us eighth," joked Beaney. "Dylan has certainly been a big piece of the puzzle for us so far this season. He has made us better in his level of play, but also in the level of competition with Josh [Hillegas] in practice and certainly from our own team looking to score. We clearly struggled with our consistency there last season and having that consistency each and every night is a huge factor in our improving our game and increasing the level of confidence with what is still a very young roster this season."
Despite the good early momentum, the coach is taking nothing for granted in this conference and continues to express the need for focus and effort every night to his team.
"A lot of people have said you should be much improved this season," Beaney said. "That is true or we hope that it is true, but everyone else has improved, too, in this league. Right now, Babson is probably the best team in the conference, but you know Norwich is going to be there and with all the talent Massachusetts-Boston has, you would think they should be top three. So then there is that three to six band and really that could be anybody, including us. New England [College] is off to a good start, Castleton has a lot returning, Skidmore is right there, so there are no nights off regardless of the opponent.
"With the level of talent in this league, I am not so sure any top seed is going to be excited about who ends up as the eighth seed. They are all tough games and tough opponents in this league and we need to keep moving forward if we want to be playing for higher position in the standings."
There are just a couple of games remaining on the five-game homestand scheduled before the semester break, so limited chances to keep their forward momentum moving into the semester break abound.
The opponents don't get any easier with Babson, Massachusetts-Boston and NESCAC power Bowdoin all coming to play the Huskies.
Beaney is taking a disciplined approach to keeping his young team focused and ready to play. Last year's difficulties are behind them and the young Huskies are now hoping to show the rest of the conference that they are back in contention.