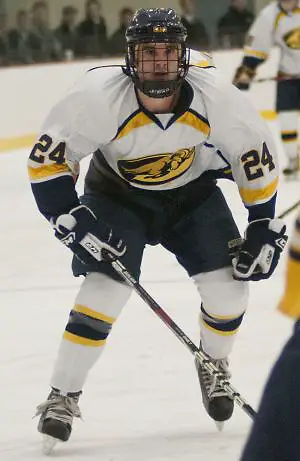 Suffolk coach Chris Glionna is relying on his veterans through the first half of the season.
And that situation is paying dividends for the Rams.
"I like our leadership, we have had some kids that have been with us for three or four years," stated Clionna. "They understand the price to pay to win and they work very hard. They are a good group, they are not just only a good hockey players, but they are tremendous off the ice. We have 21 kids with a 3.2 [grade-point average] and three kids with 3.75."
One of those veteran players is Charlie McGinnis, who has four goals and two assists so far. The last two seasons, he has been the leading scorer for the Rams.
Jon Stauffer is once again providing offense from the back end this season with nine assists. As a junior last year, he provided a goal and 13 assists and had a goal and 10 assists two years ago.
Freshman Simon Leahy has come right in and has contributed right away. He has played in nine games, scoring five goals and three assists after playing with Northern Cyclones' program out of the old Atlantic Junior Hockey League.
"[Leahy] had a real good start to the season," Glionna said after the game against Colby on Sunday. "We ran a faceoff play and he was able to make a pass to Charles McGinnis on the third goal. I thought that was a very nice goal."
The Rams are are 3-5-1 so far on the season with all three wins coming at home. In conference, they are 2-2-1 and are only three points from first place in the ECAC Northeast.
"It's been pretty amazing, anyone can beat anyone on any given night," Glionna said. "We dropped a couple early against Salve [Regina] and to Johnson and Wales. We got our feet under us against Western New England and Nichols. It was a hard-fought game against Becker. We wish we could have pulled that one off instead of the tie."
Despite the struggles, Glionna said he is learning more about his team.
"We ran into a Southern New Hampshire team that was playing well and this is always a good challenge for us to play Bowdoin and Colby [this weekend]," he said. "We get an idea where we are and it gets ready for the second semester."