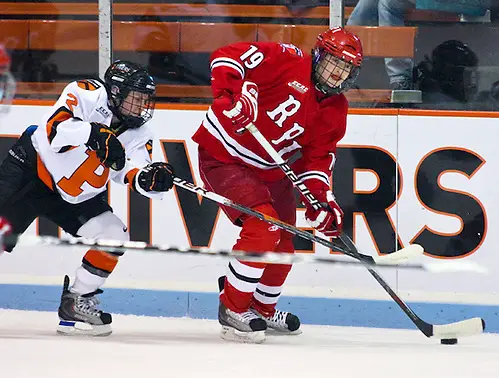 There wasn't much separating Rensselaer from Princeton in the 2012-13 season. The Engineers were two games and four points better in the standings for ECAC Hockey, but overall, the Tigers won more games and had the better winning percentage.
Yet as in most sports, a season is judged by a team's postseason, and Princeton didn't have one.
"Last year, we missed the playoffs by a point," Princeton coach Jeff Kampersal said.
That broke a string of 11 straight seasons with postseason hockey for Kampersal, now in his 18th season guiding the Tigers. However, a season that ends with the final regular-season game is a risk for teams that languish near the bottom of the ECAC, where one third of the 12 squads are excluded from the tournament.
Each year, the bar is seemingly raised to place in the top eight.
"The ECAC is so competitive," Rensselaer coach John Burke said.
His team has proven as much by knocking off otherwise unbeaten Harvard one day and then losing to a Dartmouth team with only one other conference victory the next. They're not alone.
"Our Princeton team, we can beat anybody, or we can lose to anybody this year," Kampersal said.
The Tigers have yet to provide a striking example of that; they've for the most part won and lost as expected in league play. Within games, there have been stretches where Princeton has been either better or worse than one would predict.
"We've had a solid start, but we had a tough game against Clarkson, where they absolutely steamrolled us," Kampersal said. "We've had a good tie against Quinnipiac. We had a great tie against Boston College, a good win against UNH, even though those aren't ECAC teams. Going back to ECAC, like Cornell, they took it to us in the first period, and we took it to them in the second period. It was crazy."
After falling behind by five in the first period to the Big Red, Princeton fought back and reduced the deficit to one in just over 10 minutes after the intermission, but the comeback stalled and the Tigers could not net the equalizer in the near half game that remained.
"That consistency is our big issue," Kampersal said. "We could come out tomorrow and be completely different than we were today. We've been a really bad first-period team, a pretty good second-period team, and we've been a great third-period team through this season."
A year ago, the Tigers were hampered by a shortage of bodies, with only 15 skaters.
"We have depth this year, but I think it's just a matter of finding like a scoring line, which we haven't identified yet," Kampersal said. "Line combinations, I mess around with it probably too much, but trying to generate some sort of offense right now."
Through 13 games, nobody on the Princeton roster has reached double digits in points.
"You look for someone like Kelly Babstock in our league; she scores a goal a game," Kampersal said. "It would be nice to have that luxury, but we don't, so we have to generate it somehow."
The Tigers' top scorers have been seniors Rose Alleva and Sally Butler with nine points. Alleva and Olivia Mucha, another senior, lead in goals with five.
"[Alleva has] done a great job her four years, she's stepped it up her senior year so far," Kampersal said. "She's probably been our best player through our first games."
Alleva, a defenseman from Red Wing, Minn., got to play in her home state for the first time over the weekend when the Tigers played a series at Minnesota. As was the case in losses to other highly ranked teams like Harvard, Cornell, and Clarkson, Princeton fell behind by multiple goals early and was unable to battle back, losing 6-0 and 9-1.
"No one plays perfectly, but when you play against teams like Minnesota, you have to play as perfect as you can," Kampersal said.
The team has shown in ties with a pair of other ranked opponents, No. 6 Boston College and No. 8 Quinnipiac, that it is capable of hanging with contenders if it can limit its goals allowed.
"In the teams that I've coached, I feel like we've been solid defensively and we've always struggled to score goals," Kampersal said. "Now, it's a little inconsistent. We can score six goals or we can score zero. I would like to get back to good, solid goaltending, good, solid defense play, and some 2-1, 1-0 games instead of high-scoring games. Just get back to that style of hockey."
As is often the case, youth is one factor in the inconsistency for Princeton.
"We have seven freshmen that are trying to figure out how to play defense and battle for 60 minutes," Kampersal said.
Eventually as a season progresses, freshmen make fewer and fewer rookie mistakes.
"It'll take some time," Kampersal said. "A lot of kids trying to learn the D-zone and learn stopping and starting, which seems simple. That's a good thing, learning the right habits."
While Princeton was learning some hard lessons in Minneapolis, RPI also played a weekend series roughly an hour north and west in St. Cloud. The Engineers had a better experience, claiming 4-1 and 2-1 victories over the Huskies. The series followed a 4-1 win over Brown, giving the team a season-best three-game winning streak. Prior to that, the Engineers had not scored more that three goals in a game.
"We finally put two games back to back where we scored four goals," Burke said. "I think we've got kids who can score."
One of those is senior forward Jordan Smelker.
"I'd say we're having trouble finishing," Smelker said. "We're having lots of chances, our goalies are playing great, but that's just one thing we're missing right now."
That figures to be key in a league that features strong goaltenders like Emerance Maschmeyer, Erica Howe, Aubree Moore, Shanae Lundberg, and Jaimie Leonoff, as well as Kendall Newell at Princeton and Kelly O'Brien for RPI.
"The big thing is scoring and playing hard in the [defensive zone]," Smelker said. "Everyone in the ECAC has really great 'D.' I think the difference is if you can score when it counts."
Burke says that one key is for his team to be "a little more gritty in the grade-A area" in front of the net.
Over the summer, Smelker had the opportunity to train with players who are among the best in the world at such grit when she was invited to the United States selection camp to choose a roster to centralize for the Olympics.
"It was amazing to be able to play with those girls, like their commitment level and what I have to do to be able to compete with them," Smelker said. "Everything they do is centered around being the best they can be. That for me is doing the best you can every day, getting better every day, not taking a day off."
Hopefully, those traits are transferred to her teammates as well, in order to avoid losses like those to Dartmouth and Yale on home ice.
"Just [being] consistent, being able to deal with stuff in a game," Burke said. "Stuff happens, whether in life or in the game, but it's going to just happen. And how do you deal with it? I think we may have been a little bit immature last year as a team. We still are fairly young, but our kids have done a good job of that, handling some of those things."
While reaching the postseason as the Engineers did last campaign is a first step, it isn't the ultimate destination.
"Our goal this season is to finish in the top four and have home ice for playoffs," Smelker said. "I think we're really capable of that. We've just got to find a way to put the puck in the back of the net."
Standing in the way, both in the standings and in the net, are the Tigers. Rensselaer and Princeton meet at Baker Rink on Friday night to battle for two points that figure to be crucial for both. Princeton is currently sixth in the standings, three points and one spot above RPI, but having played three more games. Both teams are .500 in league action.
Which team will come out on top? As Burke said, something unforeseen is bound to happen to both the Tigers and Engineers, and the victor will be determined by how each deals with it.
"A good, smart, disciplined, competitive effort is what is necessary for pretty much all the teams," Kampersal said.