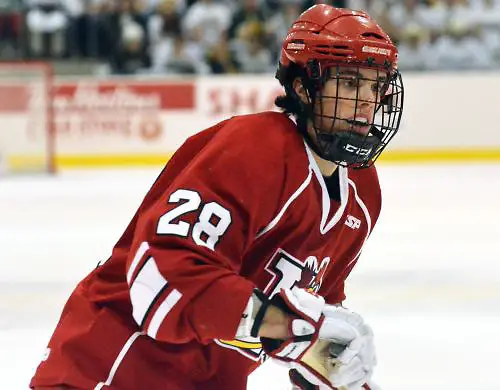 Four years and a shade more besides.
That's how long since it's been since Plattsburgh had occupied the top spot in USCHO's Division III Men's Poll.
Not that the Cardinals, perennial national championship contenders, hadn't come close a few times since their last top ranking, the Oct. 26, 2009 preseason poll.
But it wasn't until last Monday, when the most recent rankings were released, that Plattsburgh had ascended once again to the top spot.
Naturally enough, that was the big news of the week in the cozy world of D-III hockey.
And naturally enough, the Cardinals themselves were taking their new lofty perch with a small grain of birdseed.
"It's exciting," said sophomore center Michael Radisa. "It's definitely something as a team that you want to achieve as much as possible."
Ah, but the but is just ahead.
"… being the No. 1 team only makes things harder," Radisa continued. "Now everyone is going to want to take your spot. It's exciting, like I said, but it's going to be more challenging to keep it."
Plattsburgh (8-0-1) is, with No. 3 Adrian (9-0-0), one of two undefeated teams in the land left standing.
Senior goaltender Mathieu Cadieux (1.10 GAA, .952 save percentage) is as stingy as ever and the scoring load is spread out over 15 different goal getters.
That is a recipe for success if ever there was one.
"Our goaltending has been phenomenal, as always," said Radisa. "And our special teams have picked up from where they were last year."
But here comes another but.
"…I still think we can play better," said Radisa.
For his own part, Radisa has already seen an uptick in his own game this year.
Last year, as a member of a strong group of Cardinal freshmen, Radisa earned copious playing time, 20 games worth, and saw action in all sorts of situations.
"It gave me a lot of confidence," said Radisa, a marketing major. "It showed a lot that [Plattsburgh coach] Bob [Emery] was able to get me in the lineup. Coming back this year, things didn't change a lot and it's been more comforting. Now I know I don't have to [guess] where I should be."
One thing that eluded Radisa as a freshman was the chance for a goal celebration. He finished the year with five assists, but no tallies.
He said that the "bagel" next to his name didn't weigh much on his mind during the offseason.
"Not too much," he said. "Any time you have a zero in the column, you don't feel too good about it, but I was able to stay in the lineup and it was never an issue with the coaches."
Still, Radisa admitted to be a little relieved when scored his first collegiate goal – against Geneseo – in the second game of the season.
"I was definitely happy to get the first one out of the way, this year, relatively early," Radisa said. "Now I don't have to worry about it."
Radisa added his second goal of the season in the Cardinals' last start, against Middlebury, as he picked up his first-ever SUNYAC player of the week award.
NEWS & NOTES: Last week saw a rash of upsets throughout D-III, none more surprising than Morrisville's upending of then-No. 8 ranked Utica, 3-2.
It was the Mustangs' last win over a nationally-ranked teams since Feb. 12, 2010, when they shocked top-ranked Oswego.
"It was definitely a great win for us on Friday night at Utica," said Morrisville coach Kevin Krogol. "Our guys played the type a game that we are capable of playing and have showed on and off throughout the first few weeks of the season. We have a very young team and it seems as if it's finally starting to come together."