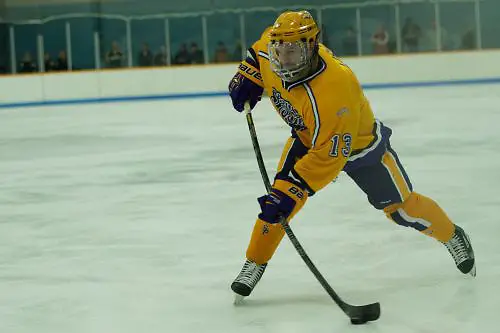 The last weekend for many teams entering the semester break saw some great action and still a few more upsets.
Here is a quick recap of some of the key conference action:
ECAC East
League-leading Norwich swept a pair of games at home over Skidmore and cross-state rival Castleton to maintain a slim lead in the conference standings. Chris Duszynski's second hat trick of the season provided the offensive spark in Saturday's 6-2 win against the Spartans.
Babson split a pair of games this weekend, stumbling on Saturday against the University of New England, which posted its second conference win by a 3-1 score on home ice. Colby Drost led the way for the Nor'easters, stopping 41 of 42 shots in the win.
Massachusetts-Boston continued its strong play in December by sweeping both games this weekend and moving up to fourth in the standings with games in hand on all the teams above them. After winning at UNE by a convincing 6-1 score, the Beacons won at Southern Maine for the first time in coach Peter Belisle's tenure by a 3-2 score. Michael Kuhn's two second-period goals erased a 2-1 deficit and carried the Beacons to the weekend road sweep.
ECAC Northeast
League-leading Salve Regina came back from a 4-0 deficit in the second period against Neumann and forced overtime with a late third-period goal by Marc Biggs before losing in overtime to the Knights, who finished with four power-play goals on six chances for the game.
The overtime loss clearly must have stung the Seahawks as they fell to nationally-ranked Utica on Saturday by a 5-1 score, making their non-conference record 2-4-0 this season.
ECAC West
Neumann followed up its Friday win with a solid 8-4 win over Morrisville where eight players had at least two points and goalie Ben Curley remained unbeaten at 3-0-1 so far this season.
Both Hobart and Manhattanville faced off against NESCAC opponents without much success as Wesleyan beat the Statesmen by a 6-2 score and Trinity, led by John Hawkrigg's hat trick and Sean Orlando's four points beat the Valiants by a 6-3 score.
MASCAC
Salem State and Plymouth State helped themselves in the standings with wins over Worcester State and Westfield State. respectively. Ian McGilvrey posted four assists for the Panthers in their win, while two goals apiece from Alex Minter and John Needham led the Vikings, who outshot the Lancers by a 44-13 margin.
MIAC
Gustavus Adolphus won both games against St. Olaf over the weekend. Friday's 3-1 win was a hard-fought battle where the Gusties made two first-period goals stand up for the win and an empty-net goal by Adam Smyth supplying the final difference. Saturday's 2-2 regulation and overtime tie was decided on a shootout won by the Gusties 1-0 on a goal by Gustav Bengtson.
NCHA
Adrian moved to the top of the standings with a 6-0 win at Marian. Justin Basso scored just 90 seconds into the game on the way to posting three points for the Bulldogs, who outshot Marian by a 36-13 margin.
St. Norbert was not so fortunate on Saturday night hosting Lawrence. The home team took a 4-1 lead early in the third period only to watch the visitors score four unanswered goals, including the game-winner with just 22 seconds remaining in regulation. Lawrence won 5-4 and moved to 3-5-0 in conference play.
NESCAC
With a tie and a win this weekend, Williams moved atop the league standings with Saturday's 1-0 shutout at Amherst. Goalie Sean Dougherty outdueled the Lord Jeffs' Dave Cunningham and Matt Doyle's third-period goal stood up as the game-winner.
Elsewhere, Tufts and Connecticut College both earned their first wins in league play on the road in Maine on Friday night. Tufts beat Colby 5-2, while the Camels rallied from behind to take a 3-2 win in overtime at Bowdoin. Senior Keith Veronesi scored the game-winner less than a minute into the extra session after Joe Giordano tied it with just over two minutes remaining in regulation.
SUNYAC
In what is always a premium matchup in conference play, league-leading Plattsburgh skated away with a 3-3 tie at Oswego. The game saw both teams surrender one-goal leads and goalie Matt Zawadzki made 35 saves for the Lakers, who tied the game on Mike Wills' first goal of the season just under two minutes after Plattsburgh had taken a one-goal lead early in the third period.
WIAC
Wisconsin-Stevens Point opened conference play against the defending national champions from Eau Claire and used two third-period goals by Garrett Ladd to open up a tight 2-1 game and provide the visitors with a 4-1 win. Brandon Jaeger moved to 8-0-0 on the season, posting 28 saves in the win.