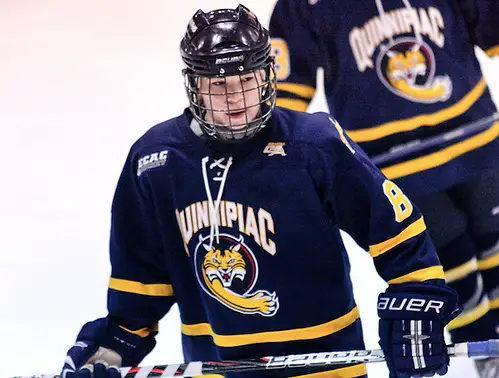 Candace: With a lot of opportunity for PairWise positioning this past weekend, inconsistency reigned, except in Boston, where the Terriers swept Minnesota-Duluth. Let's look at that series. The Terriers haven't exactly set the world on fire offensively, but they certainly woke up this past weekend, pasting the Bulldogs for six goals on Friday and another four on Saturday. That came on the heels of five goals against Northeastern earlier in the week. Sarah Lefort leads the Terriers in scoring, and certainly was a key cog this past weekend, but so was freshman Samantha Sutherland, who continues to improve. She has at least a point in her last four games, and could be important to the Terriers' postseason chances. The Terriers currently sit at fifth in the PairWise. What is your impression of that weekend sweep of Minnesota-Duluth?
Arlan: There have been several teams that have surprised in a positive way in the season to date, and I'd definitely count BU among them. The Terriers certainly rose to a challenge last week after losing Kayla Tutino to a season-ending injury. Louise Warren took her place at center and skated on a line with Lefort and Sutherland. That unit was the catalyst in the sweep of UMD, as well as the win over Northeastern that preceded it. I'll have more on Warren and her team in this week's column.
The Terriers have been nothing if not resilient in recent years. The win over the Huskies was strange in that BU seemingly had control of the game, lost the lead, and then regrouped. Then they won two very different games over the Bulldogs, including a shootout that was a surprise after the teams played a scoreless tie in their most recent meeting last season. I watched that game last December, and UMD was able to shut down a lineup that included Marie-Philip Poulin, Jenelle Kohanchuk, and Isabel Menard. Kayla Black was out of the game a few minutes into the third period on Friday after yielding five goals, and neither she nor Kerrin Sperry was in net on Saturday. Sofia Carlstrom came on in relief, surrendered the final BU goal, and was charged with the loss. That is something that has always seemed strange to me in hockey — the new goalie gets the loss even though her team was three goals down when she entered and never caught up. Allowing five goals for the second time in the last four weeks could be the one concern for BU out of the UMD series. It was a bit more understandable against Wisconsin, because the Badgers have a top-five offense. The Bulldogs aren't in the top 10 in scoring. The Terriers did get the all-important "W" in spite of that, so I'd guess it is a minor concern.
You certainly did a better job of predicting that series than I did. In hindsight, perhaps UMD got sky high to host Wisconsin the week before and didn't bring the same intensity on the road at BU. The two teams' relative performance against Wisconsin wouldn't have indicated a BU sweep, but the Terriers did do better against St. Cloud State, the other common opponent, so maybe BU was simply the better team, pure and simple.
UMD suffering a sweep also hurt North Dakota, because it was unable to sweep the Bulldogs earlier in the year, and that contributes to BU now taking the Common Opponents category and the comparison over UND. As we kind of expected, neither North Dakota nor Clarkson could gain any ground in their series, leaving those two tightly bunched with Robert Morris in Ratings Percentage Index (RPI). Did anything stand out to you about the UND at Clarkson series?
Candace: What really stands out is that two teams that have the eighth and fourth best offenses in the country, respectively, could only muster three goals each in the series. I guess you can attribute that to both having good defenses as well; Clarkson has the third best defense and North Dakota the eighth, but really, with both squads averaging over three goals a game, you might have expected them to be able to open it some more. Both squads were able to contain the other's top scorers as well in the games they won. On Friday, Josefine Jakobsen and Meghan Dufault teamed up on the first goal, while Susanna Tapani got an assist on the game-winner. Meanwhile, North Dakota shut down Jamie Lee Rattray and held Carly Mercer to an assist. On Saturday, Rattray scored twice, Mercer had an assist, and Dufualt and Jakobsen were held without a point. There is a part of me that wonders how North Dakota might have done had Michelle Karvinen not been out with an injury. She's UND"s most lethal scorer, and Clarkson meanwhile had all its top players, but ultimately, teams need to be able to adapt. A pair of 2-1 games though is not what I expected.
Speaking of shutting down offenses, Harvard kept Boston College to a goal, a late one at that, containing BC's high-flying offense, which is currently third in the country, in a tie game that also didn't really help either team in the PairWise. The BU sweep actually gives BC some help, as the Eagles will face the Terriers four times in the second half, which gives them room to move up in the top eight. BC might also get another shot at Harvard in the Beanpot, which could help the Eagles if they win that one. Meanwhile, the Crimson continue to bedevil opposing offenses. They rank first in team defense, giving up less than a goal a game; only Cornell has been able to put up more than two goals against the Crimson. I wonder if Harvard faced Wisconsin if the game would be scoreless and result in a triple OT thriller. What is your take on Harvard and BC?
Arlan: Harvard versus Wisconsin would likely wind up 8-7 like BU at Cornell a couple of years ago; of course, that doesn't rule out triple OT.
As for Harvard and BC, that was nothing like any defensive struggle involving Wisconsin. The Badgers smother opposing offenses, clog passing and shooting lanes, and keep everything to the outside. Harvard's play-by-play team on the webcast kept talking about how the Crimson were keeping shots to the outside, but it looked to me that it was more a case of Emerance Maschmeyer keeping shots outside of the net rather than the defense keeping shots out of the scoring areas. Every time I watch Harvard, it is yielding a lot of shots. I know that the Eagles are a dynamic team, but 52 shots is still a surprising number to allow by a top defensive squad. Clarkson, Cornell, and BU all hit the 30s in SOG against the Crimson. So from my perspective, much of the bedeviling is thanks to Maschmeyer. I thought her defense did a nice job on the PK, but five-on-five, she definitely earns her statistics.
Looked at from the other bench, BC always seems to mount a lot of pressure, but in most games versus top opponents, few goals result. The Eagles had the four-goal game against Cornell, but three of those were scored on the inexperienced Paula Voorheis. At some point, perhaps they will start finishing more of their chances and they'll blow away better teams with the same ease that they dispatch the weak. If so, BC will be that title contender that we keep expecting to see. I don't know that I saw it on Saturday, given that the Eagles' defense was allowing the Crimson to hit a lot of pipes. Had one of those gone in, the game is likely over unless BC had more extra-attacker goals in reserve.
A result over the weekend that hurt BC's cause was Lindenwood upsetting a Syracuse team that did the same to the Eagles earlier in the year. Nicole Hensley's 46 saves and a Katie Erickson goal with six seconds left gave the Lions a 2-1 win and eroded BC's RPI value a bit. Given BC also has a loss to struggling New Hampshire, it is a tad vulnerable. Penn State getting destroyed by Mercyhurst aside, I wasn't expecting the new six-team CHA to be as much fun on a regular basis as it has proven to be. Did you?
Candace: No, definitely not. In the past, the CHA has been Mercyhurst and everyone else, so it's refreshing to see how competitive that conference is, and it bodes well for a year down the line when it will have an autobid to the NCAA tournament. We've certainly seen our share of surprises in the conference so far. I expected Robert Morris to battle Mercyhurst hard for the title, even if I thought the Lakers would win in the end, but I certainly didn't see RIT beating Mercyhurst, Syracuse tying Mercyhurst, or Lindenwood beating Syracuse. It seems like there is a lot of volatility in the CHA this season. Currently, it looks possible that someone other than Mercyhurst will win the CHA outright for the first time in the conference's history. Robert Morris has a six-point lead on the Lakers, but the Lakers do have two games in hand. It will make the series between the two in January all the more crucial. RIT and Syracuse are certainly within striking distance of second place as well, depending on how things shake out. RIT is only a game behind Mercyhurst, while Syracuse sits a game and a half back. RIT certainly gave Robert Morris all it could handle in two games this weekend, but the Colonials gutted out a pair of crucial wins. I do like seeing Lindenwood doing well. They host the Lakers this weekend; I wonder if Hensley can do it again? The Lakers have been vulnerable to scoring droughts this season, even if they did just demolish Penn State.
You discussed Wisconsin's smothering defense; Alex Rigsby was out this past weekend, yet it didn't seem to affect the Badgers much. Indeed, the offense put up its best effort to date in scoring seven goals on Friday and another five Saturday against a pretty good Bemidji squad that had pushed Minnesota and Robert Morris and had a win over Minnesota-Duluth right before Thanksgiving. The Badgers still aren't the high-flying team they were a few years ago, but it will be interesting to see how their second half unfolds. What do you make of the offensive numbers the Badgers put up this weekend?
Arlan: It's hard to make too much of the sudden offense because Brittni Mowat, the Beavers' regular goaltender, was also out. Jessica Havel had only played 80 minutes of game action, all coming versus North Dakota at the beginning of November. From what I gathered from the Bemidji State audio, she played well in portions of each game, but it's hard to say if Mowat would have fared better.
The positive for the Badgers was that it was their first 12-goal weekend in more than a year, and players like Blayre Turnbull, Sarah Nurse, and Katy Josephs found the net again. None of them had scored during the series with North Dakota and UMD, and for Wisconsin to be successful, it is going to need goals from more people than just Madison Packer, Brittany Ammerman, and Karley Sylvester versus top competition. The bigger relief may be that Ann-Renée Desbiens proved more than adequate going solo for a weekend, should the Rigsby injury stretch into January and the North Dakota series.
You mentioned Bemidji State pushing Minnesota. That seems to be what we are seeing from games that match the top three teams against the rest of the WCHA; the game may be close, but the lower-ranked team doesn't complete the upset. The only game where one of the bottom five won against a top-three opponent was Ohio State's win at North Dakota. I wonder if we're going to see many more the rest of the way. Minnesota-Duluth may take a game or two, but that might be it. It was more even in that respect last year.
The ECAC looks to offer more upset potential, even from teams we wouldn't have expected not that long ago. In Yale's win at Providence on Friday, freshman Phoebe Staenz scored four goals. When we first did this column two years ago, only once did the entire Yale team score as many as four goals in an entire weekend. Among rookies, only Brittany Howard (1.47 points per game) is putting up points at a greater rate than Staenz (1.45). In contrast, no freshman for high-octane teams like Minnesota, BC, Cornell, Clarkson, or Wisconsin is averaging as much as a point per game. If we'd had a rookie fantasy draft, would you have been using an early pick on Staenz?
Candace: It's hard to say really. Aside from slam dunks like Amanda Kessel and Hannah Brandt or Haley Skarupa and Alex Carpenter, you never really know how quickly a young player will adjust to the speed and depth of the college game. For instance, I expected Jessica Dodds to play well, but I didn't expect the numbers she has put up so far this season. Same with Brittany Howard, who is a huge part of the Colonials' success to date, ranking sixth in the nation in scoring. Staenz is definitely playing well, and she was on my radar, but I don't know if I would have picked her in the first round. She has 17 points so far, the same as Dani Cameranesi of Minnesota and Emma Woods of Quinnipiac, but her points-per-game is much higher. Cameranesi, as well as Tapani, who has 16 points and a 1.07 points-per-game average, would have been in my first round picks. Staenz is making a huge impact at Yale, probably more than anyone as a freshman on her team other than Howard and Dodds. Then again, Staenz is probably getting a lot more ice time than someone like Cameranesi or even Tapani.
I will say I'm happy to see Yale out of the cellar in the ECAC, and even currently in contention for a playoff spot. There is quite the bunching in the ECAC right now from 7-12, with Rensselaer having six points, Yale five, Dartmouth and Union four, Colgate two, and Brown one. I think the battle for the final two playoff spots in the ECAC is going to be fierce. It's the same in the upper tier, with spots 1-6 all bunched up and within four points of each other. Quinnipiac and Princeton are currently three and four, but have played three more games than the other teams, so I think Clarkson, for instance, and even possibly St. Lawrence, will move up, and I don't think either Quinnipiac or Princeton will catch Harvard or Cornell.
In an Olympic year, it's also interesting to see other players step up. Take Rachael Bona of Minnesota, who is currently second in the nation in scoring. Bona currently has more points in the first 20 games of the year than she scored in 41 games last year. So does Sarah Davis, and Kelly Terry, while not there yet, is on pace for a career year in her senior season. I guess it's a tribute to the depth Brad Frost has on his team. Are there any players aside from those three that you really think have stepped up to new levels?
Arlan: If we pick any team that is having a successful year and look at its roster, we will find players showing growth, and they won't all be at the top of the scoring charts. For example, Minnesota's fifth-highest scorer is defenseman Milica McMillen with 19 points on the heels of 26 points as a rookie. The Gophers also needed her to play a bigger role on the blue line after losing three starters from last season, and her plus-31, which I'm guessing is tops in the country, is evidence that she's done that. If she'd quit averaging a penalty per game, Frost would really be happy. Winning teams will also have someone like Minnesota's Brook Garzone. Last season, she was essentially the Gophers' 10th forward and had six points. She hasn't had a full-time role this year either, shuffled between forward and defense depending on other injuries and missing a half-dozen games with an injury of her own, but she's still managed to double her point total and is a plus-19 after playing 14 games. Perhaps most significant for Minnesota is that Amanda Leveille has been able to handle the full-time starter role just fine, playing all but 26 minutes with a .941 save percentage.
It's not just the Gophers. Cornell's Emily Fulton leads the country in scoring average and her 24 points are more than she had all of last season as a sophomore. Jessica Campbell is only four points off of her total from the previous year. On the Big Red blue line, senior Hayleigh Cudmore and sophomore Cassandra Poudrier are each up nearly half a point per game; that's vital now that Laura Fortino and Lauriane Rougeau are gone. As a junior, Turnbull has doubled her points at Wisconsin. Maschmeyer has increased her save percentage from .935 to .964 for the Crimson. Warren looks like a different player at BU. Chelsea Laden has taken to the starting job at Quinnipiac, raising a .905 career save percentage to .945 this season. For the winning teams where no returnee jumps out in terms of statistical improvement, there are newcomers making a big difference like Tapani, Gracen Hirschy, and Halli Krzyzaniak at North Dakota or Howard and Dodds for the Colonials.
So with all of those players putting up numbers and making an impact, who are our front runners for the Patty Kazmaier Award? In the most recent Olympic years, the winners were Vicki Bendus of Mercyhurst in 2010 (36 games, 28 goals and 37 assists for 65 points), Sara Bauer of Wisconsin in 2006 (39 games, 22-36-58), and Brooke Whitney of Northeastern in 2002 (35 games, 32-24-56). One difference is that the voting takes place later in the season now than it did four years ago when Emmanuelle Blais of UMD got hot and was the dominant player down the stretch, but didn't even make the final three. Kristy Zamora of Brown suffered a similar fate in 2002. Do you see any forwards poised to separate from the pack and join that Kazmaier list, or may this be the nontypical year where a goaltender or defenseman takes home the hardware?
Candace: The voting takes place later, but the initial list of 30 will be announced in February. Some of the players I look at so far are Kelly Babstock at Quinnipiac and Rattray at Clarkson. Christine Bestland I think is also in contention; she quietly scored her 200th career point over the weekend when Mercyhurst trounced Penn State. I think a couple of goalies might be in the initial list, such as Rigsby and also Erica Howe of Clarkson. It wouldn't surprise me if Bona and Davis make the initial list at least, and Skarupa, Lefort, and probably Howard will as well. Fulton is a contender, at least for the initial 30. Traditionally, it seems forwards win. Of the 16 winners in the award's history, only one defenseman, Angela Ruggiero of Harvard in 2004, and two goalies, Ali Brewer of Brown in 2000 and Jesse Vetter of Wisconsin in 2009, have claimed the honor. Brandt was in the top 10 finalists last year; she's the only player from that list of 10 who is playing this year, as Amanda Kessel, last year's winner, Kendall Coyne, and Alex Carpenter are all off with Team USA, while Brianne Jenner is off with Team Canada. Given that Brandt is tied for second in the nation in scoring, just one point behind Babstock, I think she's a strong contender again this season.
What about you? Who do you see as the contenders for the Kazmaier as we near the midway point of the season?
Arlan: The candidates are so tightly bunched at this point that many different people could emerge and make a push into the top 10 or top three. It helps players with the voters, especially when it is the coaches voting, if they have extras going for them beyond raw numbers. For example, someone like Terry at Minnesota will be memorable to those who watch her in person, because her speed with the puck is something you don't see every day. Plus, she's more than a scorer, as she has been the Gophers' defensive stopper for the last three years. I think that gets her into the top 30, but as with many candidates, at that point her vote totals will be impacted by how she produces relative to her teammates and others in her conference.
With that in mind, I'll take a stab at a first draft of a top 10. Among the 10 finalists, I'd say that Babstock is as close to a lock as there is this year. Give any follower of the sport a topic like "Quinnipiac" or even "ECAC" and see how long it takes for her name to be mentioned. When you watch her play, she backs up that acclaim. She has less of a supporting cast than most of the others near the top, but still manages to do her damage on a regular basis and is always dangerous. As a senior, Rattray is also likely to be in the top 10. Clarkson has other candidates that could emerge, like Erin Ambrose and Howe, and I don't know how many top-10 entrants the Golden Knights' season to date can support. Ambrose has a shot as the country's highest-scoring defenseman, but Mel Desrochers has nearly matched her, is a senior, and has to fill a big role with St. Lawrence graduating Brooke Fernandez and losing Amanda Boulier to injury. There could be more goalies and no defensemen this year. Fulton will be in if she stays on the scoring lead, but Jillian Saulnier is the bigger name if she gets hot. Somebody from the CHA likely gets in the top 10; Bestland and Howard have essentially the same numbers, and Bestland is a senior and by far the bigger name. The Lakers have to stay in the hunt, though, because team success could lift Howard above her. I think Rigsby is a safe bet, because Ammerman is too far down the list and nobody else from Wisconsin figures to get much buzz. I'd say Maschmeyer has the same thing going for her, albeit without the "C" that Rigsby wears as a senior. Someone from Hockey East will be included. Skarupa and Lefort are nearly identical, and Warren is still in the hunt. I'll say Skarupa for now, but if the Terriers get the better of the head-to-head meetings, that will change. If Minnesota stays on top, the Gophers probably get a couple; Brandt is the most likely, followed by the one out of Bona, Davis, and Terry who winds up with better numbers. Davis and Terry get an edge over Bona due to being seniors and owning more responsibility defensively. It seems odd that nobody from North Dakota is in the running with as highly ranked as UND is, but I don't know who that would be.
So who does that give me as a top 10? Babstock, Rattray, Fulton, Bestland, Rigsby, Maschmeyer, Skarupa, Brandt, one of Bona/Davis/Terry and I'll say either Saulnier or Ambrose. For now, these are all written in pencil. Any glaring omissions?
Candace: No, I like that list based on where things are right now. I might actually switch out Saulnier for Howard at this point. They usually like to have a freshman in the mix, and someone like Howard, who is having an amazing year in her transition to college hockey, would be hard to ignore in the top 10. Regardless, I think the second half is setting up nicely right now.