The holiday hiatus is already underway throughout most of the ECAC West, that is, with two exceptions.
On Saturday, conference leaders Utica will host the U.S. National Under-18 Team, while the next day, Nazareth will tangle with SUNYAC foe Geneseo at Rochester's Frontier Field in the league's first-ever outdoor tilt.
All that said, it seems like a good time to take a skate around the ECAC's half-dozen rinks for a (roughly) first-half look.
Utica: The Pioneers (8-2-1, 5-1-1) sit atop the standings with a three-point lead over Elmira. And for that, they can give profuse thanks to their goalie tandem of senior Nick Therrien and freshman Marcus Zelzer. The two have routinely put the clamps on opposing shooters while putting a hammer lock on the ECACW's goalie of the week award. Therrien racked up his second such nod of the season this week, while Zelzer earned his laurels just the week before.
Elmira: It feels as though the Jekyll and Hyde-like Soaring Eagles (6-5-0, 4-2-0) have played two seasons already. They followed their tepid start (2-4-0) with a strong surge (4-1-0). Who are the real Eagles? We may find out in the first weeks of the New Year when Elmira plays five nonconference tilts in succession. That includes two against nationally-ranked opponents (Geneseo, Oswego).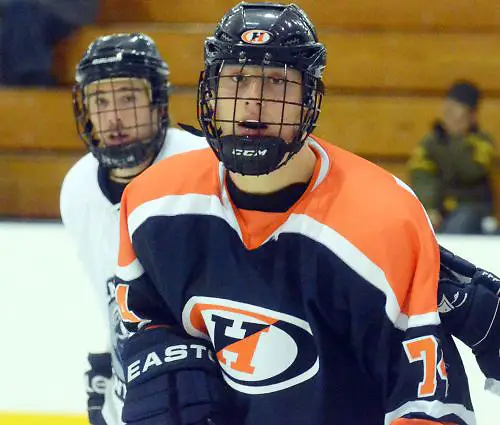 Hobart: What is the one gift not to give to any of the Statesmen for Christmas? Ties. They already have enough of them. Four of their first 10 starts ended in deadlocks. In its 40 seasons of hockey, the most ties Hobart ever played to was five (twice). With two overtime losses added to the mix, the Statesmen may come to regret all those standing points that slipped through their grasp. One key for the Statesmen could be promising sophomore forward Robert Sovik, who leads Hobart with four goals (one more than last year), but has just one in the last six games.
Manhattanville: The ECACW's scoring parade is led by junior center Mark Rivera (3-12-15, 3-5-8), who shares the top spot with Nazareth freshman Ben Blasko. Rivera has been the model of consistency for the Valiants, having put up points in all but two of 11 games. While he took a seven-game point streak into the break, but oddly enough, his last 11 points have all been assists, many of them amassed on power plays.
Neumann: You can look at it one of two ways. That the semester break came at just the wrong time for the hot-handed Knights, who were 4-0-1 over their last five. Or that Christmas came early for them.
Either way, Neumann's surge down the stretch can be traced to one thing. Offense. As though the switch had been flipped, the Knights pumped in six goals per game during the unbeaten string, with freshman phenom Shayne Morrissey (8-5-13) being among the hottest of the hot-handed.
Nazareth: Sledding has been rough for the last-place Golden Flyers (1-8-1, 0-6-1), who limped into the break with seven straight losses. Among those was a heart-rending 2-1 overtime loss to nationally-ranked Adrian. Behind sophomore goalie Ed Zdolshek, the second-year Flyers took a 1-0 lead into the final three minutes before matters got away them. Still, with youngsters like Zdolshek and Blasko to build around, the Flyers' future looks Golden.