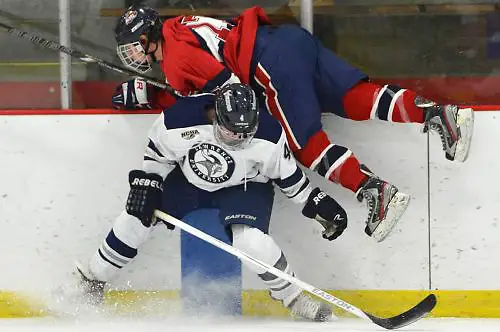 Last Saturday marked one of the biggest victories for the Lawrence hockey program.
The Vikings recorded a 5-4 road win over conference foe St. Norbert on Dec. 7 as the Green Knights were ranked No. 2 in the country heading into the weekend, making them the highest-ranked team the Vikings have beat in the program's history.
Vikings' coach Mike Szkodzinski spent two seasons as a goalie for the Green Knights and was an assistant coach to Tim Coghlin before taking the head coach position at Lawrence. Szkodzinski is no stranger to winning at the rink, but for the program, it wasn't just any win.
"It was a special night, one of those nights that we will always remember," explained Szkodzinski. "From a program standpoint, it was a signature victory over an incredible opponent.
"We will be able to point to that win for a long time as we prepare for more great opponents throughout the year.  It certainly helps us raise our expectations moving forward."
The Vikings (4-6-1, 3-5-0 NCHA) were down 4-1 going into the third period, but a four-goal outburst over the final 20 minutes was exactly the type effort Szkodzinski had been looking for.
Through the first half of the season, Lawrence has yet to get on a real streak, or a real slump for that matter. They lose two games and bounce back with a win or two.
"We simply need more consistency from our entire team night in and night out," said Szkodzinski. "We have seen real good play in spurts, but we need to do a better job of finishing plays every shift if we want to be successful."
After the win on Saturday, Lawrence skated to a nonconference 5-2 win over Saint Mary's in a rare midweek tilt this past Tuesday. In each of the wins, five different skaters scored goals.
"It certainly helps to have balanced scoring," Skodzinski said. "It creates a little uncertainty for the opponent when it comes to line matchups. We haven't had that until the past two games. Hopefully, our secondary scoring continues as we move forward."
Looking forward to the finish of the first half of the season, the Vikings are again going to face ranked opponents as they travel to Wisconsin-Stevens Point on Friday before hosting defending national champions Wisconsin-Eau Claire on Saturday. After a short break, the Vikings open the New Year facing the same opponents.
"We have talked about the fact that every single game gets more and more important, more intense from the beginning of the season to the end," said Szkodzinski. "We know we have to be at our best to have a chance at success each game."
Around the League
It was announced that the NCHA would be hosting the 2015 NCAA Division III men's national championship. The event will be held on March 27-28, 2015, at Ridder Arena in Minneapolis, Minn.
Adrian (10-0-1 overall, 7-0-1 NCHA) is the sole unbeaten team and earned sole possession of the top spot in the conference as the Bulldogs battled to a 2-2 tie with Marian on Friday night before a 6-0 victory on Saturday.
The Milwaukee School of Engineering (1-9-0 overall, 1-7-0 NCHA) got a mark in the win column for the first time this season, splitting a weekend series at Northland (2-9-0 overall, 2-6-0 NCHA).
St. Scholastica (8-1-2 overall, 6-0-2 NCHA) swept past Lake Forest (5-6-0 overall, 4-4-0 NCHA), scoring nine goals in the series.
Concordia (Wis.) (5-4-3 overall, 4-2-2 NCHA) had an explosive 8-2 win over Finlandia (0-10-0 overall, 0-8-0 NCHA) on Saturday night and saw five skaters with multi-point nights, including a 1-4-5 scoring line from Devin Stuermer. The sophomore forward added the game-winning goal in Sunday's 4-1 win and his performance earned him NCHA offensive player of the week honors.
St. Scholastica ophomore goaltender Tyler Bruggeman was honored as NCHA defensive player of the week as he helped his team sweep past Lake Forest. He made a total of 58 saves on the weekend and totes a 5-0-0 record.
Finlandia is now the lone NCHA team to not have a win on the season.