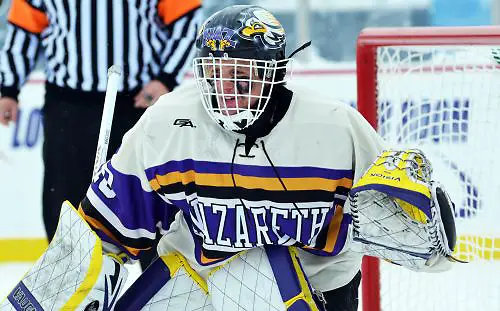 The conventional thought is that when it comes to outdoor hockey games, the goalies have it bad.
The forwards and defensemen get to skate from end to end, working up a sweat, perhaps, but certainly, for a shift, at least, able to tune out the cold.
Not so the goalie who has to stay between the pipes and shiver, except when the puck is in his end.
That's when he has to snap back into the frozen moment, follow the puck as it kicks up a small flurry of snow accumulation and brace himself for all sorts of unnatural bounces.
That's what was in store last Sunday for Nazareth's Ed Zdolshek, as he and the rest of the ECAC West's Golden Flyers hosted SUNYAC foe Geneseo (9-2-0) outdoors at Frontier Field in Rochester, N.Y.
Nazareth, which may be the best 1-9-1 team ever (with five losses of two goals or fewer), fell to the Ice Knights, 3-2, on an partially sunny afternoon that Zdolshek, or any one else who took part in the chilly occasion, a first involving either conference, isn't likely to forget.
"I thought it was definitely pretty tough for the goalies," said Zdolshek, a sophomore from Parma, Ohio. "It was difficult with the wind and the glare. And even with the snow coming in your eyes, it was a challenge, but it was a fun atmosphere."
How does one prepare for something so unique?
Well, there is the eyeblack that most players, Zdolshek among them, sported to combat any solar flareups.
"It was definitely challenging, especially during the first period and the third with the glare coming in to my eyes," he said. "But the wind was the most difficult part, blowing in my face. But the puck was definitely taking some funny hops."
Bundling up was another precaution taken, too, but just enough to keep from getting bogged down by bulky, or even worse, soggy togs.
"I wore a couple layers extra," said Zdolshek, who stopped 26 Geneseo shots. "I tried to stay focused and keep my head in the game, down when the puck was in the other end. Sometimes the cold was getting to me, but I tried to stay focused and battle through it."
Nazareth coach George Roll felt that with the conditions likely to be iffy (or worse), that sticking to the basics was the best approach.
"We prepared like any other game," Roll said. "It's the same for both teams, so you don't want to get caught up in that. You simplify your game a little bit. I think the big thing is to try to get more pucks to the net. You're not going to be able to make a lot of plays, so our focus was to get some traffic and try to get some ugly goals."
Freshman Ben Blasko scored both of Nazareth's goals, and neither of them were of the ugly variety.
"It was a great experience," said Zdolshek. "It was awesome to play out here. It was a once-in-a-lifetime experience that I was glad to be a part of."