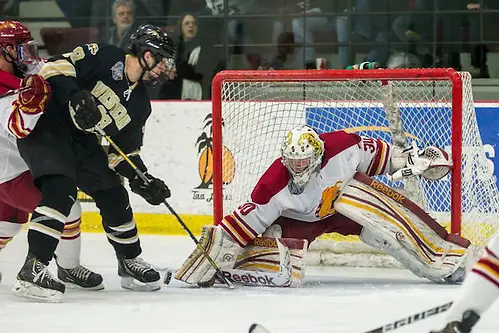 We went into this season not knowing a lot about how the WCHA would shake out. Matt knew the old CCHA teams pretty well, same with Shane and the leftover WCHA programs.
But what would happen when they blended together? Would it go together like chocolate and peanut butter or would it go the way of oil and water?
So far, it seems like the former.
In half a season, we've learned quite a bit about the new-look league:
• 1. It's better and perhaps deeper that many folks thought.
• 2. It's got many more good players than those preseason polls indicated.
• 3. There seems to be a team running away with the league title — and it's not Minnesota State.
Here are Matt and Shane's all-conference picks for the first half of the season. One thing's for certain: This was a lot easier in September.
Forwards
Cody Kunyk, senior, Alaska
Kunyk is second in the WCHA in goals scored with 11 in 18 games, giving him a slightly better goals-per-game average than Bemidji State's Cory Ward. Kunyk's eight assists also tie him for second in the league in scoring, with his 1.06 points-per-game average topping the league.
Jean-Paul Lafontaine, junior, Minnesota State
Lafontaine is the WCHA's top threat on the power play at the halfway point, leading the league in power-play goals and points. Seven of his eight goals and four of his eight assists have come on the man advantage.
Cory Ward, sophomore, Bemidji State
Ward is the WCHA's leading goal scorer in the first half with 12 in 20 games, plus he's had four assists. He's been the model of consistency, scoring goals in 11 games and points in 14.
Honorable mentions: Scott Allen, junior, Alaska-Anchorage; Garrett Thompson, senior, Ferris State; Alex Globke, freshman, Lake Superior State.
Defensemen
Jason Binkley, junior, Ferris State
Binkley leads all WCHA defensemen in scoring with 15 points off three goals and 12 assists. Those 12 assists also rank second among all players in the league, with the 13 by Bowling Green's Ralfs Freibergs leading everyone. Defensively, he's plus-11 to lead the first-place Bulldogs.
CJ Ludwig, senior, Northern Michigan
Ludwig won't end up on the final regular season all-WCHA team because of the season-ending knee injury he suffered Nov. 29, but he was arguably the league's best defenseman in the first half. Before his injury, he was the league's top power-play threat, with four of his five goals and five of his seven assists coming on the man advantage. Since his injury, the Wildcats have not won a game.
Honorable mention: Scott Czarnowczan, senior, Ferris State; Kevin Czuczman, junior, Lake Superior State.
Goaltender
CJ Motte, junior, Ferris State
At the break, Motte has yet to taste defeat, with a 14-0-3 record in his 17 starts. He leads the league in minutes as the only WCHA netminder to top 1,000. His GAA of 2.15 is second in the league and his .927 save percentage ranks third.
Honorable mention: Cole Huggins, freshman, Minnesota State
Top player
CJ Motte, junior goaltender, Ferris State
Record is often times a poor judge of how good a goaltender can be — he can let in four goals and get the win or allow just one and get the loss — but Motte has the save percentage and GAA to back up that 17-game unbeaten record.
Runners-up (tie): Jason Binkley, D, Ferris State; Jean-Paul LaFontaine, F, Minnesota State
Top rookie
Alex Globke, forward, Lake Superior State
Averaging nearly a point per game, Globke not only leads the Lakers in scoring, but all freshmen in the WCHA with eight goals and nine assists for 17 points. His best game this season came Nov. 22 at Bemidji State, when he scored two goals and an assist.
Runner-up: Cole Huggins, goaltender, Minnesota State
Top coach
Bob Daniels, Ferris State
The Bulldogs are unbeaten in 12 games this far in the WCHA at 10-0-2, and at 14-2-3 overall they're ranked No. 2 in the USCHO.com Division I Men's Poll. Ferris State is also on a national-best 15-game unbeaten streak.
Runner-up: Jim Roque, Lake Superior State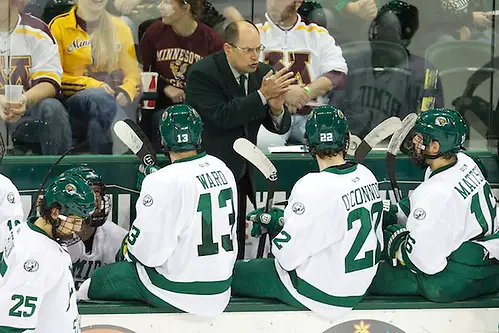 Surprise team
Bemidji State
The Beavers were picked to finish seventh by the league's coaches and eighth by the media, but midway through the season, they're sitting tied for third in the WCHA with 14 points in 14 games. Maybe that one media member who picked the Beavers to win the league knew something we didn't, or the person just got lucky.
Runner-up:
Lake Superior State
Surprise player
Cole Huggins, freshman goaltender, Minnesota State
The Mavericks were all set to ride Stephon Williams as a sophomore this year in goal, but he's been unseated by Huggins as the go-to-goaltender in Mankato. Huggins sports a league-best 1.73 GAA and .934 save percentage in his nine starts and 12 appearances.
Best pickup
Zach Lehrke, senior forward, Minnesota State
Lehrke walked away from hockey at the beginning of the year due to a painful medical condition. After missing the Mavericks' first 10 games of the season, he had a change of heart and came out of retirement in mid-November. Minnesota State has won seven of eight games since Lehrke returned. Not only does he have three goals and six assists in eight games, but the Mavericks' power play turned from a weakness into a strength.
Biggest loss
Ryan Carpenter, junior forward, Bowling Green
The Falcons' top returning scorer and preseason all-WCHA pick suffered a broken finger that required surgery in the preseason. When he was finally cleared to play again, Carpenter's bad luck struck again, and he broke his foot in practice blocking a shot and went back on the shelf. Bowling Green weathered the storm early, starting off 5-2-2. But the team sure could use him now, as it's gone 3-6-2 since.