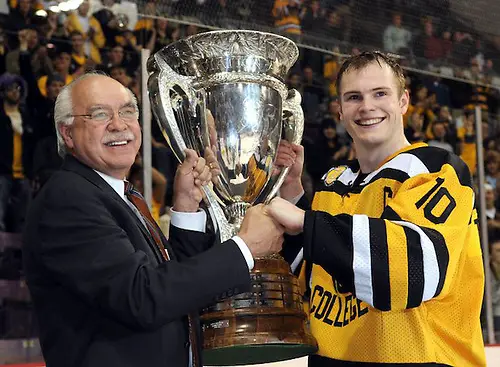 WCHA commissioner Bruce McLeod said he knew over a year and a half ago the 2013-14 season would be his last as head of the 62-year-old hockey league.
In conversations with colleagues and the league members, he kept using the word "probably," however, not because he wanted to leave the door open for a return.
McLeod said he wanted to avoid a yearlong swan song, finally settling for what will be a short goodbye tour leading up to the WCHA Final Five in March in Grand Rapids, Mich.
"I didn't really want to go through a farewell tour or something like that, but I do understand, before [the league] can really move on and send out the job opening, I think everybody has to know that I am retiring," McLeod said.
"I guess I kind of held out at long as I could."
After months of saying he would "probably" retire, McLeod announced last Friday he will officially walk away from the WCHA when his contract expires on June 30 after serving as the league's commissioner for 20 seasons.
During his tenure, the WCHA has crowned eight NCAA men's champions and 10 WCHA players have won the Hobey Baker Award.
McLeod also helped grow the WCHA Final Five championship weekend into one of college hockey's biggest events. Six times in the 2000s attendance at the Xcel Energy Center in St. Paul, Minn. exceeded 82,000, with a record 88,900 fans attending in 2007. Last year the Final Five drew a crowd of 87,295.
"I didn't want to put the league in the position of having to make a decision on whether to re-hire me or not at the end of the contract," McLeod said. "It's a new day and it's a new situation and if they wanted to move on, I respect that. If they wanted to keep me around, they would say so one way or the other.
"Having said that about giving them a choice, as the weeks have gone on, I've really felt much better about it personally, kind of almost looking forward to it. Like most people, I have some anxiety — I can't sit at home, what am I going to do? — that kind of thing. But I do feel better about it. I feel real good."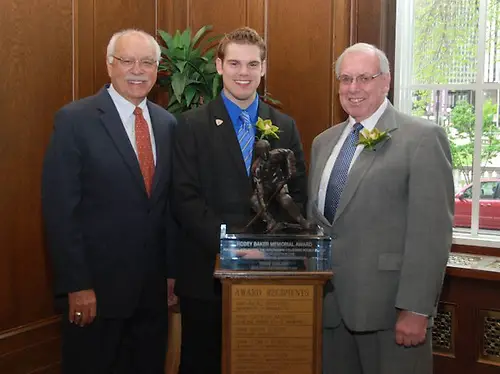 The record crowds, titles and awards came during a much different WCHA than what McLeod leads today, with only four teams — Alaska-Anchorage, Bemidji State, Michigan Tech and Minnesota State — carrying over from 2012-13 to 2013-14.
In the summer of 2011, Minnesota and Wisconsin committed to playing in the Big Ten while five other schools — Colorado College, Denver, Minnesota-Duluth, Nebraska-Omaha and North Dakota — responded by forming the NCHC, with St. Cloud State joining later.
McLeod kept the league alive, however, by initially recruiting Northern Michigan, followed by four other schools from the now-defunct CCHA in Alaska, Bowling Green, Ferris State and Lake Superior State, plus independent Alabama-Huntsville.
The league reinvented the WCHA Final Five with the last weekend under McLeod and 2016 taking place at Van Andel Arena in Grand Rapids, Mich., and the 2015 and 2017 editions returning to the Xcel Energy Center.
The WCHA also launched a league-wide online video streaming package with America One Sports this year that allows anyone in the world, from fans to professional scouts, to watch league home games live or on demand.
McLeod said the lead up from the summer of 2011 to the 2013-14 season was a lot more work than he thought, but now he feels the league is heading in a good direction.
That makes him feel better about retiring, he said.
"The work part didn't scare me," McLeod said. "I love to work. It was just that it was such a different group. It was such a chore to get them moving in one direction and to make decisions about their future. It was a pretty big job.
"Once we started to play, everything seemed to fall into place pretty good. I feel way better than I did a year ago about the state of the WCHA. That just leads me to believe it's a good thing for me and for the league.
"I think the league is getting more cohesive and their vision for the future is getting better."
McLeod said he is not involved in the search process for his replacement, but he hopes the WCHA learns a lesson from the NCHC and hires someone with a background in hockey.
The NCHC's first commissioner, former U.S. Olympic Committee CEO Jim Scherr, was with the league for only a year and a half, leaving before the league's inaugural season.
Scherr's replacement, former Miami senior associate athletic director for finance and administration Josh Fenton, got his start with the RedHawks working as a volunteer assistant hockey coach and director of hockey operations.
"[The NCHC] approached it purely from a business standpoint," McLeod said. "That's what they hired him to do, to run the business and hope that they could hire some people with hockey backgrounds to handle the hockey part of the whole thing. I would say that was not a very successful model — not that he didn't just stay around. There are a lot of things that happened. That's not the way to do business.
"These hockey people, they're kind of unique. The way the things are set up, even though they've changed around some, it's still a very diverse group. … Division I, II and III schools playing in the sport. There's not that many of us and you kind of have to have an understanding of the fans and the passion involved and some of those things. It's a pretty small group at the end of the day and even when you start to include the NHL and USA Hockey, it's still a pretty tight-knit group. Everyone knows one another. There's a lot to say if you have some background in that culture and community.
"I would hope that type of person would come on board. I think it would help the group a lot."